Ernie Pyle: World War II Journalist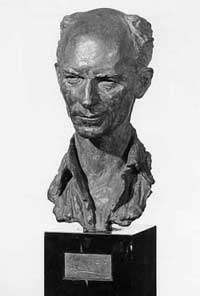 Every Thursday evening, the National Portrait Gallery presents Face-to-Face, a talk about a selected portrait on view in the gallery. As part of this regular series, NPG historian Jim Barber discussed this 1944 bronze bust of World War II journalist Ernie Pyle. This sculpture, by Jo Davidson, is on view in the exhibition "20th-Century Americans" on the museum's third floor.
During World War II, John Steinbeck noted that there were two conflicts being reported in the press. The one getting the most attention was about grand strategy and generals, and the other was the war of the common soldier. No journalist told that latter story more poignantly than Ernie Pyle. His chronicling of the enlisted man's discomforts, terrors, and heroism touched civilians and G.I.s alike. By 1944, he was as much a war hero as any combat medal winner.
When Pyle died while covering the taking of the Pacific island Ie Shima, soldiers marked the spot with a sign declaring that they had "lost a buddy."
The next Face-to-Face portrait talk is this Thursday, September 18, when NPG researcher Warren Perry will discuss F. Scott Fitzgerald.  The talk runs from 6:00 to 6:30 p.m. Visitors meet the presenter in the museum's F Street lobby and then walk to the appropriate gallery.
>> Listen to Jim Barber's Face-to-Face talk on Ernie Pyle (9:04)