At the Front: Clara Barton and the Civil War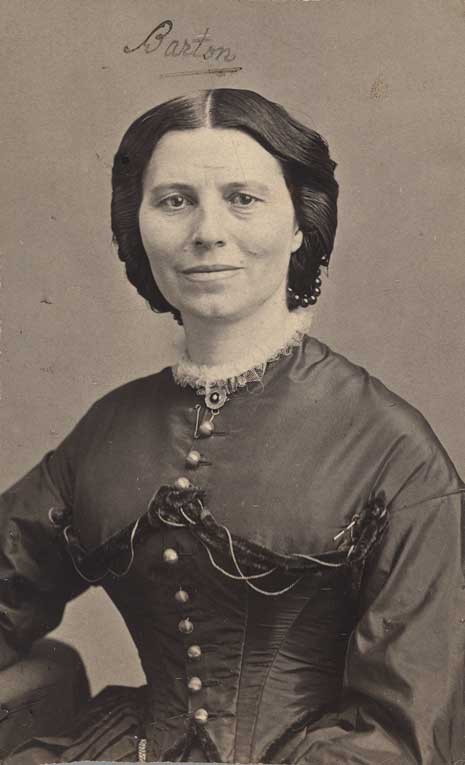 This blogpost originally appeared August 2, 2013
By Anne Wallentine, Intern, Catalog of American Portraits, National Portrait Gallery
In September 1862, Clara Barton (1821–1912) was one of few women among the Union and Confederate armies waiting for the bloody Battle of Antietam to begin. She described the experience as "a miserable night. There was a sense of impending doom. We knew, every one knew, that two great armies of 80,000 men were lying there face to face, only waiting for dawn to begin the battle. It gave a terrible sense of oppression." In this theater of war Barton had an immense impact, nursing the wounded and transporting supplies to the front lines.
Barton's career was as varied as it was long. Though most famous for her work during the Civil War, she began as a schoolteacher, successfully implementing reforms in schools around her hometown of North Oxford, Massachusetts, and in New Jersey.
In the 1850s, Barton took a job as a copyist in the Patent Office, the building in which she worked is currently home to the National Portrait Gallery. She would return to the building again during the war, when it functioned as a hospital for wounded soldiers. Barton's story is entwined with the history of the Patent Office Building—first in its use as a federal facility, later as a Civil War hospital, and today as the art museum that houses her portrait.
While an employee of the Patent Office, she lobbied successfully for equal pay to her male coworkers, despite being one of only a few female government employees at the time. As Washington prepared for war, she decided to put her energy towards helping the wounded—first by organizing supplies and then, as she learned of conditions at the front, with her presence. In 1862 her perseverance earned her official permission to go the front lines.
When supplies were delayed or suppliers were under orders not to advance for fear they would be captured by the enemy, Barton was there to assist. As she noted, "that was the point I always tried to make, to bridge that chasm, and succor the wounded until the medical aid and supplies should come up."
Despite her lack of formal training as a nurse, her efficiency and drive had a huge impact: she assisted in surgeries, extracted bullets, comforted the dying, and helped establish field hospitals. As her biographer Stephen Oates noted, Barton "loved associating with [the] common soldiers" and "considered herself one of them." They, in turn, loved and respected her. She understood more than most the terrible cost of the war, having experienced it firsthand. In its aftermath, she turned to helping families find lost soldiers and relatives.
After the war, Barton also embarked on an exhausting lecture tour. Her contemporary biographer Percy Epler wrote that "a tear-stained multitude thronged everywhere to hear her," for she made it her mission to show, as she said, not "the glories of conquering armies but the mischief and misery they strew in their tracks; and how, while they march on . . . some one must follow closely in their steps, crouching to the earth . . .faces bathed in tears and hands in blood. This is the side which history never shows."
She went to Europe to recuperate from the lengthy tour, where she first heard of the newly organized International Red Cross and the Geneva Convention's rules for humane treatment in war. Barton was inspired to push for the adoption of both in the United States. In 1882, her efforts were repaid when Congress approved the Geneva Convention and joined the International Red Cross—she had already formed the fledgling American Red Cross in 1881.
Barton was intensely interested in social reform throughout her life, and her actions during the war gave her a platform to speak out for equal rights for women and African Americans. In 1892, Barton wrote and delivered a poem she had written about the women who worked on the front lines. She addressed the doubts of those who scorned the idea of female nurses, asking, "Did these women quail at the sight of a gun? / Will some soldier tell us of one he saw run?" The work that she and many others performed during the war was an important prelude to the movement for women's suffrage, in which Barton took an active role.
Toward the end of her life, Barton was forced to resign as president of the Red Cross after complaints about her management style. She died in Glen Echo, Maryland, which is now a National Historic Site.
Her contributions had an incredible and lasting impact on the American social landscape; Barton dedicated her life to the betterment of the human condition in wartime and peace. Her description of her work at Antietam provides a vivid portrait of her life and legacy:
We worked through that long bloody night together, and the next morning the supplies came up. . . . My strength was all gone. . . . I lay down on [the floor of a wagon], and was jogged back to Washington, eighty miles. When I reached there, and looked in the mirror, my face was still the color of gunpowder, a deep blue. Oh yes I went to the front!
Sources:
Clara Barton, A Story of the Red Cross (1904), 195.Accessed through Project Gutenberg. http://www.gutenberg.org/files/30230/30230-h/30230-h.htm 
"Notes on Antietam." National Park Service: Clara Barton National Historic Site, Glen Echo, Maryland. Excerpt from "Clara Barton and the International Red Cross Association," Clara Barton Papers, Library of Congress, reel 109, frame 409. https://www.nps.gov/clba/historyculture/antietam.htm
"The Women Who Went to the Field." 1892. Published in Ishbel Ross, Angel of the Battlefield: The Life of Clara Barton  (New York: Harper & Brothers, 1956). Accessed: https://www.nps.gov/clba/historyculture/fieldpoem.htm
Percy H. Epler,  The Life of Clara Barton (New York: Macmillan, 1917), 54–59, 110–22.
Julie Mianecki,  "The List: From Ballroom to Hospital, Five Lives of the Old Patent Office Building." Smithsonian Magazine, July 27, 2011. http://blogs.smithsonianmag.com/aroundthemall/2011/07/the-list-from-ballroom-to-hospital-five-lives-of-the-old-patent-office-building/
Stephen Oates, "The Field," in A Woman of Valor: Clara Barton and the Civil War (New York: Free Press, 1994). v, 99.
Elizabeth B. Pryor,  "Barton, Clara." American National Biography Online, Feb. 2000.