George Carlin: Every American Dreams
Our "Recognize" wall seeks to commemorate Americans who have influenced politics, history, and culture. The public voted to honor comedian George Carlin for the Portrait Gallery's most recent Recognize selection.
In honor of the choice, Carlin's daughter, Kelly, has written a reflection on her father's legacy.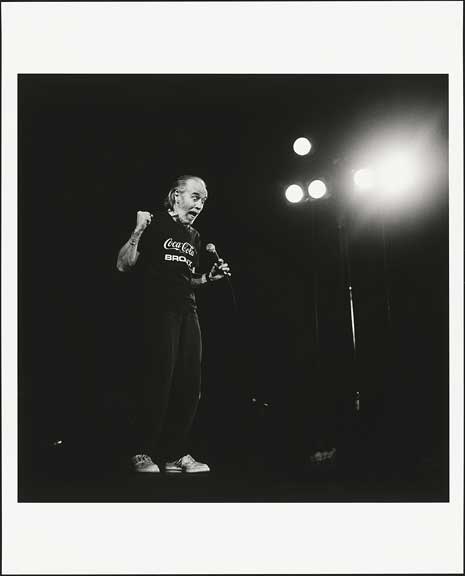 If you assumed that the man who said, "The reason they call it the American Dream is because you have to be asleep to believe in it," would not be pleased that a picture of himself was to be displayed in the National Portrait Gallery, you'd be dead wrong. Yes, my dad, George Carlin, was famous for elucidating his displeasure with authorities like the government, big business, the military, and pretty much any other large institution you could name. But that was his job, and yes, of course, his personal stance. When it came to the individual versus institutions, dad almost always took the side of the individual, the underdog. He believed this was the only ethical choice to make.
But he was also a man who understood the weight of history, especially his own. He treasured those moments when his life landed him in iconic places and times. He never let one of those moments pass without acknowledging it in some way. The minute he began doing his comedy on TV in the early 1960s, he began a list of these performances—the date it aired, what routine he did, and who else was on the show. When he and his comedy partner Jack Burns arrived in Los Angeles, he made sure they got off the 101 freeway at the Vine exit in Hollywood because that was the one that meant something to the world.
When he realized a childhood dream and got to perform at Carnegie Hall for the first time in 1972, he saved a ticket from the show. He saved many objects from his career. After he died, as I went through the numerous footlockers containing said memorabilia, I realized that he had not only saved almost every object of significance from his career, but all of his datebooks that had personal entries like "February 1984—Kelly's first night in her first house."
My dad was a sentimental fool.
And so, when some of dad's fans commented to me that he would think the hanging of his portrait today in the National Portrait Gallery would have made him laugh, or even bothered him, I had to tell them that they were dead wrong. Dad would have gotten a huge thrill out of it.
He would have relished the fact that his likeness—this latch-key kid from the rough-and-tumble Upper Westside of Manhattan, this man who made the world laugh with fart jokes, this man who dissected the English language to reveal our human folly, this man who was kicked out of every institution he was ever a member of—would be gracing the walls shared by presidents, world leaders, and other Americans of significance. It might have even brought a tear to his eye.
But now I'm getting sentimental.
Kelly Carlin is an author, performer, and radio host.  Her memoir A Carlin Home Companion will be published in September 2015 by St. Martin's Press.  Her show "The Kelly Carlin Show" airs monthly on SiriusXM.