Happy Birthday, Sonia Sotomayor!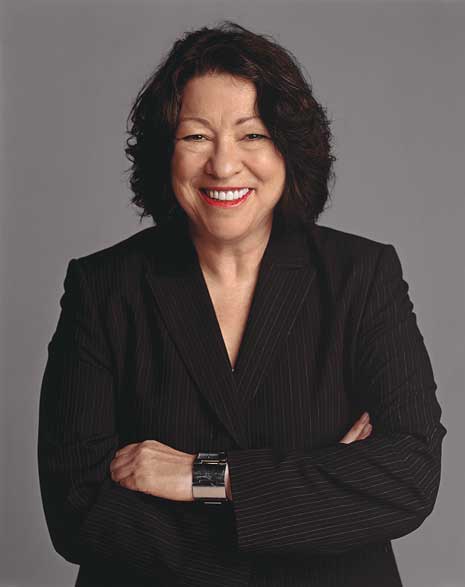 Next month will mark six years since Sonia Sotomayor was appointed as an associate justice to the United States Supreme Court. Her selection was historic in many ways—she was the third woman and the first Hispanic to sit on the bench. Today, in fact, is Justice Sotomayor's birthday—and I can't help but think about an image I saw a few weeks ago when visiting the National Portrait Gallery's exhibition "Eye Pop: The Celebrity Gaze." The exhibition includes portraits of six Latinos, including Sotomayor and actress and Latino Victory Project co-founder Eva Longoria. Their two portraits hang side by side, serving as a celebration of the incredible strides that Latinas have made in positions of power.
Although their accomplishments are here to be celebrated and their leadership should be emulated, the exhibition illustrates the structural changes we must make that will allow young women from our community to seriously envision themselves in positions of power, including the Supreme Court.
According to the National Women's Law Center, there has been great growth in women joining law in recent years. Since 1992, women have approached 50 percent representation in law school classes, and President Obama has appointed 130 female judges—the highest of any president in history. However, a wide gap remains. Only 4 of the 112 Supreme Court justices have been women, and women make up only 35 percent of the judges currently sitting on the federal courts of appeal. Seven district courts around the country have still never had a female judge.
The numbers are even worse for women of color. Of the more than 800 federal judges currently serving in the United States, there are only 79 women of color. And of those women, only 25 are Latinas. But by including women like Justice Sotomayor in their exhibition, the Portrait Gallery has both acknowledged her as one of the most influential members of the legal community and given her more agency to show young women and girls that serving on the highest court is possible.
On July 3, the Portrait Gallery will unveil the eleventh installment of the "One Life" series, for the first time focusing on a Latino figure, Dolores Huerta. Huerta, a Latina labor leader and civil rights activist, cofounded the National Farm Workers Association—which later became the United Farm Workers—with César Chávez in 1962 and has spent her entire life advocating for Latino and farmer communities. She has been arrested twenty-two times for her participation in nonviolent civil disobedience activities and strikes, and she stood next to Robert F. Kennedy on June 5, 1968, after he won the California Democratic presidential primary election, just minutes before he was assassinated.
The museum's choice to feature Dolores Huerta's lifetime of courage and leadership is a bold and refreshing step forward in fostering a world in which Latinas are finally acknowledged for their public service—whether it be as local leaders, politicians, judges, or activists. While we still have a long way to go, it's time to reflect on and celebrate the lengths to which Latinas have gone, and the risks that they've taken, to have a voice in the United States of America.
Cristóbal Joshua Alex is the president of the Latino Victory Project and the Latino Victory Foundation and a writer for the Huffington Post