Heidi Latsky: An Artist's Journey
A producer recently asked me why I do what I do, and I realized that for the last ten years my own narrative has taken an intentional backseat to the stories of my dancers, especially the ones with disabilities. My decision to focus on those dancers' stories has been important to me because the real stories of people with disabilities are often unknown and misunderstood. However, the producer insisted that my story was integral to the work, and so I relented, reflecting on what in my life brought me to this moment in time as an artist committed to social justice and equity.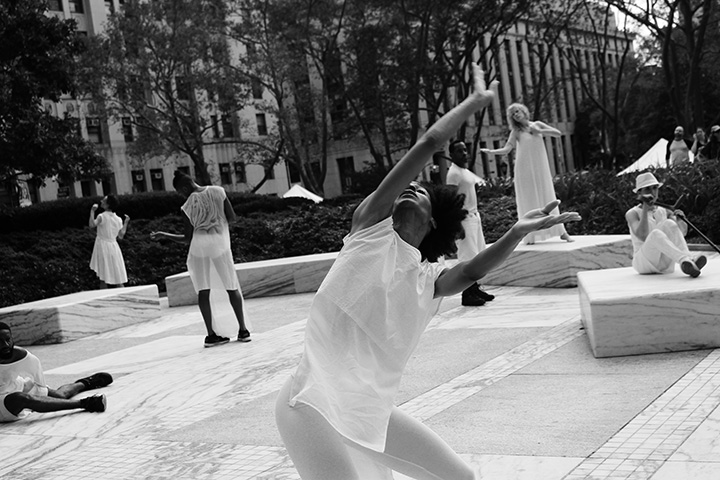 As a child, I was excruciatingly and painfully shy. At the age of eleven, my mother began a long period of illness battling brain tumors for 30 years. She was optimistic even as she was becoming increasingly isolated. Watching her struggle caused me to feel so out of control and helpless that I decided to study psychology in order to "heal the world." However, in college, I was introduced to dancing by a friend who was an amazing ballroom dancer. He immersed himself in the disco movement. The repetitive motion, the community aspect, and the partnering of disco took me out of my head and into my body. I realized that I was the one who needed to heal. Through dance, I could get in touch with buried emotions.
The act of performing terrified me. Every time I competed, I learned the value of risk-taking. It emboldened me to move forward. After graduation, at the age of nineteen, I decided to pursue commercial dance only to discover that—beyond not being good enough—I was too short and too old; but I was stubborn and determined. I kept searching for the right place to train, leading me from Montreal to New York City. I journeyed from disco, to commercial dance, to theatrical and modern dance, to go-go dancing, all to support my dance habit. My dancing led me to work with people of all shapes and sizes. What never changed, and only grew in scope, was my enduring commitment to the vital and life-affirming acknowledgement of difference that has shaped my work.
Now, some forty years later, I created and presented ON DISPLAY, a work that crosses genres and art forms. ON DISPLAY challenges preconceived notions of beauty and virtuosity, while championing the individual. The site-specific installation disrupts space, dismantles norms, empowers difference, and redefines beauty.
We have always been taught not to stare, not to look at someone deeply because it might offend them, and if someone "different" catches our eye, we have objectified them. This is the life of the viewer. Alternatively, should we possess a birthmark, a glorious height, or unknown disability, we risk being too noticeable and are often ostracized or worse. This is the life of the viewed. In both lives there are harsh limitations, where one does not have the time to see beyond mere characteristics, and another cannot be seen as anything but "other."
At the invitation of the New York City Mayor's Office for People with Disabilities, ON DISPLAY was created to occupy highly trafficked public spaces to effectively expose the general public to people with disabilities in honor of the 25th anniversary of the ADA.
Since 2015, we have presented 65 installations in and around New York City, coupled with ON DISPLAY GLOBAL, our annual global initiative. The impact of these installations is palpable; and what strikes me, is the potency of the performers. To be still and allow people to watch you closely for one to two hours takes fortitude and endurance. My shy self appreciates that effort and the extreme vulnerability my dancers achieve. This has become my resistance. The political climate as it is has magnified for me the importance of site-specific work like this that displays humanity at its most diverse.
ON DISPLAY will be performed in the Robert and Arlene Kogod Courtyard on Sunday, September 23, 2018 from 3 p.m. to 5 p.m.