James Baldwin: The Writer and the Witness
By Marcy Held, intern, National Portrait Gallery, Center for Electronic Research and Outreach Services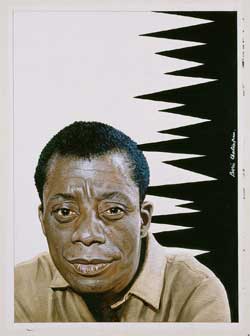 "You have to go the way your blood beats. If you don't live the only life you have, you won't live some other life, you won't live any life at all." Writer James Baldwin remembered this as "the best piece of advice I ever got [though] it's not advice, it's an observation."
Whether one views these words as advice or as observation, it is clear that Baldwin lived by these words as he built his career as a civil rights–era author, orator, and activist that is distinguished by a level of talent and passion that was nothing short of remarkable.
James Baldwin was born in Harlem, New York, on August 2, 1924. He was raised, along with his eight younger brothers and sisters, by his mother, Emma Berdis Jones, and his stepfather, David Baldwin, a preacher and laborer from New Orleans. Biographer David Leeming describes James Baldwin's origins and their influence upon his career.
Rising out of Harlem, James Baldwin used the mystery of his parentage and his humble birth, and the ineffectualness of his stepfather, as starting points for a lifelong witnessing of the moral failure of the American nation—and of Western civilization in general—and the power of love to revive it.
While attending De Witt Clinton High School in the Bronx, Baldwin was constantly torn between pursuing his own intellectual development and helping to provide for his family. In high school Baldwin decided that he wanted to become a writer, and he befriended fellow classmates Emile Capouya (a future author) and Richard Avedon (a future photographer). Baldwin's stepfather wanted him to become a preacher and did not approve of his association with white friends, but Baldwin rejected his stepfather's views and turned away from the church completely during his adolescence.
After graduating from high school, Baldwin lived in various areas in New York and New Jersey, working odd jobs alongside Capouya and writing at night. During this time, Capouya introduced Baldwin to Richard Wright, author of Native Son. Wright became a mentor to Baldwin and even helped him edit the beginnings of Baldwin's first novel, Go Tell It On the Mountain.
Wright was so impressed with Baldwin's work that he nominated the younger writer for the Eugene F. Saxon Memorial Trust Fund, which Baldwin won. However, Baldwin became so overwhelmed by Wright's support that he began to have difficulty writing.
Baldwin also found it hard to keep a job because of consistent encounters with racism in the workplace, and in 1948 he bought a plane ticket with the remaining money from his trust fund winnings and went to live in Paris.
In the introduction to his later work, The Amen Corner, Baldwin recalls how he first arrived in Paris "with forty dollars and no French." But despite these hardships, Baldwin was able to finish Go Tell It on the Mountain and to find a publisher in New York.
In order to purchase a plane ticket back to New York, Baldwin had to borrow money from actor Marlon Brando, a friend from Greenwich Village in the early 1940s. After returning home in 1952, Baldwin only stayed for three months before going back to Paris to wait for the publication of his novel.
Baldwin followed the success of Mountain with a nonfiction book, Notes of a Native Son, in 1955 and then his second novel, Giovanni's Room, in 1956. Author Toni Morrison describes Baldwin's writing style in her essay "Life in His Language" as published in Quincy Troupe's James Baldwin: The Legacy:
No one possessed or inhabited language for me the way you did. You made American English honest—genuinely international. You exposed its secrets and reshaped it until it was truly modern dialogic, representative, humane. You stripped it of ease and false comfort and fake innocence and evasion and hypocrisy. And in place of deviousness was clarity. In place of soft plump lies was a lean, targeted power.
Baldwin gained fame as a social activist in addition to being known as an author; he dedicated his life to analyzing the alienation felt by minority groups living in the United States and to the cause of gaining rights particularly for racial minorities and for the gay community.
Of his own social activism Baldwin stated, "The sexual question and the racial question have always been entwined. . . . If Americans can mature on the level of racism, then they have to mature on the level of sexuality." Baldwin was a prominent member of CORE (Congress On Racial Equality) and advocated reform alongside such leaders as Martin Luther King Jr. and Robert Kennedy.
Despite experiencing periods of intense loneliness and contemplation, Baldwin was also a charismatic figure, with a wide circle of friends, including jazz trumpeter Miles Davis and authors Tennessee Williams and Norman Mailer. Baldwin continued to travel and write, and had published seventeen works by the time of his death on December 1, 1987, in St. Paul de Vence, France.
Although Baldwin is consistently labeled as a spokesman for a generation and for minority groups, he always said that he identified more as "a witness to whence I came, where I am. Witness to what I've seen and the possibilities that I think I see."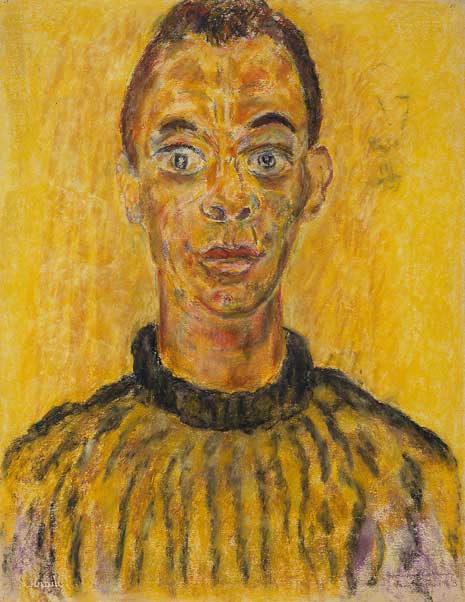 Works Cited:
James Baldwin, The Amen Corner (New York: Dial Press, 1968).
David Leeming, James Baldwin: A Biography (New York: Alfred A. Knopf, 1994).
Lisa Rosset,  James Baldwin: Author (New York: Chelsea House Publishers, 1989).
Quincy Troupe, ed., James Baldwin: The Legacy (New York: Simon & Schuster, 1989).
W. J. Weatherby,  James Baldwin: Artist on Fire (New York: Donald I. Fine, 1989).