John Coltrane by Roy DeCarava
On Sunday, April 15, the National Portrait Gallery and the Anacostia Community Museum present Insights into Coltrane and Hancock. In anticipation of this concert and conversation, Historian David Ward visited Roy DeCarava's portrait of John Coltrane, located in the "Twentieth-century Americans" exhibition on the third floor.
"He bridged the old and the new like a colossus." —Roy Haynes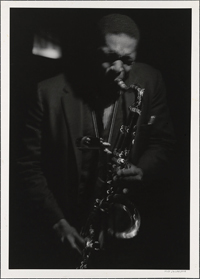 How do you portray a sound? Roy DeCarava's portrait of John Coltrane (1926–1967) vibrates with the intensity that "Trane" brought to his music, and its multiple exposures suggest the cascading notes that poured from his saxophone.
Aside from suggesting the timbre and volume of Coltrane's playing, the photograph also seems like a glimpse into the spirit world: the physicality of Coltrane—who was a large, bulky man—becomes indistinct and diffused, blown apart by the exploration of the ecstatic possibilities of his music.
Coltrane never developed the mannerisms and styles that more flamboyant musicians, such as Miles Davis or Dizzy Gillespie, used to accent their playing and augment their performance. His style was no style. Coltrane, who was shy to begin with, simply played. DeCarava's diffused image makes recognition difficult—it is not a "likeness" but suggests a musician achieving the kind of lift-off in which he would simply disappear, leaving only the music behind, coming from everywhere and nowhere.
Born in Hamlet, North Carolina, in 1926, with ancestors who were ministers in the AME Zionist church and musicians, Coltrane started playing music when he was about twelve, studying clarinet and then alto saxophone. After a stint in the navy, Coltrane moved to Philadelphia, where his now-widowed mother had relocated, and became part of the emerging wave of East Coast bebop musicians.He started playing tenor saxophone and by 1949 was recording with Dizzy Gillespie's orchestra. By the middle 1950s he was playing and recording with Miles Davis in one of the most influential jazz ensembles of all time; among its recordings was Kind of Blue, a watershed of modern music.
Coltrane had also become an addict, battling alcohol and drugs. While Ralph Waldo Emerson once made the argument that a poet should use drugs or stimulants to dissolve self-consciousness, in practice, drug addiction usually ruins the poet—or the musician. Coltrane was fired multiple times, including by Davis.
Coltrane finally got clean in 1957, and his sobriety seems to have enhanced his already strong conviction that his music was fundamentally spiritual. That spiritual dimension was explored to its sonic limits in Coltrane's own bands and in such albums as Giant Steps and, tellingly, A Love Supreme. (His greatest popular hit was a 1960 jazz version of the sentimental Rodgers and Hammerstein show tune "My Favorite Things.") Coltrane's explorations of eastern religion and its connections to what he now called "world music," not jazz, were cut short by his early death from liver cancer.
In San Francisco, the "Saint John Coltrane African Orthodox Church," founded in 1971, takes Coltrane as its patron saint and prophet, using the saxophonist's music and lyrics as the basis of its liturgy. Such is the power of Coltrane's life and legend that this reverence for the musician seems wholly appropriate. Coltrane's importance is not just in his place in the history of jazz, his performances, or his albums, but in the way that he pursued his art as the vessel through which to achieve a spiritual transcendence of earthly forms, including the structure of music itself.
Coltrane, in the tradition of Emerson's comment that he did not want "meters but meter making arguments," was one of the great creative destroyers in American culture. Like Walt Whitman and Jackson Pollock—or Emerson himself—Coltrane was a breaker of forms, remaking the traditional to create wholly new ways of embodying artistic expression and the human spirit. No picture can capture that, but DeCarava's is as close as we will get.
—David Ward, Historian, National Portrait Gallery
DISCUSSION AND PERFORMANCE: JAM at NPG
Sunday, April 15, 2012, 2:00 to 4:00 p.m.
Insights into Coltrane and Hancock
Location: McEvoy Auditorium
Celebrate Jazz Appreciation Month (JAM) with the Anacostia Community Museum and the National Portrait Gallery as we feature the lives and music of John Coltrane and Herbie Hancock. Join WPFW radio host Rusty Hassan, adjunct professor at Georgetown University, in a discussion of the life and contributions of both musicians. Then, the award-winning Howard University Jazz Ensemble, under the direction of Professor Fred Irby III, will perform memorable works by both Jazz giants. This JAM program will be held at the National Portrait Gallery's McEvoy Auditorium, 8th and G Streets NW, Washington, DC, and is a memorable annual concert for jazz lovers of all ages.
FREE; for reservations, call 202-633-4866