John F. Kennedy by Elaine de Kooning
This article is the first in a series of articles commemorating the fiftieth anniversary of the death of President John F. Kennedy.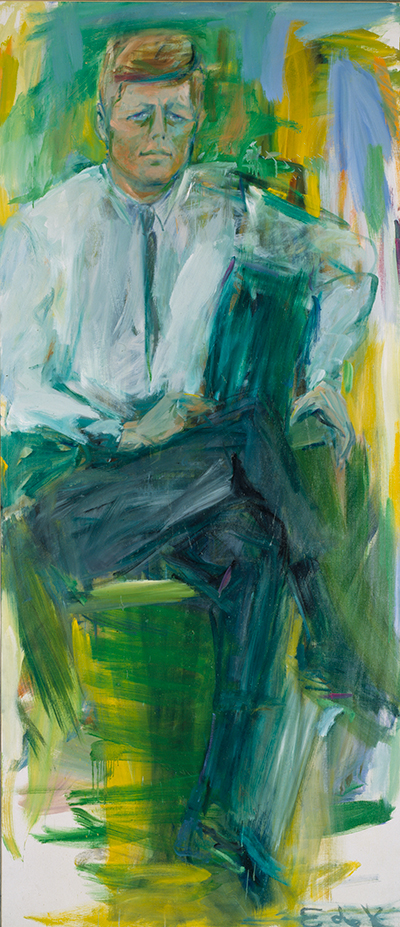 In 1962 Elaine de Kooning was commissioned to paint a portrait of President John F. Kennedy to be hung in the Harry S. Truman Library in Independence, Missouri. De Kooning was the wife of painter Willem de Kooning, and she was one of the early participants in the Abstract Expressionist movement. She was given access to the president during his winter sojourn in Palm Beach, Florida, in late 1962 and early 1963.

In an ARTnews article in the summer of 1964, de Kooning recalled her experience painting the President,

One of the reasons I was asked to do the portrait is that, with luck, I can start and finish a life-size portrait in one sitting. . . . However, working at top speed this way, I require absolute immobility of the sitter. This was impossible with President Kennedy because of his extreme restlessness: he read papers, talked on the phone, jotted down notes, crossed and uncrossed his legs, shifted from one arm of the chair to the other, always in action at rest. So I had to find a completely new approach.

This new approach was to make many quick sketches of Kennedy to assemble later as a portrait after de Kooning had reviewed the entire body of work in her studio. During her short time with the president, de Kooning immersed herself in the process of the creation of a single, final portrait of the president. However, in an interview published in the May 1964 issue of Life magazine, she stated, "The commission turned into a project which so far has produced hundreds of sketches and 23 finished paintings."

Kennedy's death on November 22, 1963, compelled de Kooning to stop work on her portraits of the president. She stated in an interview with Ben Wolf from the Jewish Exponent that "painting had become completely identified with painting Kennedy. For an entire year, I had painted nothing else. . . . It was real trauma." She would return to Kennedy as a subject later when she began working in sculpture but would be dissatisfied with her effort, leaving the canon of Kennedy portraits from the Palm Beach sittings as her primary testament to the man whose face in so many ways changed America's view of the presidency.
- Anna Marston, Intern, Catalog of American Portraits

Cited:
Elaine de Kooning, "Painting a Portrait of the President," ARTnews 3 (Summer 1964).

"Quest for a Famous Likeness," Life magazine, May 8, 1964.

Ben Wolf, "Portrait of a President," Jewish Exponent, November 20, 1964, cited in President John F. Kennedy: An Exhibition of Portraits and Sketches by Elaine de Kooning (Kansas City Art Institute and School of Design, 1965).