Katharine Hepburn at NPG! Performance this Monday, May 12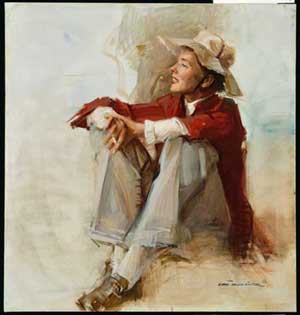 On Monday night, May 12, the National Portrait Gallery's Cultures in Motion program will present Hepburn Herself, a stage presentation produced by NPG's Jewell Robinson and featuring DC actress Helen Hedman as Katharine Hepburn.  The first performance in March was viewed by almost three hundred people and included a discussion afterwards with Robinson, Hedman, director Michael Kramer, and writer and adapter Warren Perry.  This Monday's show will also conclude with a production discussion. 
Among the superlatives Katharine Hepburn claims are the four Academy Awards which are on display in the National Portrait Gallery's "One Life" exhibition "KATE: A Centennial Celebration."  Miss Hepburn had a total of twelve nominations over her career, and many critics believe she also deserved Oscars for her unforgettable performances in The Philadelphia Story and The African Queen.  Her story begins with the beginning of Hollywood and concludes with curtains drawing over the most celebrated career in cinema history. 
A partial list of actors with whom she appeared is a roll call of the greatest actors in the history of film:  Jimmy Stewart, Cary Grant, John Wayne, Humphrey Bogart, John Barrymore, Peter O'Toole, Laurence Olivier, Sidney Poitier, and, of course, Spencer Tracy.  That all the arts contain legions of adults who operate their lives like pretentious children is a certainty; Kate Hepburn did not suffer such behavior, and she was, per biographer Charles Higham, "disgusted by the tawdry ostentation of Hollywood."
Katharine Hepburn was both gutsy and vocal. She performed a stunt which involved falling into the dirty Venice canal waters during the filming of Summertime; this resulted in a case of conjunctivitis which never left her. Once from the stage during a performance she lectured an audience member who dared to take a flash picture. Another time, she hit a truck driver for revving his engine behind the theatre.
It is lucky for her admirers that she took the time to write two autobiographical works.  The most sensitive subjects in her life- the death of her brother Tom and her love for Spencer Tracy- we discover about her through her own words.  Her large number of biographers far exceeds the number of interviews she granted; throughout her days, she liked being liked, but she treasured her privacy.  It is that quality which most keenly separates her from today's starlets, as she felt a great dignity about keeping her passions, friendships, and family to herself, and it is precisely that dignity which is, perhaps, the most outstanding of her superlatives.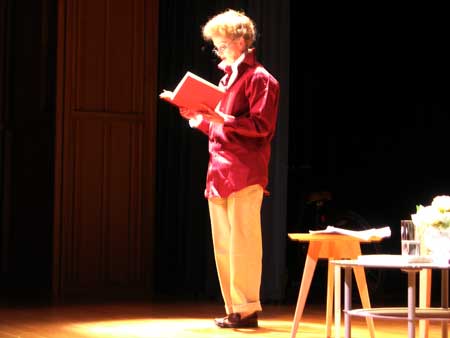 Monday's performance is free, but seating is limited.  For reservations please call 202-633-8520 or email NPGPublicPrograms@si.edu.