Mary Todd Lincoln | 4/1/2009
"I fell in love with her and . . . I have never fallen out."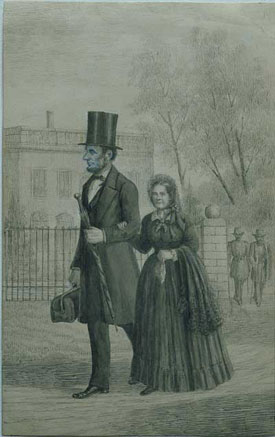 It is difficult to know the character of the Lincolns' relationship. When Lincoln wed Mary Todd in 1842, he married into a well-established Illinois family.
Mary was strong-willed, capricious, and adamant. When she eventually showed signs of derangement, her instability colored discussions of her earlier years. Both of Lincoln's secretaries hated her and gained their revenge in their memoirs of the White House years. But from the best evidence, Lincoln was patient with a woman who could be difficult, not least because she suffered terribly at the death of their sons. After Willie died in 1862, she became increasingly fearful and detached, worrying about Lincoln himself, consulting spiritualists, and spending time away from Washington.
This small sketch by Pierre Morand, circa 1864, seems to show her departing on such a trip, and the artist has juxtaposed the figures to suggest a gap or tension between them that will never be fully known.
Erin Carlson Mast, curator at Lincoln's Cottage, recently spoke about Mary Todd Lincoln at a Face-to-Face portrait talk. The sketch of Abraham and Mary Todd Lincoln is displayed on the museum's first floor, in the exhibition "One Life: The Mask of Lincoln."
>> Listen to Erin Carlson Mast's Face-to-Face talk on Mary Todd Lincoln (24:48)
Face-to-Face occurs every Thursday evening at the National Portrait Gallery. The next Face-to-Face talk is this Thursday, April 2, when researcher Warren Perry speaks about Toni Morrison. The talk runs from 6:00 to 6:30 p.m. Visitors meet the presenter in the museum's F Street lobby and then walk to the appropriate gallery.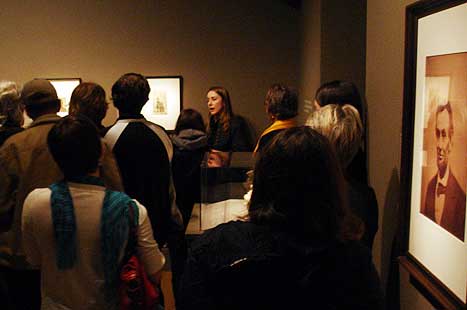 Abraham and Mary Todd Lincoln, c. 1864 / Pierre Morand / Ink and opaque white gouache on paper / National Portrait Gallery, Smithsonian Institution