Medgar Evers and Roy Wilkins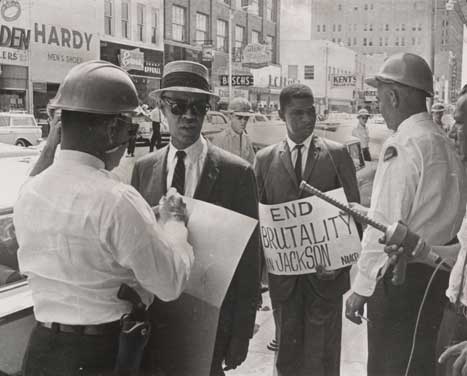 This blogpost originally appeared on February 24, 2010
Medgar Evers (right) played a critical role in organizing and sustaining the Jackson Movement—a multifaceted campaign to end segregation in Mississippi's most populous city. In the spring of 1963, Evers launched a boycott of stores in Jackson's main shopping district after the city's mayor rejected a NAACP-sponsored resolution calling for fair hiring practices in municipal jobs, desegregation of public facilities and accommodations, an end to discriminatory business practices, and the establishment of a biracial committee to combat injustice and promote reform.
When NAACP national secretary Roy Wilkins joined Evers in picketing the F. W. Woolworth store in downtown Jackson, both men were swiftly arrested by local police brandishing electric cattle prods. This press photograph documenting the arrest appeared in the New York Times on June 2, 1963—just ten days before Evers's assassination by white supremacist Byron de la Beckwith.
In this video produced by Smithsonian Education, National Portrait Gallery curator Frank Goodyear and Tia Powell Harris, former educator at NPG, look deeply into the 1963 photograph of Medgar Evers and Roy Wilkins.