Millard Fillmore: Buffalo's Good Samaritan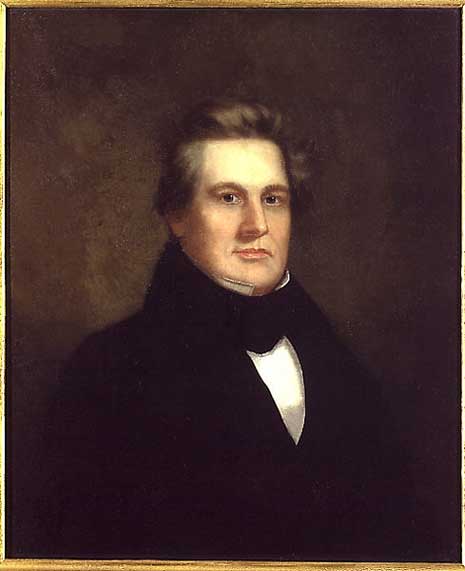 By Jordan Hillman, intern, National Portrait Gallery, Center for Electronic Research and Outreach Services
Buffalo, New York, has ties to several United States presidents: Grover Cleveland, the twenty-second president, resided in the city and served as its mayor from 1882 to 1883; President William McKinley was shot at Buffalo's Pan-American Exhibition on September 6, 1901, and died in the city a week later; Theodore Roosevelt was then sworn into office on September 14 at the former Ansley Wilcox Mansion on Delaware Avenue in downtown Buffalo.
Through these various connections, Buffalo is filled with presidential namesakes—Grover Cleveland Parkway, McKinley Mall, Theodore Roosevelt Elementary, Millard Fillmore Hospital—yet it is Fillmore who contributed most to Buffalo's educational, cultural and medical needs.
The thirteenth president of the United States, Millard Fillmore began his professional life as a teacher in East Aurora, about twenty miles outside of Buffalo, in 1822. Before the year was through, however, Fillmore relocated to the city to pursue an education in law. After passing the bar, he returned to East Aurora, where he opened a law office and took an active role in the local political scene. His reputation of fighting for public interests soon landed him a spot in the state assembly; not long after, he was elected to the U.S. House of Representatives, where he served until 1843.
Fillmore's political gains continued rapidly: in 1848, he was elected vice president of the United States alongside Whig Party candidate Zachary Taylor. With Taylor's untimely death in 1850, Millard Fillmore was thrust into the presidency at a time of unrest. The controversial Compromise of 1850, which was passed during his tenure, averted the dissolution of the Union for another decade.
When his presidency ended on March 3, 1853, Fillmore returned to Buffalo, where he became involved with multiple cultural organizations and civic endeavors that continue to influence life there today.
First and foremost, he was responsible for framing the charter that officially made Buffalo a city. In 1846, Fillmore, as a former teacher dedicated to the furthering of educational institutions in Buffalo, worked to establish a medical university. Through his efforts, the University of Buffalo was chartered by the New York legislature on May 11; he became the first chancellor, serving in this honorary position from 1846 until his death in 1874. In conjunction, Fillmore financially assisted the Sisters of Charity in the construction of a new Buffalo General Hospital, which opened officially in 1858. Within the next decade, he became a member of the facility's board of trustees. This sense of compassion and dedication to humanity carried over to founding and becoming vice president of the Society for the Prevention of Cruelty to Animals.
Yet with all of these accomplishments, his most prized were those in the Buffalo cultural arena. He began by founding and presiding over the Buffalo Club, the city's first exclusive social group. In 1862 the Buffalo Fine Arts Academy, today the governing body of the Albright-Knox Art Gallery, was forged with Fillmore's support as both a financial contributor and board member.
He also helped to lay the groundwork for the Grosvenor Library as an ally and president of the board of trustees, which became one of the nation's most comprehensive reference collections. Fillmore also spearheaded a campaign to raise money for Buffalo's Society of the Natural Sciences. Concurrently, Fillmore was actively involved in a project to preserve Buffalo's historical and cultural property by organizing the Buffalo Historical Society. Not only did he arrange the meeting instrumental to the society's development, but he served for five years as its first president.
Millard Fillmore's death on March 8, 1874, was devastating to a city that had long reaped the benefits of his charitable nature. During his residency, Buffalo experienced a period urbanization and growth, much of which was a direct result of his interest and enthusiasm. His influential and generous nature prompted the renaming of the city's Homeopathic Hospital to Millard Fillmore Hospital in 1923. Fillmore was laid to rest in Buffalo's own Forest Lawn Cemetery, consecrating his place in the hearts and minds of Buffalonians for the rest of time.
Millard Fillmore / Unidentified Artist / Oil on canvas, 1843 /  National Portrait Gallery, Smithsonian Institution