New Exhibition – Inventing Marcel Duchamp: The Dynamics of Portraiture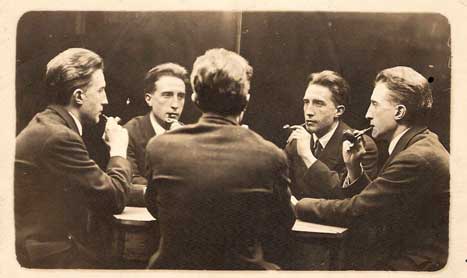 "Inventing Marcel Duchamp: The Dynamics of Portraiture" opens this Friday, March 27, at the National Portrait Gallery. The exhibition casts new light upon Marcel Duchamp (1887–1968), one of the most influential artists of the recent past. Showcasing approximately 100 never-before-assembled portraits and self-portraits of Duchamp, the show demonstrates that the artist harnessed the power of portraiture and self-portraiture both to secure his reputation as an iconoclast and to establish himself as a major figure in the art world.
The exhibition includes works by his contemporaries Man Ray, Alfred Stieglitz, Francis Picabia, and Florine Stettheimer, as well as portraits by a more recent generation of artists, such as Andy Warhol, Jasper Johns, Sturtevant, Yasumasa Morimura, David Hammons, Beatrice Wood, and Douglas Gordon. "Inventing Marcel Duchamp: The Dynamics of Portraiture" closes on August 2, 2009.
In this blog post, we focus on one of the works featured in the exhibition: Portrait multiple de Marcel Duchamp (Five-Way Portrait of Marcel Duchamp) (above). Throughout a lengthy career that spanned much of the twentieth century, Marcel Duchamp recast accepted modes for assembling and describing identity. In 1917, having recently arrived in the United States, he found special significance in a mechanically produced photo-postcard that depicted him simultaneously from five different vantage points.  The five-way picture, made by sitting in front of a hinged mirror, had gained popularity by the late nineteenth century and was commonly found in photography studios and at amusement parks. Produced in editions of three, the portrait could be shared with friends.
The Five-Way Portrait of Marcel Duchamp suggests the artist's early recognition of the multifarious nature of personal identity, something he would continue to explore throughout his career. Fascinated with the way portraits shape identity, Duchamp exploited the genre, often turning conventional codes for portrayal on their head.
For Duchamp, postcards were more than a novelty. By integrating the multiple portrait into his larger body of work, Duchamp transformed a mechanical picture, made by an anonymous camera operator, into a self-portrait that embodied his view of identity as fractured and unstable. It prefigures his creation of various alter egos, such as Rrose Sélavy. The picture was made on June 21, 1917, at the Broadway Photo Studio at the same time that Duchamp was photographed with his friends Francis Picabia and Beatrice Wood.
>> Listen to James McManus, co-curator of the exhibition, discuss  Five-Way Portrait of Marcel Duchamp (1:46)
For more on Marcel Duchamp, be sure to visit the online exhibition. And please join us on Friday, March 27, for two exciting programs offered in conjunction with the opening of the exhibition: The Edgar P. Richardson Symposium on Marcel Duchamp and Conservation Panel: New Research on Marcel Duchamp's Portraits by Jean Crotti.