A Norwegian Painter in the Trenches with Ulysses S. Grant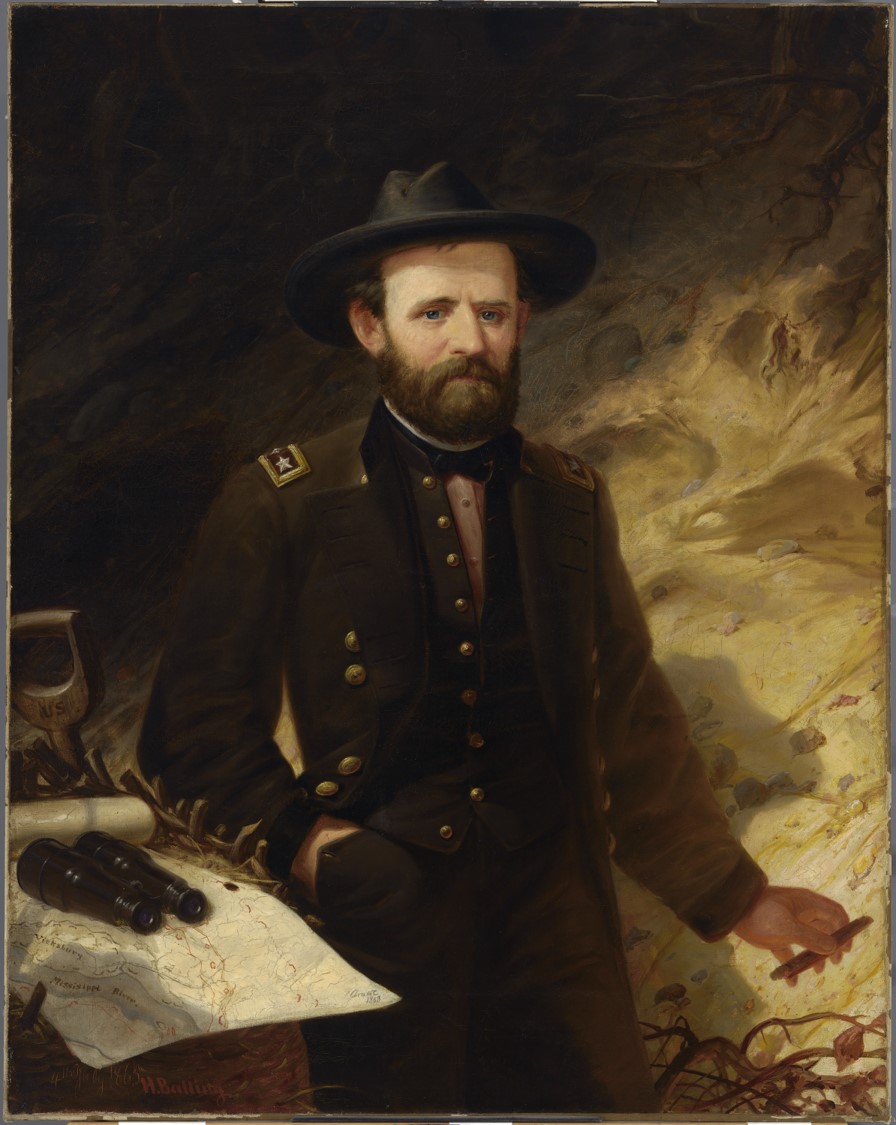 In his recent biography of the eighteenth U.S. president, Ron Chernow provides ample evidence that the Civil War "made" Ulysses S. Grant, transforming an ill-fated farmer and failed merchant into a national hero. A similar claim could be made (though on a less elevated scale) for one of Grant's portraitists, the Norwegian painter Ole Peter Hansen Balling. After immigrating to Brooklyn in 1856, Balling struggled to find his footing in the American art world. When the Civil War erupted in 1861 he exchanged his paintbrush for a rifle, serving uneventfully as an officer in two U.S. Army regiments until he was accidentally shot by a fellow soldier.
Resigning his commission in 1863, Balling returned to Brooklyn where he painted a posthumous portrait of a recently deceased Union general. The exhibition of that picture brought Balling his first big break: a commission to paint an ambitious group portrait of U.S. Grant and the principal generals under his command. Undeterred by the hazardous conditions he had recently left behind, Balling determined to make sketches from life at military encampments and battlefields. On his way to Grant's headquarters in City Point, Virginia, he stopped briefly at the White House to make a watercolor portrait of Abraham Lincoln and came away armed with a letter of introduction to Grant from the president himself.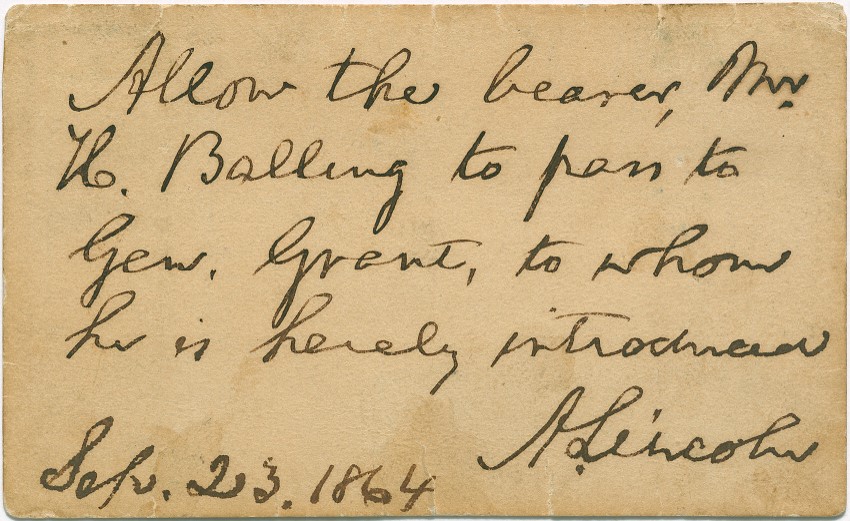 When he arrived at Grant's headquarters, Balling was taken aback by the famous general's lackluster appearance. In his autobiography, he vividly recalled his first impressions:
I was standing in front of the little man, who looked quite bashful at a distance in his big felt hat. His big, open overcoat … covered a gray wool shirt and a dark blue vest with silver buttons. Dark blue trousers, with stripes hardly noticeable, were stuck in a pair of quite dusty boots. What was so fascinating about the man was the energetic face below the brim of the hat, where a pair of bright eyes were in their right place.
Though the war had reached a critical juncture, Grant proved surprisingly accommodating during Balling's five-week stay. He lent the artist one of his own horses and even agreed to demonstrate his renowned facility in the saddle, galloping back and forth while Balling committed the image to memory "as a fixed photograph." At meals, Grant made a point of sitting across the table from Balling so the artist could "look at him as much as possible."
On October 18 Grant invited Balling to accompany him up the James River, where Union forces were closing in on Richmond. Balling was stunned by Grant's nonchalance in the face of danger. He later recalled:
The skirmishers were rapidly firing. I could hardly breathe. We were soon at Fort Harrison, where the shells were passing and bursting. Here Grant dismounted again and seated himself at the foot of an earthwork. He was immediately surrounded by the senior commanders, receiving reports, and giving orders. All around us were dying men. A shell burst right over where the General sat. He did not seem to hear it.
The memory of Grant at Fort Harrison, sheltered by an earthwork, coolly issuing orders while bombs and bullets rained down around him, very likely influenced the portrait Balling painted immediately upon his return to New York. Making use of his recent sketches and observations, he depicted the general in a characteristically casual pose, with one hand tucked into a pocket of his unbuttoned frockcoat, the other holding his ever-present cigar.  At Grant's side, Balling depicted a set of field glasses resting on a map of Vicksburg, Mississippi— the last major Confederate stronghold on the Mississippi River—which Grant had successfully besieged in 1863, turning the tide of the war. The map rests on a gabion, a makeshift parapet made from a cylindrical basket filled with dirt. Behind it stands a shovel marked "U.S." Both the shovel and the gabion allude to Grant's lethal Vicksburg strategy, which called for Union troops to dig fifteen miles of trenches encircling the town of Vicksburg, thus cutting off food and supplies from the Confederate army holed up there.
Judging from the date inscribed in the lower left corner of the painting, Balling evidently completed the painting on July 4, 1865—the second anniversary of the Confederate surrender at Vicksburg. Although he had been nowhere near the siege when it occurred, Balling had experienced its events vicariously through Grant's stimulating description. In later years, he recalled:
My portrait of Grant, with his slouch hat, in the trenches before Vicksburg…is strikingly like him… as I remember him sitting by the camp-fire before his tent at City Point Headquarters, the day we returned from Fort Harrison, when he inspired me by telling me of his meeting with Sherman and the work around Vicksburg.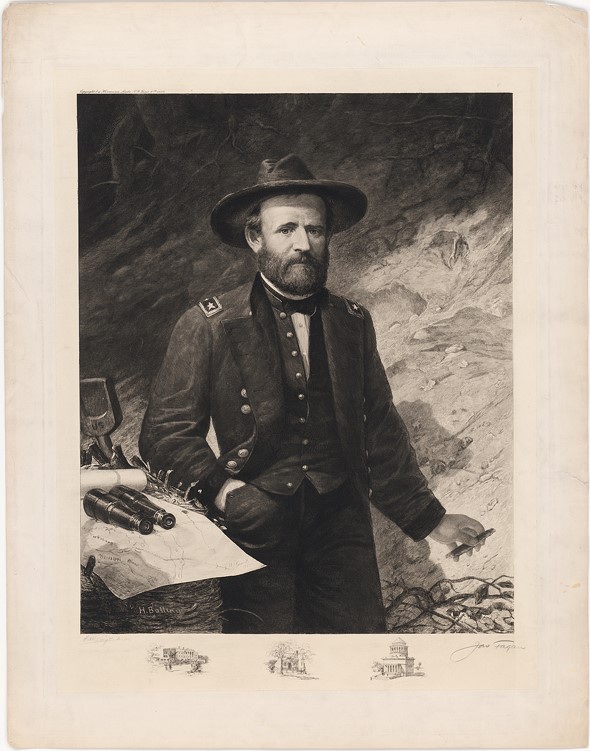 When an engraving of Balling's portrait was published in 1899 under the title U.S. Grant before the Trenches at Vicksburg, it included three buildings in the lower margin that chart the remarkable trajectory of Grant's life: from the humble one-room cottage in Ohio where he was born in 1822 (at center); to the White House, where he lived as president from 1869 to 1877; to the magnificent mausoleum in New York known as Grant's Tomb, which became his final resting place in 1897.
The trajectory of Balling's life was far less dramatic, but it included the opportunity to create portraits of over two dozen celebrated generals for his monumental painting Grant and His Generals (now in the National Portrait Gallery). He went on to paint many officers of the Norwegian navy and members of the Swedish royal family. Despite the many important people he met through his work as a portraitist, Balling reserved a special place in his affections for U.S. Grant. He visited the president in peace time and painted a portrait of his father in 1873. His portrait of Grant at Vicksburg remained in his own personal collection until 1874, when he reluctantly sold it to raise money for his return to Norway. Five years later, Grant himself visited Norway during his post-presidential round-the-world tour. When the ship docked, Balling was there waiting for him.