Now on View: Portrait of Barack Obama by Shepard Fairey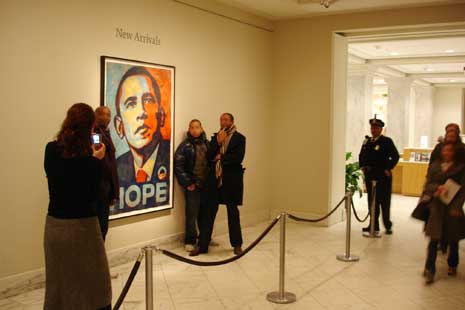 The portrait that came to symbolize the historic campaign of President-elect Barack Obama is now on display at the National Portrait Gallery. The piece, created by Los Angeles–based graphic designer and street artist Shepard Fairey, came to the museum through the generosity of Washington, D.C., art collectors Heather and Tony Podesta, in honor of Tony Podesta's mother, the late Mary K. Podesta.  This large-scale mixed-media stenciled collage is on view in the "New Arrivals" exhibition, on the museum's first floor.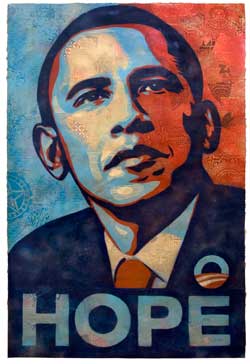 Fairey's Barack Obama "Hope" poster became the iconic campaign image for the first African American president of the United States. Early in 2008, Fairey produced his first Obama portrait, with a stenciled face, visionary upward glance, and the caption "Progress." In this second version, Fairey repeated the heroic pose and patriotic color scheme, substituting the slogan "Hope."
The artist's intention that the image be widely reproduced and "go viral" on the Internet exceeded his greatest expectations. The campaign sold 50,000 official posters; a San Francisco streetwear company produced T-shirts; grassroots organizations disseminated hundreds of thousands of stickers; and a free downloadable version generated countless repetitions. Although the reproductions rarely convey the elegant surface patterning seen in this original collage, they forged an unprecedented and powerful icon for Obama's historic campaign.
Shepard Fairey's work is represented by the Irvine Contemporary gallery in Washington, D.C.  His art is in the collections of the Museum of Modern Art, the Los Angeles County Museum of Art, and the Victoria and Albert Museum in London.  In 2006, Gingko Press published a monograph on the artist's career, "Obey: Supply and Demand." A retrospective of Fairey's work will open on February 6 at the Boston Institute of Contemporary Art.
>> Listen to an interview with artist Shepard Fairey (13:49)

The portrait was unveiled at the National Portrait Gallery on January 17; it is now on view on the museum's first floor.