Now on View: Portrait of Bill and Melinda Gates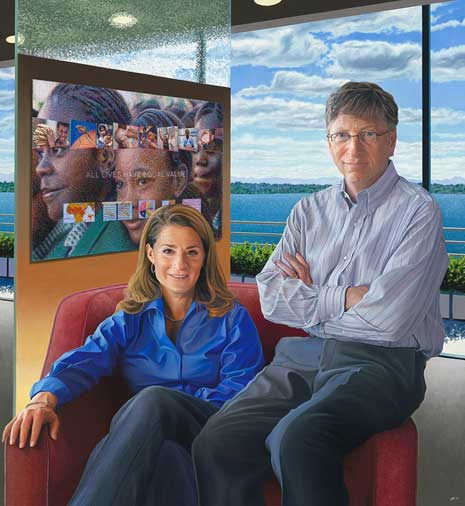 A portrait of Bill and Melinda Gates is now on view in the museum's "Recent Acquisitions" exhibition on the first floor. The portrait was commissioned by the National Portrait Gallery and unveiled this morning, in a private ceremony.
Bill Gates left Harvard as an undergraduate to write software for the earliest personal computers. His company, Microsoft, developed a computer operating system for wide-scale nontechnical use that spurred on the personal computer revolution begun in the 1980s. Microsoft remains a leader in the industry. Melinda French Gates has degrees in computer science, economics, and business, and was employed by Microsoft.
The couple created the Bill & Melinda Gates Foundation in 2000 with the mission of helping all people live healthy, productive lives. Global priorities include improving health and boosting the productivity of small farms in poor countries; national initiatives include implementing partnerships to make sure students graduate from high school ready for college and helping local libraries provide free computer and Internet services
Jon Friedman, the portrait artist, grew up in Northern Virginia and is currently based in New York City and Truro, Massachusetts. His work has been shown in solo and group exhibitions around the country. Many of his portrait subjects are leaders in the worlds of science, medicine, and technology, including David Baltimore, Maxine Singer, Harold Varmus, and Charles Vest. His work is in many private and institutional collections, including the American Philosophical Society, the Carnegie Institute of Washington, the Hirshhorn Museum and Sculpture Garden, the National Academy of Sciences, the National Institutes of Health, the National Portrait Gallery, the Royal College of Surgeons of England, and the Royal Society.
The National Portrait Gallery's Commission (its advisory board) selects individuals who are making a significant impact on American culture for commissioned portraits. The museum has a history of commissioning portraits of presidents and first ladies and most recently has presented a commissioned portrait of Eunice Kennedy Shriver.
This portrait of Bill and Melinda Gates was commissioned for the museum through the Marc Pachter Commissioning Fund, which was established in honor of a former director of the museum.