Now On View: Portrait of Norman Mineta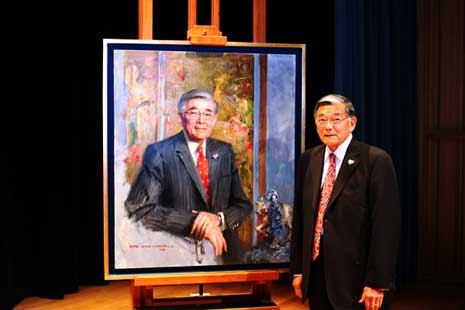 Former Transportation and Commerce Secretary Norman Y. Mineta was recognized by the Smithsonian's National Portrait Gallery and the Smithsonian Asian Pacific American Program with the installation of his portrait in a private ceremony at the Portrait Gallery on Monday, July 26.
The portrait, by artist Everett Raymond Kinstler, is on display on the museum's first floor, in the "New Arrivals" exhibition, a collection of recent acquisitions. The oil-on-canvas painting was offered as a gift to the Portrait Gallery from the Smithsonian Asian Pacific American Program.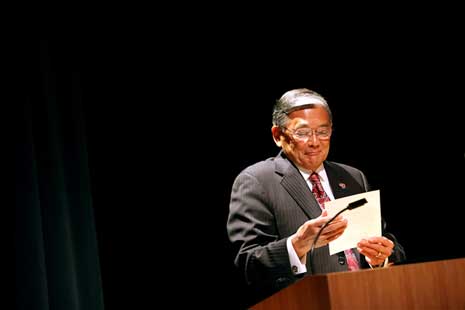 Born in 1931 to immigrant Japanese parents in San José, California, Mineta and his family were detained along with 120,000 Americans of Japanese descent at an internment camp during World War II. Mineta's career in politics began with an appointment to a vacant seat on the San José City Council in 1967; two years later he won the seat in his own right. In 1971, he was elected mayor of San José, becoming the first Asian American mayor of a major U.S. city. As a member of Congress from 1975 through 1995, Mineta co-founded the Congressional Asian Pacific American Caucus and engineered the passage of H.R. 442, the Civil Liberties Act of 1988—an official government apology for the internment of those of Japanese ancestry during World War II.
In 2000, President Bill Clinton appointed Mineta secretary of commerce, making him the first Asian Pacific American to hold a cabinet post. In 2001, President George W. Bush appointed him secretary of transportation, making him the only Democrat in Bush's cabinet and one of the few citizens ever to serve in the cabinet of both a Democratic and Republican president. During the tragic events of Sept. 11, 2001, Mineta issued the historic order to ground all civilian aircraft, the first time this had been done in U.S. history.
Mineta retired from his cabinet post in 2006 and in that same year was awarded the Presidential Medal of Freedom, the nation's highest civilian award. Mineta also served on the Smithsonian's Board of Regents from 1979 through 1995 and supported the establishment of the Smithsonian Asian Pacific American program in 1997. Currently, he is vice chairman of Hill & Knowlton, a leading global communications consultancy.
This commission was made possible through the support of benefactors George and Sakaye Aratani, Hill & Knowlton, and Verizon Communications with additional support from many others. The portrait of Mineta is a part of the National Portrait Gallery's ongoing efforts to commission portraits of living sitters for its permanent collection.