Katharine Hepburn's Oscars: One of These Things is Not Like the Others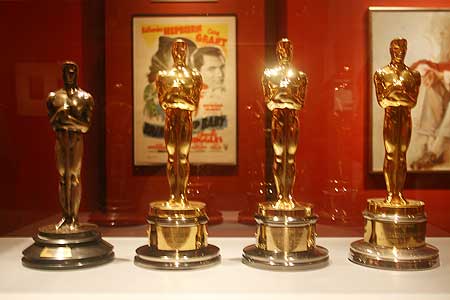 Currently on display in the "One Life" gallery is the NPG exhibition "KATE: A Centennial Celebration," and as part of the show, its curator Amy Henderson negotiated the loan of Katharine Hepburn's four Oscars from the Hepburn estate; the Oscars stay in storage at the Academy of Motion Picture Arts and Sciences in Hollywood.
Interestingly, Hepburn's Oscar for Morning Glory (1933) is very different from her other three Oscars.  It appears to be smaller and less opulent, by far. Why is this?  According to Susan Oka, acquisitions librarian with the Academy, "From 1928 to 1945, the Oscars had a Belgian black marble base and, although the statuette has always been the same size, ten and a half inches, the three inch base was not adopted until after 1945.  Also, after 1945, the statuettes were made of Britannia metal, an alloy of tin, copper, and antimony."   

Amy Henderson says of the award, "I love the early one best; it really has that art deco look that the sculptor, George Stanley, was famous for.  He did the sculptures at the Hollywood Bowl.  The history of the term 'Oscar' also has a close Hepburn connection.  The first time the name 'Oscar' was in print refers to Katharine Hepburn's absence at the Academy ceremony in 1934 where she was awarded the best actress award for Morning Glory."

And although Henderson says there are several great stories about the origin of the name "Oscar" for the award--its real name is the Academy Award of Merit--the Academy of Motion Picture Arts and Sciences maintains, per Oka, that an early executive director of the academy, Margaret Herrick, claimed that the statuette resembled her uncle Oscar.   
Learn more about Katharine Hepburn by visiting the website for "KATE: A Centennial Celebration".  And see the exhibition in person at the National Portrait Gallery; it will be on display until September 28, 2008.