"The Outwin 2016" Finalist: Allison Janae Hamilton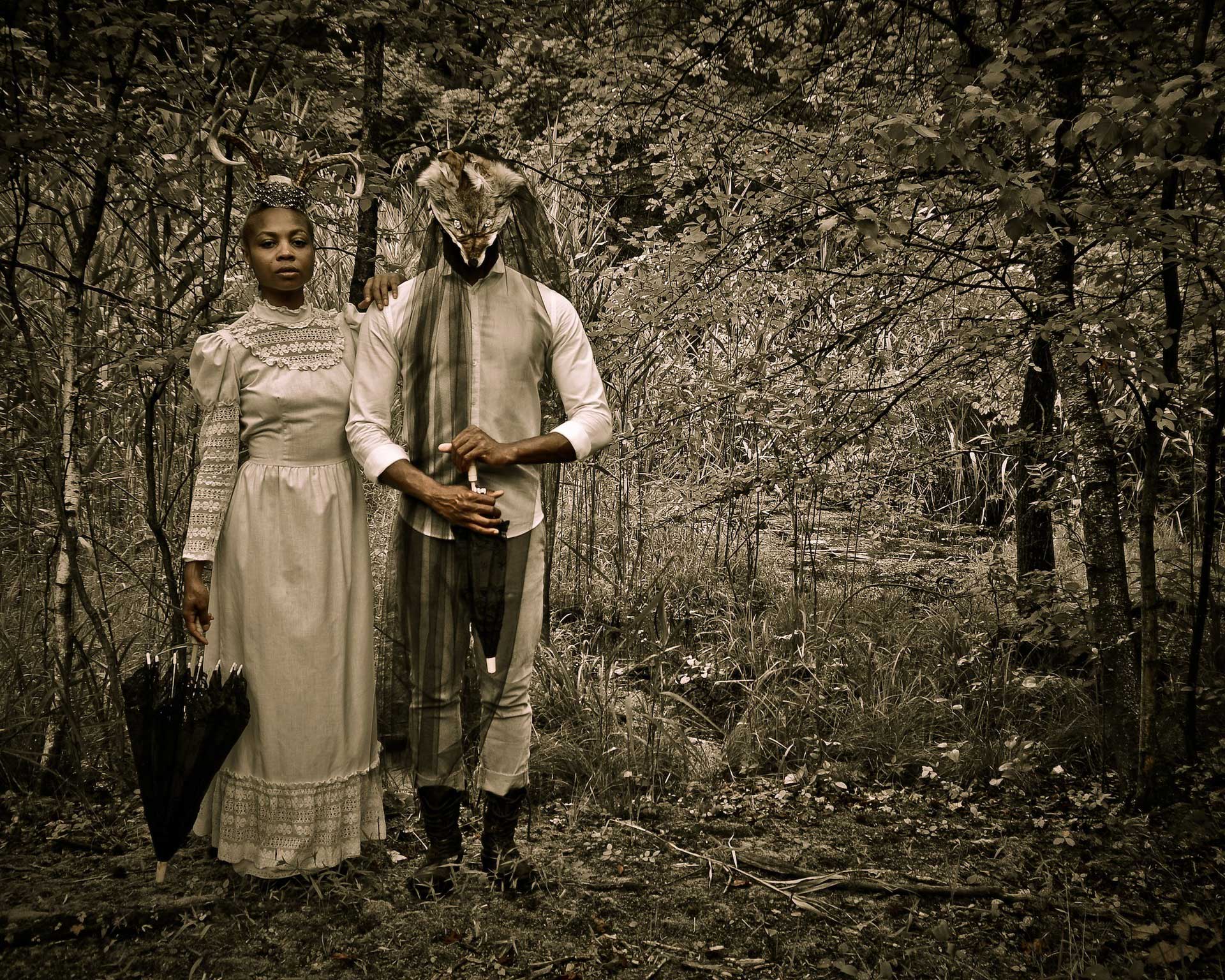 Out of over 2,500 entries in the Outwin Boochever Portrait Competition, 43 artists have their work shown in the exhibition "The Outwin 2016: American Portraiture Today." Read more about one of the finalists, Allison Janae Hamilton.
What made you decide to depict this sitter as you did?
I remade a photograph from a family album, preserving poses from the vernacular image while introducing fantasy motifs that often run through my work (animal masks, veils, etc.).  The characters/portrait sitters in this image take on the role of haints, or spirits, that inhabit a space between the magical and tangible worlds.  These haints represent an underbelly of collective familial memory, what is lost, unspoken, and mythologized through hyperbolic tales often used to mask painful realities.   Each spirit struggles to find their way in the contemporary southern landscape, calibrating the desire to assimilate into a human form against a parallel continuum of past and future.  It is in this in-between space that fantasy and reality collapse, and it becomes increasingly unclear where the tangible begins and ends.
How did your work develop from idea to execution?
I work by creating a narrative storyline that I give to each sitter in the cast.  I then walk the sitter through the story, mood, and any gestures that I'm looking for and allow them enough room to then improvise within those parameters.  Once we set up the scene in the location, they perform it under my direction.  The way the entire team works creates a hybrid, then, between documentary and narrative.  Once we direct the actors to begin, it feels almost as if I am functioning as a documentary photographer, even though I've set up the scene.  Then we'll start another scene and do it all over again.  It's like two completely different processes happening one right after the other.
After the photographs are made, the creation of the installations is another process of its own that involves other media such as sculpture, video, found objects, and others.
What relationship do the materials have to the meaning?
The material process is definitely an important part of my work.  I do an incredible amount of research looking at archival family photographs and vernacular portraits, sourcing and building props, as well as sourcing and making costumes.  Fantasy is an important part of the work, but I like that there is also a familiarity.  Bringing in certain elements helps to reinforce certain feelings of home and memory while also burlesquing them into a realm filled with uncertainty, darkness, and a bit of humor.  Working with taxidermy helps me to ground the images in the landscape, and bring some of my own personal history (many in my family were and are hunters) into the fantasy and mythology of my environmental portraits.
How does the piece fit within your larger body of work?
"Haints at Swamp II." is one of several environmental portraits that feature in my latest body of work, Kingdom of the Marvelous.*  
Below, I've included a project statement about this series, which describes it in more detail:
Kingdom of the Marvelous is a restaging of photographs from Hamilton's collection of her family's photo albums from rural Tennessee.  In this series, Hamilton asks questions about representation and self-fashioning by interrogating and reenacting persistent gestures in both studio and vernacular portraiture of the first half of the twentieth century.  The images in Kingdom also comment on the haunting gaps within cultural memory and histories and fill these voids with imaginative fantasies pieced together from fairytales, family myths and overheard gossip, superstitions, sermons, archival family photographs and memorabilia, Baptist hymns, and other forms of cultural iconicity. 
In many of her portraits, Hamilton constructs elements of her sitters' garments out of taxidermy—animal hides, antlers, skins, and heads.  Additional icons such as lace, flowers, veils, church fans, tambourines, curiosities, and food items animate her play on cultural history and memory and toy with expectations of identity and culture against the rural landscape.  The work is presented in the form of an installation that also includes landscape photographs Hamilton makes on her family's farmland in Tennessee as well as furniture, parlor knickknacks and curiosities, taxidermy, fabric, and various sourced elements.  In this way, the work draws from the canons of magical realism, southern gothic literature, and the carnivalesque in order to meditate on disruption and magic in everyday routines and rituals of rural life.
You can see Hamilton's work in "The Outwin 2016: American Portraiture Today," up now through Jan. 8, 2017. Also, be sure to vote in our People's Choice Competition.