"The Outwin 2016" Finalist: Claudia Biçen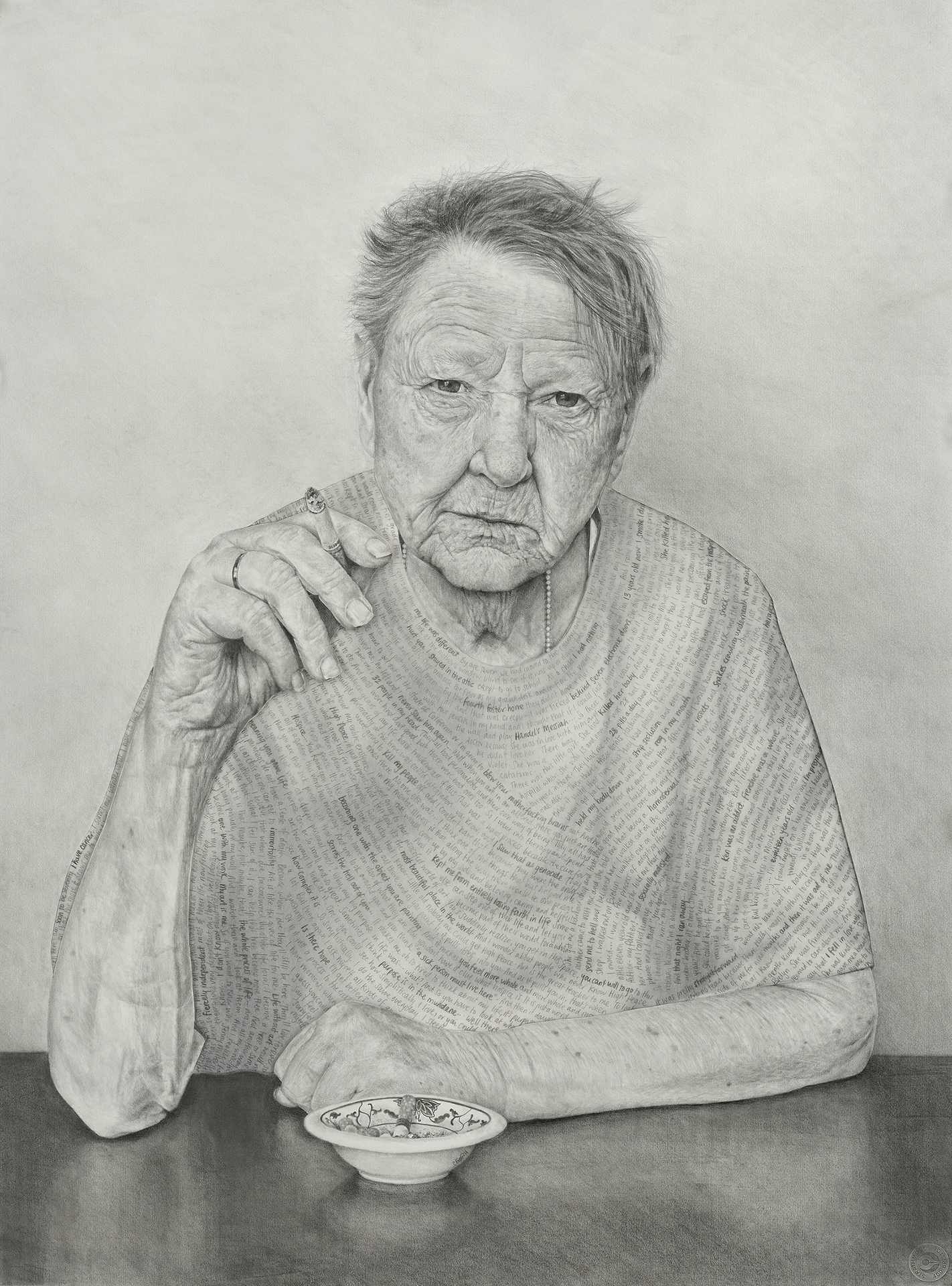 Out of over 2,500 entries in the Outwin Boochever Portrait Competition, 43 artists have their work shown in the exhibition "The Outwin 2016: American Portraiture Today." Read more about one of the finalists, Claudia Biçen.
What about the sitter inspired you?
Jenny was referred to me by a social worker that knew I was looking for hospice patients to participate in an art project. I first went to visit Jenny Miller in her single room occupancy apartment in San Francisco's Tenderloin district June 2014. Like every time I saw her, Jenny was sitting in an armchair surrounded by her artwork, chain-smoking cigarettes and drinking grape soda. 
From that day on, we met every week for several months to record her reflections on life and confrontations with mortality. Jenny is one of the most unique people I have ever had the privilege to meet – from the unfathomable struggles her life has been filled with, to her unwavering strength in response to them and her creative mind that I believe saved her life. 
What made you decide to depict this sitter as you did?
Jenny is a hard woman who has had a hard life. You can feel it in her presence as you can see it in her face. With her piercing look and tight lips she is leaning into the viewer, demanding them to take notice and listen to what she has to say. 
The more I got to understand Jenny's life, the more I realized that smoking was a symbolic act of independence.  Cigarettes were the one small piece of freedom she felt she had when her entire life was out of her control: when she was abused as a child, when she was living in a group home, when she hospitalized against her will and when she lived on the streets of California.
How did your work develop from idea to execution?
When I started this project, all I knew is that I wanted to interview and draw the portraits of hospice patients as a means to bring a compassionately driven conversation around death and dying into the public sphere. As the project evolved I decided to make the pieces life-size, work in graphite pencil (previously having largely worked in pastels), and create an audio clip to accompany each piece. I wanted to create an intimate connection between the subject and the viewer as though they were standing in front of you as a sage or mentor. I decided to weave the interview transcriptions throughout the subjects' clothing as a metaphor for the narratives that each of us creates and carries throughout our life.

How does the piece fit within your larger body of work?

This portrait of Jenny is part of a larger series of nine audio-visual portraits of hospice patients that I have been creating over the past two years. 
You can see Biçen's work in "The Outwin 2016: American Portraiture Today," up now through Jan. 8, 2017. Also, be sure to vote in our People's Choice Competition.