"The Outwin 2016" Finalist: Jessica Todd Harper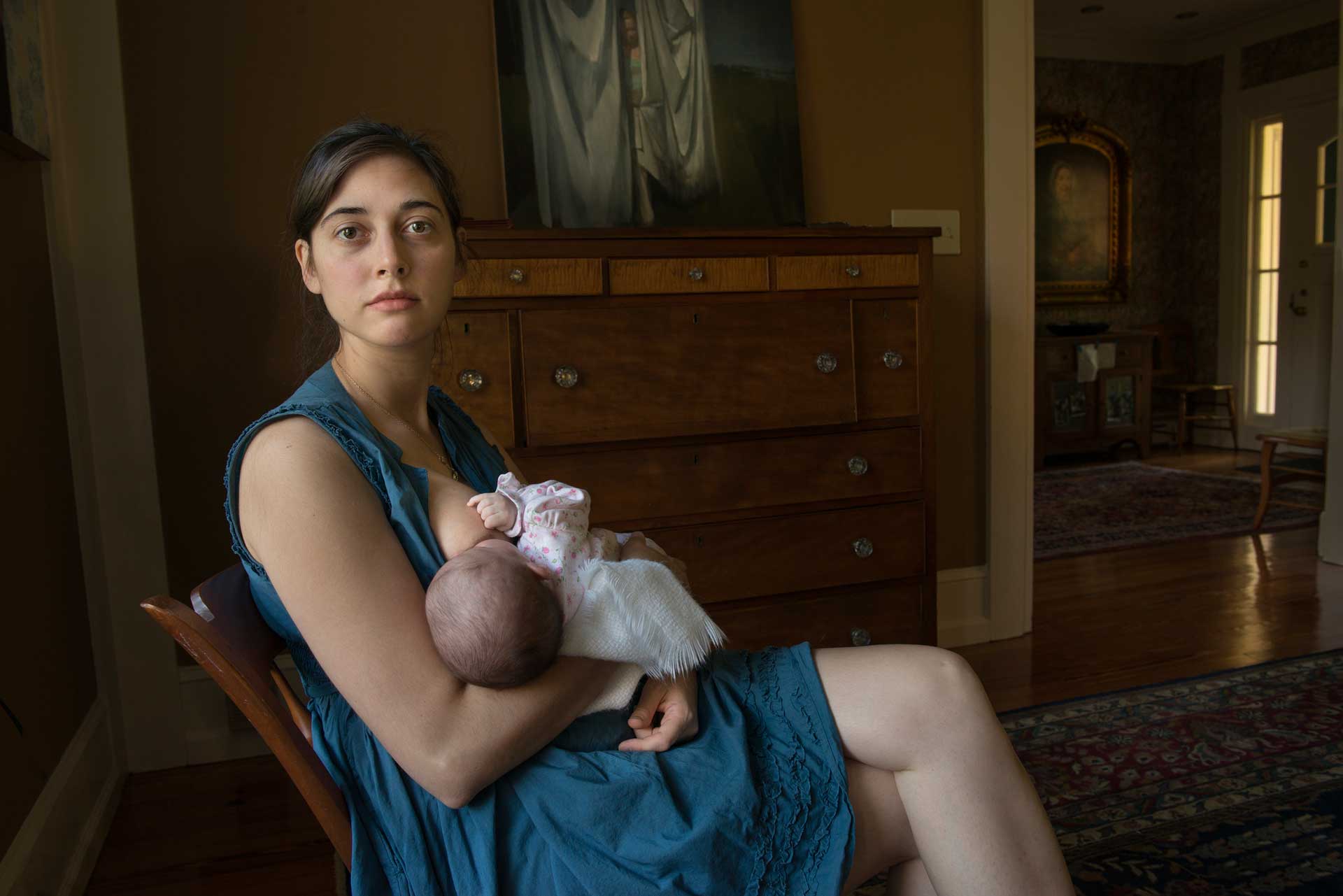 Out of over 2,500 entries in the Outwin Boochever Portrait Competition, 43 artists have their work shown in the exhibition "The Outwin 2016: American Portraiture Today." Read more about one of the finalists, Jessica Todd Harper.
What about the sitter inspired you?
There is something so lovely about a mother with a nursing baby- I think that was the beginning.
How did the sitter inspire this specific portrait?
The sitter is my sister, Becky, and I have photographed her since she was a child.  I wanted to make a portrait of her at this moment in her life- which inevitably included her small baby.  Becky looks at the viewer with a mix of pride, exhaustion, strength, protectiveness and vulnerability.  This combination of feelings speaks to how many new mothers feel. 
What made you decide to depict this sitter as you did?
This image appears in my monograph "The Home Stage" and the dedication page has this quote from Ecclesiastes: "Whatever is has already been, and what will be has been before."  In this family portrait the very newest family member appears with three other women from her family, including her great great great great great grandmother to the right. The protagonists- the new baby and her mother- appear as one link in a chain that has gone on for a very long time and will continue to go on after we are all dead.  The new mother and baby appear very strong but they are contextualized in a way that reminds us how ephemeral they are as well.
How did your work develop from idea to execution?
I seem to make work out of an interior need. I don't necessarily think about it in the same part of my brain where I use words, and when I talk or write about the pictures I often feel like I am translating.  So, this series did not begin with concrete plans, but rather emerged.  Only after I had a critical mass of images did I start talking about them in the context of their meaning.  This particular image is part of a series called The Home Stage.  I have always photographed families but this series began with the birth of our first children (we started with twins).  It is about the stage in life when you are anchored to the home with young children and also about how the home is the first stage on which we learn to live.  It is in the context of the home environment where we learn about who we are and what is important.
What relationship do the materials have to the meaning?
Much of the meaning in this image is about the temporality of our existence.  A photograph, which in its very nature is about something that no longer exists, happens to work pretty well!
You can see Harper's work in "The Outwin 2016: American Portraiture Today," up now through Jan. 8, 2017. Also, be sure to vote in our People's Choice Competition.