Party with the Presidents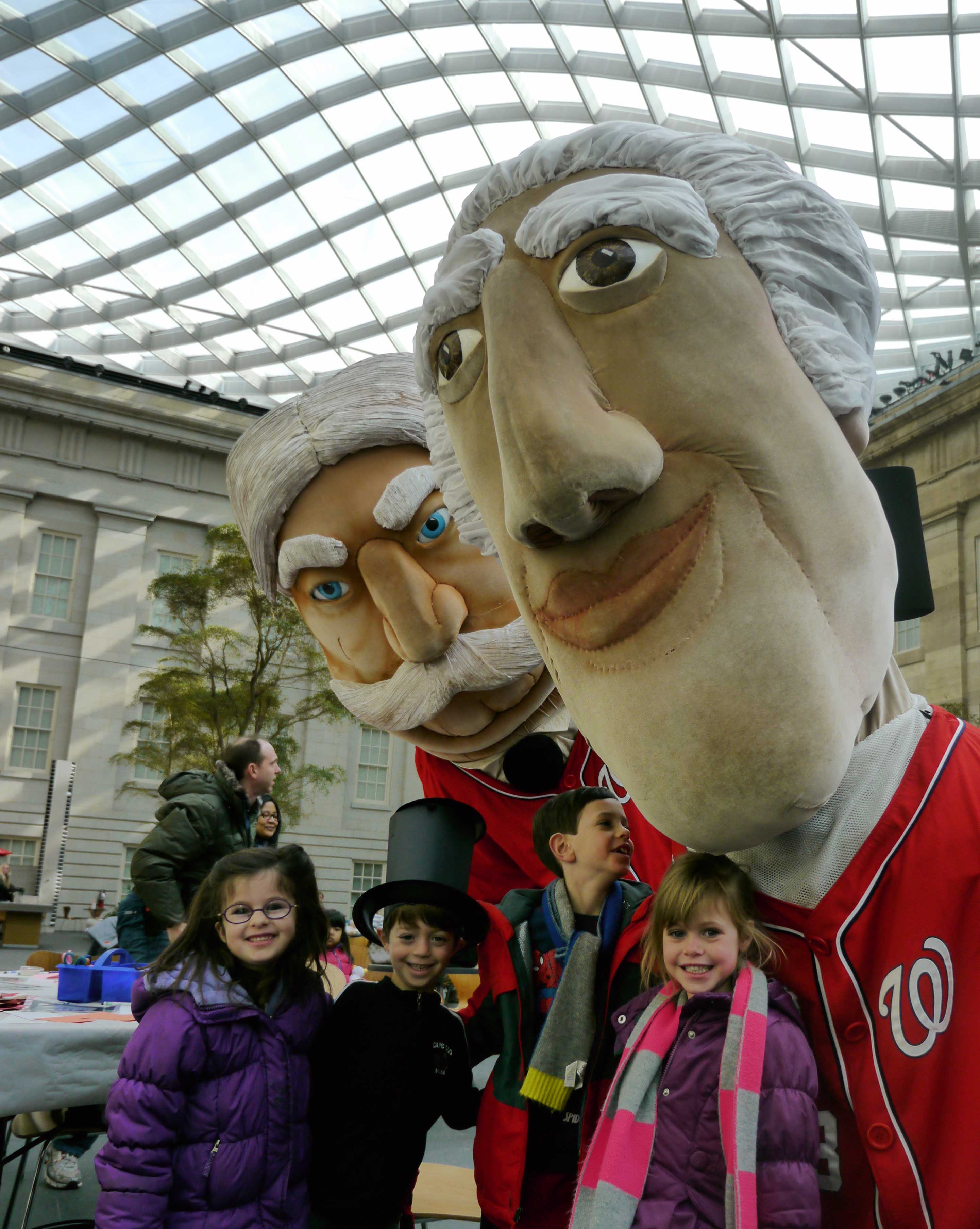 America's presidents are going on a trip, and you're invited to the National Portrait Gallery to see them off! Our annual Presidential Family Fun Day is this Saturday, February 18, from 11:30 a.m. to 3 p.m. Join us as we celebrate the "America's Presidents" exhibition before it moves for a temporary rehang.
We will kick off the program with some giant familiar faces. Our special guests, the Washington Nationals' Racing Presidents, will be in our Kogod Courtyard from 11:30 a.m. to 12:30 p.m. Meet local legends George, Tom, Abe, Teddy, and Bill and see if you can beat them across the finish line!
Once you've met the presidents, test your presidential knowledge with a game for the whole family. Do you know any presidential trivia experts? Bring them to our trivia game from 12:30 to 1 p.m. Visitors of all ages can team up to answer questions about America's commanders in chief.
At 1 p.m., test your trivia game answers against the National Portrait Gallery's resident expert as senior historian David Ward takes visitors on a tour of the exhibition, covering fun facts and serious issues of the presidency. The tour will start with George Washington's false teeth and proceed through the centuries with stops along the way to talk about Calvin Coolidge's alligators —or were they crocodiles?
Your presidential knowledge will come in handy during the ongoing activities in the Kogod Courtyard. Did you ever wonder what goes into curating a presidential exhibition? Now's your chance to give it a try with our "Be the Curator" art activity. Create your own mini exhibition complete with presidential likenesses from our collection or images of your own creation. You can even include yourself after donning a wig like Washington or a hat like Lincoln and posing for a presidential portrait. As long as you're dressing the part, take a moment to consider yourself as POTUS with the "When I Am President" art and writing activity. The folks from President Lincoln's Cottage will be with us to pay homage to our sixteenth president as they teach us how to create our very own iconic stovepipe hat.
The program wraps up on a musical high note. Step in time with the Linton Hall Fife and Drum Corps as they fill the courtyard with historical tunes starting at 2:15 p.m.
Visitors of all ages are invited to celebrate Presidents' Day at the National Portrait Gallery during the Presidential Family Fun Day. Meet the presidents, learn about the presidents, pose like the presidents, and dance to the music beloved by the presidents as we recognize and pay tribute to the nation's commanders in chief and their portraits.