Phillis Wheatley: Her Life, Poetry, and Legacy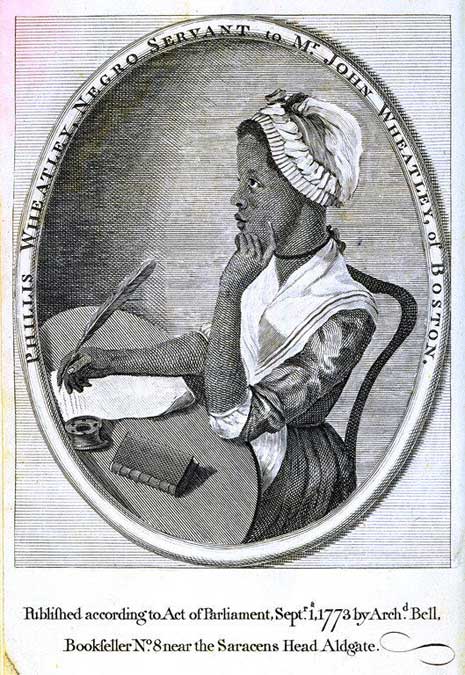 In 1773, Phillis Wheatley accomplished something that no other woman of her status had done. When her book of poetry, Poems on Various Subjects, Religious and Moral, appeared, she became the first American slave, the first person of African descent, and only the third colonial American woman to have her work published.
Born in Africa about 1753 and sold as a slave in Boston in 1761, Phillis was a small, sick child who caught the attention of John and Susanna Wheatley. Purchased as a domestic servant for Susanna, the small girl was named after the ship that brought her to Boston, the Phillis, and her master, Wheatley. Susanna soon discovered that Phillis had an extraordinary capacity to learn. She relieved the child of most domestic duties and educated her, with assistance from her own daughter, Mary, in reading, writing, religion, language, literature, and history.
Phillis began publishing her poems around the age of twelve, and soon afterward her fame spread across the Atlantic. With Susanna's support, Phillis began posting advertisements for subscribers for her first book of poems. However, as Sondra O'Neale, a scholar of Phillis's work, notes, "when the colonists were apparently unwilling to support literature by an African, she and the Wheatleys turned in frustration to London for a publisher."
In 1773, Phillis, in continuously poor health, set off for London with her master's son, Nathaniel. It was here that she was not only accepted, but adored—both for her poise and her literary work. It was also here that she met Selina Hastings, the Countess of Huntingdon, a friend of Susanna Wheatley's; the countess eventually funded the publication of Phillis's book. Poems on Various Subjects, Religious and Moral, was published in London in late 1773, just as Phillis traveled back to Boston to tend to a gravely ill Susanna.
Even with her literary popularity at its all-time high, the years after the trip to London were difficult for Phillis. Although she was manumitted around the time of her book's publication, freedom in 1774 in Boston proved incredibly difficult. Most of the Wheatley family died during 1774-78, and Phillis was unable to secure funding for another publication or sell her writing. There were glimmers of happiness; she married a free black man, John Peters, in 1778. The couple probably had three children, although that number is uncertain; as biographer Vincent Carretta notes, "Much about Phillis Wheatley's life between 1776 and her death in 1784 remains a mystery."
It is believed that none of their children survived infancy. The couple struggled with extreme poverty, and in 1785 Peters was placed in jail because of debt. Phillis continued to write—on subjects varying from biblical themes to the horrors of slavery—but was not able to support herself with these writings. (John C. Shields states that while most of these poems are lost, several were rediscovered in the 1970s and 1980s.) She took a job as a maid in a local boardinghouse, but she died on December 5, 1784. Her sick infant joined her in death later the same day. Phillis Wheatley's "An Elegy on Leaving," her last published poem (which Caroline Wigginton recently argues was actually written by English poet Mary Whateley), concludes with a much brighter vision for the heavenly afterlife:
But come, sweet Hope, from thy divine retreat,
Come to my breast, and chase my cares away,
Bring calm Content to gild my gloomy seat,
And cheer my bosom with her heav'nly ray.

- Stephanie Sheridan, Intern, Catalog of American Portraits
Cited:
Vincent Carretta, Phillis Wheatley: Biography of a Genius in Bondage (Athens: University of Georgia Press, 2011)
Sondra A. O'Neale, "Phillis Wheatley, 1753–1784," Poetry Foundation, accessed March 2014,
"Phillis Wheatley," The Biography Channel, accessed March 2014.
John C. Shields, "Phillis Wheatley," February 2000, American National Biography Online, accessed March 2014.
Phillis Wheatley, The Collected Works of Phillis Wheatley (New York: Oxford University Press, 1988)
Caroline Wigginton, "A Chain of Misattribution: Phillis Wheatley, Mary Whateley, and 'An Elegy on Leaving.'" Early American Literature (2012): 679–84, accessed March 2014.