Portrait of an Artist: Anne Harris
This is the eighth in a series of interviews with artists participating in the Outwin Boochever Portrait Competition. The third OBPC exhibition opens on March 23, 2013, and will run through February 23, 2014. It will feature the works of forty-eight artists in many forms of media.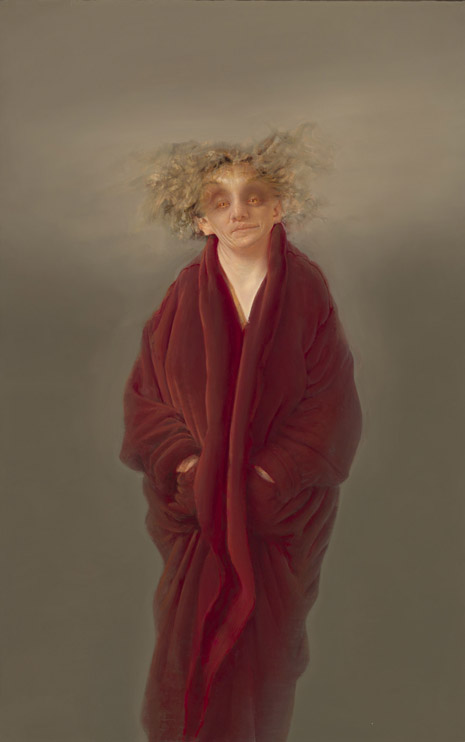 Q: What is your name, where are you from, where do you live now?
A: Anne Harris. My family moved around a lot—Syracuse, Phoenix, Syracuse again, Tucson, Morehead, Kentucky, for high school. The longest place I've lived was Portland, Maine, from 1988 to 2001. Now I live in Riverside, Illinois, in the Chicago area.
Q: What medium(s) do you work with?
A: Painting: oil on linen, canvas, or sometimes wood panel.
Drawing: anything from watercolor to pastels to graphite to charcoal, etc., sometimes all at once.
Printmaking: Not very often—when I'm lucky and some wonderful printer wants to work with me.
Q: Tell us about your technique/creative process.
A: Technique both serves and is a by-product of creativity. That is, I've leaned to paint the paintings I need to paint. They're built up in many layers, often translucent, like skin (I think about skin a lot), but I'm not systematic—no careful underpainting and calculated glazing.
I make a lot of changes. I don't know where I'm going; I don't have a final image in my head, but rather a broad idea, and a feeling I'm after, a kind of intensity.  I start a painting, waiting for it to look back at me. Then the painting tells me where to go. I usually get into trouble, take a wrong turn at some point and a lot happens, both bad and good, as I struggle out of the mess.
I work on paintings a long time, often for years. This isn't because they technically require it, but because I keep going over a cliff—too contrived, too mundane, too much meaningless facility, or some nuts-and-bolts painting issue is giving me grief.
I often spend more time on the space around the figure than the figure itself. My "backgrounds" often physically sit in front of my foregrounds; the air the figure is embedded in is so fundamental—the difference between an academic exercise and a believable meaningful painting. I do love the juicy details, the indulgence of illusion, but they have to be essential, not just some facility demo.
Q: What is your background (education, career, etc.) and how does it contribute to your art?
A: I received a BFA in 1986 from Washington University in St. Louis. My MFA came from Yale in 1988.  Both are great schools—very challenging.  At Washington University, I learned that I could learn.  At Yale, I learned that I couldn't paint, but again, that I could learn.
Also, I've been teaching in one form or another since 1988. I left full-time teaching when my son was small, but have kept my hand in it always. Currently, I teach undergraduate and graduate students at the School of the Art Institution of Chicago. I love it: the eclecticism, the high caliber of the students, my outstanding colleagues. It's an incredible stretch for me and keeps me growing.
In addition, in the last few years, I've become involved with the Riverside Arts Center and serve on the board and exhibition committee. It's a small, vital place with a school and gallery, started twenty years ago by members of the community and run mostly on volunteer firepower—this, combined with teaching, folds me into the energy of the Chicago arts community. It's much too easy, working alone in my studio, to morph into a hermit (my natural state, maybe). When I poke my head out of my hole, there's a lot going on.
Q: Tell us about the piece you submitted to the competition.
A: I worked on it off and on for four years. In fact, when I applied to this competition, it wasn't finished (hopefully the updated image will make it onto this website).
This painting gave me a lot of trouble. While working on it, I realized I didn't understand red. Oddly, I was having a tough time dealing with local color. I'm so used to using relative color ("no-name" color that only exists in context), which is supposed to be harder but . . . it's like walking on a ship at sea: you get on dry land and fall over.
Also, problematic was a rather overbearing metaphor, which initially I tried to paint around but then gave in to. Let's just say Judy Chicago would be pleased.
My hopes for it are that the viewer will find it powerful, will look at it for a long time, perhaps also find it funny—but not too funny—and disconcerting.
Q: Tell us about your larger body of work.
A: Better to just have you take a look at it, but to sum it up simplistically, I've been painting the same freaky self-portrait for the last twenty-five years. And I draw, a lot, always from life.
Q: What are you currently working on?
A: I'm working on a group of paintings for a gallery show in New York City this coming April.
Also, I just finished the first stage of a collaborative drawing project called The Mind's I at Julius Caesar, an alternative not-for-profit gallery, another small vital place in Chicago (run by four artists). This is very different for me: I've wanted for some time to start a conversation about the complexities of perception, self-perception, and drawing.
I invited a broad range of artists—from conceptual to figurative, young to old, self-taught to top-of-the-art-world—to draw self-portraits with me over the course of a month. The show consisted of the work made during that time. Essentially, the drawings "conversed" amongst each other on the wall, while the artists conversed amongst each other as they drew.
Q: How has your work changed over time?
A: It's gotten more overtly fictitious but also more perceptual. I know that seems like a contradiction. I think, also, it's become subtler.
Q: Who is your favorite artist?
A: I don't have one. There are many. But there are certain paintings I visit over and over. I teach right next to the AIC, and there's a weeping Madonna by Dieric Bouts (they demoted it to "workshop of" a few years ago, but they're wrong. It's too subtle and intense, and the pentimento—do they actually think some assistant changed the length of her fingertips?). 
I don't tend to look at art based on subject matter, style, or even century. It's a particular presence, a mesmerizing quality. So, I might go from the Bouts to Ad Reinhardt or Vija Celmins or Rubens's The Capture of Samson (an exquisite oil sketch). I love Rembrandt's Lucretia in the Minneapolis Institute of Arts, the Duccio at the Met, and when I come to D.C., I visit Ginevra de' Benci.
Q: If you could work with any artist (past or present) who would it be?
A: I'd like to be invisible in Rembrandt's studio. Just let me watch.
Q: What inspires you?
A: People who go for broke. My students inspire me. They're so intense, so excited, so in the "I didn't know I could do this" mode.  My husband inspires me—he makes brave work, filled with grace (he's in this show too—Paul D'Amato). Long-haul artists who keep growing inspire me. My son's sweetness and sense of humor . . . cripes. This is a hard question. I think when I was younger I would have just said great art and doers of good deeds, but inspiration is more complicated when you've lived a while.