Portrait of an Artist: Laura Chasman
This is a continuing series of interviews with the forty-eight artists whose work was selected for the Outwin Boochever Portrait Competition. The third OBPC exhibition opened on March 23, 2013, and will run through February 23, 2014.
Laura Chasman, who participated in our interviews last autumn, created the work Oliver at 20 for this competition.
Q: Where are you from, where do you live now?
A: I am from Brooklyn, New York. I live in Roslindale, Massachusetts.
Q: What medium(s) do you work with?
A: I work with water-based gouache on museum mounting-board. Although I have worked with other mediums over the years, I have always returned to gouache, a medium that suits my painting style. Gouache dries quickly and the colors can be painted over, allowing me to make the many revisions that are a part of my process. I also love the intensity of the colors.
Q: Tell us about your technique/creative process.
A: I have always been interested in drawing and painting people. Initially, I worked from life but often found it difficult arranging for people to sit for me. I also realized that I prefer to work alone in my studio.
Photographing my subjects was the solution. Many of my photos are of poor to average quality; however, I only rely on these as a reference to establish structure. I enlarge my photos and loosely trace the basic forms. Many times I lose my original drawing and reinvent what I had originally drawn out. I keep my brushstrokes active so that the viewer senses the artist's hand.
Q: What is your background (education, career, etc.) and how does it contribute to your art?
A: Growing up in Brooklyn, I had the opportunity, prior to college, to attend art programs at Pratt, NYU, and the Art Students League. These classes were the highlight of my week. I attended Carnegie Mellon and then transferred to the School of the Museum of Fine Arts and Tufts University in Boston.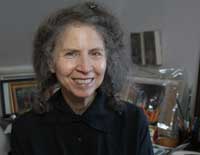 Committing to a life as an artist, with all of its uncertainties, I eventually returned to school and received a master's degree in social work from Smith College. I worked as a practicing psychotherapist for more than twenty years, followed by geriatric social work. This work was meaningful, and it also provided a flexible work schedule.
I have always valued the opportunity to move within two very different worlds—each feeding the other interest. Both careers center on my fascination in learning about people and continually offered me the opportunity to paint portraits of the broad range of people that I encountered.
Q: How did you learn about the Outwin Boochever Portrait Competition?
A: Prior to the first NPG portrait competition, I had the opportunity to meet Brandon Fortune [director of the first two portrait competitions] here in Boston. She told me about this upcoming opportunity. I was one of the exhibiting artists in the 2009 exhibition, and it is a great honor to be exhibiting my work again.
Q: Tell us about the piece you submitted to the competition.
A: I submitted a portrait of my son—Oliver at 20. My son was at home during a college break when I came upon the following scene one evening—he was sitting in bed, his face aglow from his laptop, his chest adorned with tattoos.
This was indeed a striking image, and one that reflected back to me a contemporary iconic image of a twenty-year-old. I went for my camera. I have been painting my son's portrait almost every year of his life, twenty-three years thus far, in my attempt to capture his changing demeanor. Oliver has always been a willing collaborator—accustomed to my obsession and agreeable.
Q: Tell us about your larger body of work.
A: At least thirty years of painting portraits has created a visual journal of my life. I love and never tire of this ambition to capture the feeling and the physical presence of my subjects. I am inspired by who my subjects are; how they look, dress, and express themselves; and how I have come to know them.
For many years I was inspired by the various children—later adolescents and young adults—that I knew as my son was growing up. Portraits of my husband over the years, and self-portraits continue. Elderly people, nurses at the nursing home where I worked—all became inspirational. Most of these portraits are devoid of background content as I want to simplify and focus entirely on my subject. However, more recently, I have moved away from the simplicity of these compositions.
Q: What are you currently working on?
A: My subjects no longer inhabit a neutral background but are painted within an environment. Lately I have been working on domestic portrait scenes. I have also begun building my compositions by adding on pieces of museum mounting-board.
Q: How has your work changed over time?
A: My earlier work was flatter, with harder edges.
Q: Tell us about a seminal experience you've had has an artist.
A: As an art student, I attended a lecture and presentation from a well-known artist who talked about her beginnings. Although she had a strong desire to paint, the process was intimidating. She found working on the back of letter-sized envelopes to be her comfort zone. Her solution was inspiring, as it reaffirmed the importance of ignoring external pressures and following my own inclinations. I also thought that working on the back of envelopes was very cool.
Q: Who is your favorite artist?
A: Impossible to name only one artist, although the work of Alice Neel has always been inspirational, as well as the work of Lucian Freud, Rineke Dijkstra, and more recently, Chantal Joffe. Looking at Egyptian-Roman encaustic mummy portraits has always inspired me.
Q: What is your favorite artwork?
A: Here are a few—Watteau's Pierrot, Alice Neel's Two Girls, Spanish Harlem, Vermeer's Girl in the Red Hat.