Portrait of an Artist: Lucy Fradkin
This is the second in a series of interviews with artists participating in the Outwin Boochever Portrait Competition. The third OBPC exhibition opens on March 23, 2013, and will run through February 23, 2014. It will feature the works of forty-eight artists in many forms of media.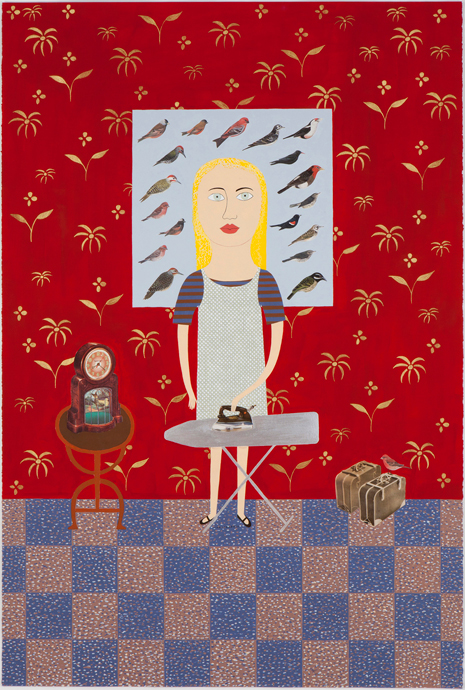 Q: What is your name, where are you from, and where do you live now?
A: My name is Lucy Fradkin. I was born in Brooklyn, New York. I was raised in Port Washington, on Manhasset Bay on the north shore of Long Island. I spent many formative years in southern Vermont. The year I lived in Italy also had a profound influence on my work and life.
I currently live on Staten Island, which is a remarkable place to be: fresh air, birds, and a ferry ride from some of the world's most important cultural institutions.
Q: What medium(s) do you work with?
A: I paint on paper with gouache or oil. I frequently incorporate collage, colored pencil, and pencil into the work. I occasionally add buttons, thread, and wire onto and into the surfaces.
Q: Can you tell us about your technique/creative process and about your larger body of work?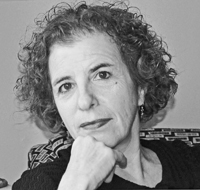 A: With sources ranging from the ancient frescoes and mosaics of Etruria, Rome, and Byzantium to Indian and Persian miniatures, from vernacular, hand-painted signage to folk art, my paintings capture timeless moments through a contemporary lens.
For the past fourteen years I have focused on creating portraits of a broad range of individuals. Consciously rooting my works in the rich traditions of portraiture and genre painting, I place figures, often women, in domestic settings. My figures are reticent and static, endowing my scenes with a mysterious and solemn aura. Though my work is clearly inspired by traditional art forms, I maintain its relevance through the quiet presentation of issues of gender and race, informed by personal history.
I use color and pattern in my paintings to evoke emotion, to tell stories of daily life, and to draw the viewer into an intimate world. In many of my works, I incorporate collaged decorative elements sourced from old catalogs, field guides, and vintage books. By meticulously cutting and pasting significant motifs and images, I develop intricate designs, rendering my surfaces more distinctive and my works as a whole more visually complex.
Q: What is your background (education, career, etc.) and how does it contribute to your art?
A: I am a self-taught artist who has dedicated my life work to developing a personal voice and a skilled craft.
Q: How did you learn about the Outwin Boochever Portrait Competition?
A: I was one of the artists selected for the original competition in 2006 and received an e-mail from the National Portrait Gallery.
Q: Tell us about the piece you submitted to the competition.
A: This is a portrait of my husband, the Jamaican-born sculptor Arthur Simms. We had been looking for a live/work space to buy for many years when I painted this in 2011. One month later Arthur found us our wonderful home.
Q: What are you currently working on?
A: Last year I was fortunate to receive an award from the Marie Walsh Sharpe Art Foundation for a space program studio where I was able to work on large-scale work. I am currently working on a series of small-scale works in a studio in my home while trying to find an affordable larger studio.
Q: How has your work changed over time? Can you tell us about a seminal experience you've had as an artist?
A: I worked extensively from the model for many years beginning as a high school student and continuing when I lived in Vermont and participated in a lively community of artists. In 1991 I spent several months traveling in Mexico and Guatemala. The indigenous art and hand-painted signage inspired new directions in my own art-making.
In 1992 I was awarded a four-month artist residency at Altos de Chavon, an affiliate of Parsons School of Design in La Romana, Dominican Republic. From there I was able to travel to Haiti, which was a life-changing experience for me as an artist. Despite its status as the poorest country in the Western Hemisphere, Haiti has an extraordinary and vibrant culture of visual art.
In 1994 I traveled to Greece and Italy and saw firsthand the ancient frescoes, mosaics, and medieval works that had inspired me for many years. I felt such affinity with this work that I started traveling to Europe regularly to live amidst this inspiration. In 2002 I spent a year living, working, exhibiting, and lecturing in Italy. Based in Rome, I was able to travel extensively around the country further informing my work through a visual immersion into these ancient worlds.
Q: What inspires you?
A: Travel to other cultures continues to be my biggest inspiration.