Portrait of an Artist: Rieko Fujinami
This is the seventh in a series of interviews with artists participating in the Outwin Boochever Portrait Competition. The third OBPC exhibition opens on March 23, 2013, and will run through February 23, 2014. It will feature the works of forty-eight artists in many forms of media.
Q: What is your name, where are you from, where do you live now?
A: Rieko Fujinami.  I was born in Kisarazu, Japan in 1960 and have lived in Beacon, New York since 2003.
Q: What medium(s) do you work with?
A: I work in many different media including etching, copper tempera, frottage/drawing, fresco secco, encaustic, drawing and painting on clear film or mirror, glass painting, and digital imaging.
Q: Tell us about your technique/creative process.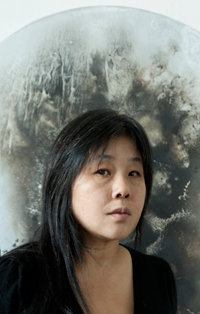 A: When I create acrylic mirror drawings, I use acrylic mirror as the base.  I begin by creating an environment representing the outside world on acrylic mirror using two or three different kinds of white pigment mixed with alcohol, and I use this mixture to paint on the mirror.  I then paint an abstract image, representing the inside world, using two or three different kinds of black pigment.
The black and white pigments influence each other and create the feeling of order evolving out of chaos.  I move the wet pigments around with the pressure of an alcohol atomizer while tilting the mirror panel.  While waiting for it to dry completely I carefully remove some of the pigment using soft dry brushes.  I add a fixative, wait 24 hours, and then I add a layer of glass primer and clear acrylic gesso.  After that dries I draw a representational image on the front of the mirror using a combination of acrylic paint and pastel.
Q: What is your background (education, career, etc.) and how does it contribute to your art?
A: When I was young I studied classic techniques like fresco, tempera and copper etching, and I both loved and hated it.  I struggled a lot and never got excellent work, or the teacher's appreciation, because I felt restricted by the rules.  Later, though, those skills gave me many ideas for my imagination as I created new techniques of my own.
After high school I studied fresco and tempera with Toru Kaneko, a Tokyo artist.  I attended Zoukei Art University, in Tokyo, where I graduated in 1984, and received my graduate degree from Tama Art University in 1986, where I specialized in copper etching.   My earliest professional work was in copper etching and drawing on washi paper.  In 1989 I started to develop my own technique for contemporary frescos when I was asked to do the cover for an avant-garde music CD.
In 1998 the Japanese Agency for Cultural Affairs awarded me the Best Art of the Year Selection, for the fresco Book of Emptiness which was purchased for the Japan National Modern Art Museum collection.
I have had over 60 one-person exhibitions of fresco, etching and copper tempera in Japan.  After I moved to the United States in 2003 I began creating paintings on film and mirror with dry pigment.  I received the NYFA Artist Fellowship Award in 2007.
Q: How did you learn about the Outwin Boochever Portrait Competition?
A: One of my collectors recommended that I apply for the competition.
Q: Tell us about the piece you submitted to the competition.
A: This painting is a portrait of my friend, Aki, who is a well-known underground artist in Japan.  From my late twenties until I moved to the United States at age 42 we shared many times together drinking, talking of art, and engaging in the eccentric behaviors of the avant-garde groups to which she introduced me.  Soon after I came to America she became pregnant, married and had a daughter.  I was very surprised that she chose a very traditional Japanese style of marriage.  She moved into the house of her husband's family, sharing in their life-style, and raising her child while attempting to continue her artwork.
Historically, in Japanese thinking, a woman before marriage had to follow her father's decisions, after marriage she was expected to follow her husband, and when elderly follow her children.  Usually a woman joined her husband's family and would work for her husband and his parents and learn the traditions of her husband's family.  Marriage was more between families than between individuals.  It was very difficult for a woman to have her own life or career under these conditions.  Since the 1970s many young contemporary women have tried to reject this idea, but it still remains a big part of the culture.
When I returned to Japan on visits my friend would invite me to her family's home where I found a wonderful family, nice environment, and a lovely baby.  But looking at her I found a deep unspoken ambivalence in her eyes, face, and movements that she couldn't recognize in herself.  On the surface there was love and calmness, cooperation and harmony, but underneath that I saw complex layers of ambivalence and struggle between love and irritation, calm and impatience, passion and resignation.
I determined to make a portrait both of this struggle within a close and dear friend, and as a broader symbol of the struggle of women to survive between cooperating with the social systems of contemporary life and finding our own lives.
Q: Can you tell us about your larger body of work?
A: My artwork's principal subject has always been the human being.  I have made portraits of family and friends, anonymous persons I've seen on the street, or created faces and bodies, either individually or groups of people in imaginary situations.  I also make subjects of plants and imaginary landscapes as a metaphor for human life.
Q: What are you currently working on?
The "Id" series is a group of imaginary faces, using drawing on acrylic mirror, which departs from the realistic expression of my previous work.  I'm working to explore the deeper unconscious areas of my imagination by moving my painting action to a place between the intentional and the accidental; to focus on the excitement of discovery rather than the perfection of details. 
The particle flow on mirrored surface creates a space of no distance, no direction, just a floating in unconsciousness.  The mirror space contains a subtle connection to the world outside its surface, and becomes an ambiguous space.  The faces I paint come from unrecognized memory.  
I try to blank my thoughts, and let elements from my mind bubble up with no pre-judgment of the correctness of the process or the result.  We try too hard to insist that everything be rationally understood, but don't want to see our own shadows deep inside the mind.  The faces in my work come from there, but because they are built on that very important part of the mind, I feel at peace with them.  I hope the viewer can have a non-verbal conversation and relationship with the work without the safety net of rational recognition.
Q: How has your work changed over time?
A: While the media that I use have changed many times over the years, my subject has largely remained portrayal of human beings, either real or imaginary.
My early etching work represents a nostalgic illusion of my childhood fears with a longing for Western fantasy.  Later I began to develop subjects inspired by mythology and literature using washi paper and wood board.
In 1989 I made three etchings with Tiananmen Square Massacre themes.  In 1991 I made two frescos with Gulf War themes.  At that time I started making the subject of social consciousness part of my work. In 1992 I had my first exhibition consisting only of fresco secco works.  The exhibition title was "Between Being and Non-being". That theme has become a philosophical base of my work even now.
After the 1995 Kobe earthquake I made the "Allere" series of four etchings, and began the "Anonymous 50" series of etchings of 50 faces that was completed in 2005.  In 1999 I had an exhibition of copper tempera works whose motif was imaginary plants and landscapes as an allegory of humankind.
In 2000, I begin to study digital techniques and to use the computer for some of my work. I moved to New York in 2003 and found myself straggling and struggling about everything in my new country.  In 2004, I learned photo gravure and created the portfolio, "Locus", each of which combined a botanical image with my own poem for a quiet message of sadness over the 911 terror and the Iraq War.  I developed a technique for drawing on clear film in 2006, and began making portraits of real persons using film drawing, including the "Black Rain, Black Water" series.  In 2007 I returned to fresco secco, continuing to make portraits of real persons using friends and family for models.
My "Wanderer" series of digital photomontages, in 2009, created landscapes from a short trip in the unconsciousness of an imaginary near-death experience.  In 2010 I began painting directly onto acrylic mirror, creating the "Infant" series, ten portraits of very young children caught in the time before they developed speech. 
I then began the "Id" series in which I combined painting on film and on mirror and attached the painted film to the painted mirror surface.  For this group I wanted to keep my feeling loose and attempt to connect to my unconscious using an automatic drawing style.
In 2011 the 3-11 tragedy in Japan interrupted that work, and I began the "Requiem for our Silence" series using painting on mirror to express my reaction to the plight of my home country.
After such a deeply emotional time, I needed more realistic work to recover my identity, so I made "AKI", the work I entered into the Outwin Boochever Portrait Competition. and continued work on my "Id" series.
In 2012 I began "Allegory of Herbarium", a series of botanical digital photos using mixed media, because I sometimes need to step back from the direct wordless expression of my portraits and create a more indirect metaphorical story using photography and digital tools to construct plant and landscape collages.
I'm now working on 2013 exhibition in Japan in collaboration with the poet Hideharu Ogawa's work "Nirvana", and a solo exhibition featuring my "Id" series.
Q: What inspires you?
Watching people.  Moving water and the traces and stains left by it.  Books on psychology and mythology.  Watching/listening to the news of the world around me.  As a Japanese person I'm fascinated by American and British TV series like Treme, West Wing, House, Prime Suspect, Doc Martin.