Portrait of Elvis Presley by Ralph Wolfe Cowan
On view in the new exhibition "One Life: Echoes of Elvis"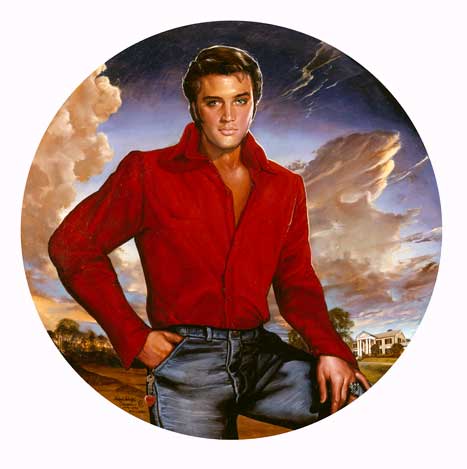 Elvis Presley released hundreds of records throughout a career that spanned slightly more than two decades. He also starred in thirty-one feature films and two documentaries. He was photographed throughout his career, and images of him on film are part of the American visual experience. However, the King of Rock and Roll only sat for one portrait painter—Ralph Wolfe Cowan.
Elvis sat for Cowan in 1969, and Cowan produced the portrait that hangs today at Graceland. At the time, Cowan also made sketches for this portrait but left them alone until 1988, when he completed this work. At the time this portrait was drafted, Elvis was transitioning from making films to performing live; from 1968 until his death in 1977, he toured regularly. Of Elvis, Cowan said, he "was funny and had charisma that was bigger than life. I enjoyed our friendship."
Cowan's portrait is on display as part of the National Portrait Gallery's new exhibition "One Life: Echoes of Elvis."  This one-room exhibition marks the seventh-fifth anniversary of Elvis Presley's birth and also includes works by William Eggleston, Red Grooms, Robert Arneson, and others.
-Warren Perry, National Portrait Gallery
 
>> Listen to an interview of artist Ralph Wolfe Cowan by "Echoes of Elvis" curator Warren Perry (22:33)