Portrait of Nation Prize Winner: Hank Aaron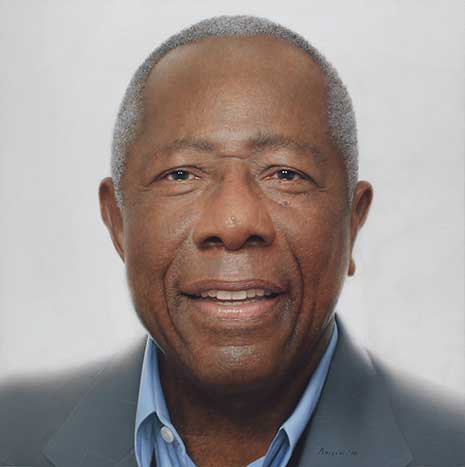 On November 15, the Portrait Gallery will host its first-ever American Portrait Gala. The event will honor five individuals with the Portrait of a Nation Prize, given for their exemplary achievements in the fields of civil rights, business, entertainment, science, and sports. One of the honorees will be baseball legend Hank Aaron, whose impressive athleticism and admirable post-career work has distinguished him as one of the sport's all-time greats.
"Hammering" Hank Aaron was scouted at sixteen and played Negro League baseball before signing with the Milwaukee (later, Atlanta) Braves, for whom he debuted in 1954. A perennial All-Star and the league MVP in 1957, Aaron was remarkably consistent: in a twenty-three-year major-league career he never hit more than 50 homers in a season but always ranked near the top of the hitting statistics. A compact six-footer, Aaron generated tremendous bat speed with his extraordinary reflexes. In 1974 he broke Babe Ruth's seemingly impregnable record of 714 career home runs. Aaron's chase of Ruth's record generated some hate mail but was widely celebrated as a sign of racial progress in the New South. Elected to the Hall of Fame in 1982, Aaron has had an estimable post-baseball career doing charitable and civic work in Atlanta.
Bulgarian-born artist Ross Rossin met Aaron in Atlanta through the city's former mayor, Andrew Young, whose portrait he also painted.