Portrait of September 11, 2001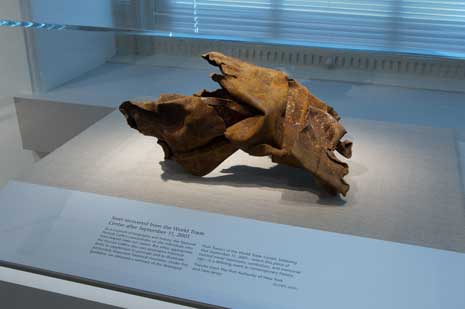 This blogpost originally appeared September 9, 2011.
In fact, it is a piece of mangled steel.  In the figurative world, it is so much more.
One of the seminal essays of material culture discourse is Stephen Greenblatt's "Wonder and Resonance."  In that essay, Greenblatt states, "By resonance I mean the power of the displayed object to reach out beyond its formal boundaries to a larger world, to evoke in the viewer the complex, dynamic cultural forces from which it has emerged and for which it may be taken by the viewer to stand."
It is difficult—if not impossible—to look at the piece of wreckage from the World Trade Center site without visualizing the horrors of September 11, 2001. The object is not just a relic of that moment in history, but it also narrates the tragedy of that day and beyond, in the same way that a whole story might be told by a sign or a symbol in a work of art. The WTC steel resonates with the attacks, our memories of those buildings falling, the loss of life, and the sorrow, anguish, and confusion that dwelt within everyone that day.
- Warren Perry, Catalog of American Portraits, National Portrait Gallery
This object is on view in our exhibition "Twentieth-Century Americans" on the third floor. It was transferred from The Port Authority of New York and New Jersey and is now part of the National Portrait Gallery's collections.