Portrait of Thomas Jefferson by Charles Willson Peale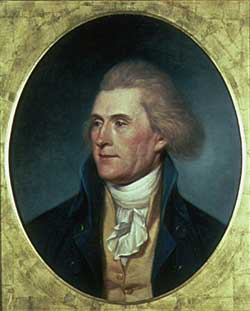 In 1791 Charles Willson Peale added this portrait of Secretary of State Thomas Jefferson to his museum's collection of American heroes. Jefferson appears younger than his fifty years, perhaps evoking the young man the artist remembered as the Virginia delegate to the Continental Congress. Jefferson was well known to Americans in 1791, having also served as governor of Virginia and ambassador to France.
Notwithstanding George Washington's desire for unity in his administration, Jefferson quickly found himself at odds with Secretary of the Treasury Alexander Hamilton, whose power and influence on the president rivaled his own. Jefferson favored a smaller, weaker national government, with more power residing in the states and closer ties to France; Hamilton argued for a powerful national government allied to Great Britain. From these differences the first American party system—Democratic-Republicans (Jefferson) versus Federalists (Hamilton)—was born.
This portrait of Jefferson is from Independence National Historical Park Collection in Philadelphia, and is currently on view at the National Portrait Gallery, in the "Presidents in Waiting" exhibition on the second floor. Sid Hart, senior historian at NPG, recently discussed the painting at a Face-to-Face portrait talk.

Listen to Sid Hart's Face-to-Face talk on Thomas Jefferson (22:55)
Face-to-Face occurs every Thursday evening at the National Portrait Gallery. The next Face-to-Face talk is tonight (Thursday, May 14), when NPG historian Jim Barber speaks about Andrew Johnson. The talk runs from 6:00 to 6:30 p.m. Visitors meet the presenter in the museum's F Street lobby and then walk to the appropriate gallery.