Portraits Alive! Tours by Teen Ambassadors Bring NPG's Collection to Life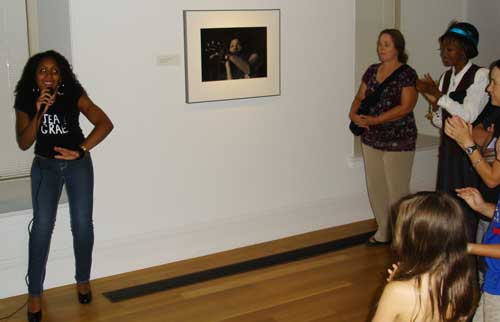 Come to the National Portrait Gallery and see the 2008 Portraits Alive! Teen Ambassadors breathe life into portraits of Martha Graham, Coretta Scott King, Charlie Chaplin, Buster Keaton, Rita Hayworth, Jean Grae (above), and other notable American figures.
These students from Washington–area high schools signed up to work with NPG educators to learn about museum careers and museum theater. In this ten-week-long program, each student chose a work from the Portrait Gallery's collection, performed historical research on the sitter, wrote a script, and perfected a solo performance featuring that sitter. To see the students' impressive work, take the Portraits Alive! museum tour. Remaining dates are Tuesday, August 19, through Thursday, August 21, at 2:15 p.m., and Friday, August 22, at 1:00 p.m. Meet in the museum's F Street Lobby.
In this blog post, we focus on Martha Graham, as interpreted by Lauren Walker, a rising sophomore at Duke Ellington School of the Arts. She performs alongside a 1938 portrait of Martha Graham on view in the NPG exhibition "Bravo!" Below is the script that Walker wrote for her performance:
As Martha Graham (passages in quotations are from Graham's autobiography Blood Memory):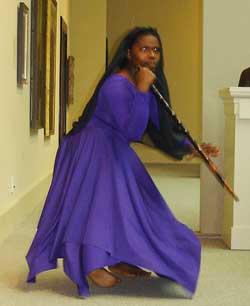 "I am a dancer." Unlike most dancers, I don't live in order to dance; I dance in order to live. Dance is life and without life there is death. My name is Martha Graham, and as you know, I am a dancer. Although simpler in its meaning but yet complex in its expression, I am a mover. Ever since I was a child, I have always been fascinated with movement and the way humans use their bodies to express how they feel. This fascination of movement and the human body I got from my father; he was a physician who worked with the human nervous system. The one thing he used to tell me that directly related to his profession was that "movement never lies."
I was born and spent half of my life in a town in Pennsylvania called Allegheny. The portion of my life that I spent there was completely bland and colorless. It was so overly religious in its attitudes that dancing was seen as a sin. So in 1909, when my family and I moved to Santa Barbara, California, it felt as if I had escaped from the harsh regulations of Allegheny. In Santa Barbara, there were no rules against dancing or free expression. In Santa Barbara I felt free for the first time in my life.
I had a fascination with dancing and the body because "the instrument through which dance speaks is also the instrument through which life is lived." The body is a vessel and it should be treated with care and respect. I had such a tremendous fascination, that it was no surprise I started a dance company in 1926. This was very important for me because I could now achieve much more than I ever could by working for someone.
I received inspiration for my choreography from everything, but I received most of it from my ancestral roots and sharp, angular movements.