Portraits of President Bush and First Lady Laura Bush Unveiled
President George W. Bush and first lady Laura Bush unveiled portraits of themselves commissioned for the National Portrait Gallery in a private ceremony at the museum this morning.  The paintings will be on public view beginning today. This is the first time that the Portrait Gallery will present the official likenesses of a sitting president and first lady.
"It is always a great moment for the National Portrait Gallery to unveil the portraits of presidents and first ladies," said Martin E. Sullivan, director of the museum. "I am thrilled that the museum is able to install these two works while President Bush is in the White House."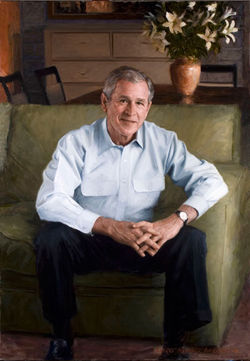 Robert Anderson was selected by the White House to paint the president's portrait. Anderson was a classmate of Bush's at Yale University and received his training in fine arts at the Museum of Fine Arts in Boston. A professional portraitist based in Darien, Conn., Anderson has also painted a portrait of Bush for the Yale Club in New York. Bush's portrait will be installed in the exhibition "America's Presidents," among those of George Washington, Abraham Lincoln, Theodore Roosevelt and George H.W. Bush.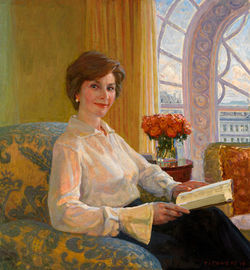 Aleksander Titovets was selected by the White House to paint Laura Bush's portrait. Titovets is a native Russian painter who now lives in El Paso, Texas. Trained at the St. Petersburg State University College of Fine Arts, he specializes in figurative and landscape painting inspired by his native Russia as well as the landscape of the Southwest. Initially, the portrait of Laura Bush will be hung on the first floor in the north hall of the National Portrait Gallery.
 

Listen to an interview with Robert Anderson, the artist who painted President Bush's portrait (4:10)

Listen to an interview with Aleksander Titovets, the artist who painted first lady Laura Bush's portrait (6:43) 

Listen to a recording of the event. The speakers are Martin E. Sullivan, Director of the National Portrait Gallery; G. Wayne Clough, Secretary of the Smithsonian Institution; Mrs. Laura Bush; and President George W. Bush. (19:15)