Portraits of the World: Korea
The National Portrait Gallery marked its fiftieth anniversary in 2018 by launching Portraits of the World, a series of year-long exhibitions highlighting the global practice of portraiture. Each year, the Gallery borrows one significant portrait from another country and displays it in conversation with thematically related works in the Gallery's permanent collection. These small, focused exhibitions provide springboards for exploring aspects of cultural interchange between the United States and other parts of the globe. They also shed light on the use of portraiture around the world to represent specific individuals as well as broader social and cultural themes.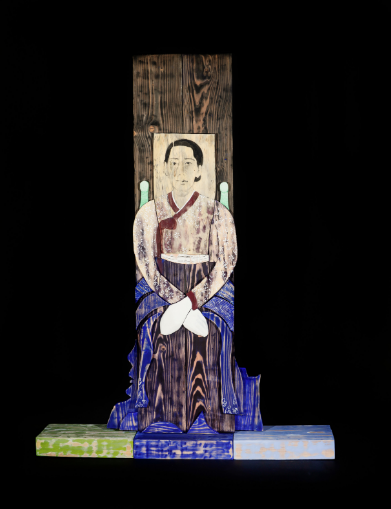 The featured portrait for 2018-19 is Mother III, a wood assemblage by the pioneering South Korean feminist artist Yun Suknam. It will be the first exhibition in the United States to focus on Yun, whose work has been featured in more than twenty solo exhibitions and over 175 group shows in Asia and Europe. Although examples of her art can be found in public collections in England, Japan, Taiwan, Australia, Italy, and Korea, she is virtually unknown in the United States.
Yun led a traditional domestic life until the age of forty, when she suddenly realized that she had no sense of identity apart from her roles as wife and mother. "At forty, I decided to live," she has said, and she determined to return to her youthful dream of becoming an artist in order to lead a fuller life and explore her own identity. During two long trips to New York City in 1983 and 1991, she made frequent visits to galleries, movie theaters, workshops, and museums in order to absorb all she could of the contemporary art scene. She returned to Korea with a new sense of the possibilities of art-making and of the important role women could play in making socially engaged art. In 1985 she co-founded Korea's first feminist art collective, The October Group, and published the first feminist art journal, If, during her ten years as chair of the Feminist Artist Network (1997-2007).  Yun is now considered the founding mother of Korean feminist art.
Portraits of the World: Korea coincides with the twenty-fifth anniversary of Yun's groundbreaking solo exhibition, Eyes of the Mother, in Seoul in 1993. In order to understand herself, the artist believed, she had to go back to her beginning and see the world through her mother's eyes. The result of that quest was on display in Eyes of the Mother, which featured a series of wood assemblage portraits that traced the life of her mother, Won Jeung Sook, from the age of nineteen to ninety. Yun fashioned the portraits out of scavenged scraps of wood whose weathered surfaces reminded her of an aging woman's soft, wrinkled skin. Rather than imperfections, the grain of the wood and the wrinkles of skin appealed to her as tactile impressions of a life story. In the enduring strength and resilience of the wood, she found qualities that she admired in her mother and other Korean mothers, whose resourcefulness and tireless work had ensured their families' survival during the hard times of the Korean War and its aftermath.
Mother III is based on a work originally shown in the Eyes of the Mother exhibition. It shows Won Jeung Sook wearing a traditional Korean Hanbok and folding her hands demurely on her lap. Rather than avert her eyes in the manner of conventional Korean female portraiture, however, she confronts the viewer with a steady gaze. Direct eye contact is a feature of all Yun's portraiture, a sign that the women she represents are not passive objects but active agents. For similar reasons, Yun deliberately embraces the rough surface of the wood in order to avoid art's tendency to objectify and idealize women.
Several of the themes explored by Yun Suknam have preoccupied women artists in the United States as well. To call attention to these transnational connections, Mother III is joined at the Portrait Gallery by a complementary display of portraits of American artists (including Louise Bourgeois, Louise Nevelson, Marisol Escobar, and Kiki Smith) who have shared her interest in themes such as maternity, aging, and the female gaze. These and many other common threads interconnect the trailblazing art of Yun Suknam and her American counterparts, despite the gulfs of time, place, and culture that separate them.