Rachel Carson: Biologist, Writer, Ecologist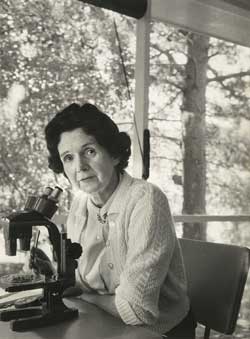 This post  originally appeared September 5, 2008
In a 1962 Life magazine profile of Rachel Carson (1907–1964), the former government biologist claimed "no wish to start a Carrie Nation crusade" with the publication of her new book, Silent Spring. A private and soft-spoken individual, Carson possessed a temperament wholly different than that of the famous hatchet-wielding temperance leader.
Yet in envisioning a future where the sounds of spring are absent, Silent Spring provoked a heated controversy about the unrestricted use of chemical pesticides. Her writings—and later congressional testimony—would lead not only to the banning of DDT and other poisonous agents, but would precipitate broad changes in the public's understanding of and appreciation for the delicate relationship between mankind and the natural environment.
Alfred Eisenstaedt's portrait (above)—published alongside Carson's Life profile and recently acquired by the National Portrait Gallery—shows the fifty-five-year-old Carson behind a microscope at her Silver Spring, Maryland, home. Although it was her lyricism as a writer that made her books national best-sellers, Carson was always proud of her work as a scientist.
In 1936, when she accepted her first full-time job, as a marine biologist at the U.S. Fish and Wildlife Service, she was one of only two female professionals at the agency. Throughout her career, Carson remained dedicated to field research and ever curious about the natural world around her.
Although she was an acclaimed writer before the publication of Silent Spring, having won a National Book Award in 1951 for The Sea Around Us, it was her investigation into the harm of man-made pollutants in Silent Spring that placed her at the center of a national battle between the chemical industry and a growing legion of environmental supporters.
Likening the effects of pesticides to those of atomic radiation, she stated, "I wrote the book because I think there is a great danger that the next generation will have no chance to know nature as we do—if we don't preserve it the damage will be irreversible." Adversaries soon lined up to contest her findings.
Despite fifty-five pages of scientific endnotes, many characterized her as a "hysterical woman" and accused her of lacking scientific credentials; a former Department of Agriculture secretary even labeled her a Communist. Yet President John F. Kennedy took notice and called for a further investigation of the issues the book raised. Before a Senate subcommittee, Carson reiterated that environmental pollution is one of the "major problems of modern life."
A subsequent special report confirmed her findings and helped pave the way for dramatic changes in the use of pesticides. DDT—developed during World War II and widely used in domestic agriculture—was eventually banned in the United States, in 1972.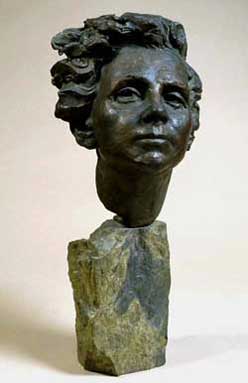 "It's always so easy to assume that someone else is taking care of things," Carson reflected about her experience. "People say, 'We wouldn't be allowed to use these things if they were dangerous.' It just isn't so. Trusting so-called authority is not enough. A sense of personal responsibility is what we desperately need."
While Carson never anticipated becoming a nationally renowned figure, her search for truth highlighted the ecological impact of new technologies and provoked others to action. Tragically, Carson died of breast cancer only eighteen months after Silent Spring's publication.
Two of Rachel Carson's portraits are currently on view at the National Portrait Gallery: a photograph (top) by Alfred Eisenstaedt on display in the "New Arrivals" exhibition, and a portrait bust (above) in the "20th Century Americans" gallery, by Una Hanbury.  More on Rachel Carson can be found at RachelCarson.org.