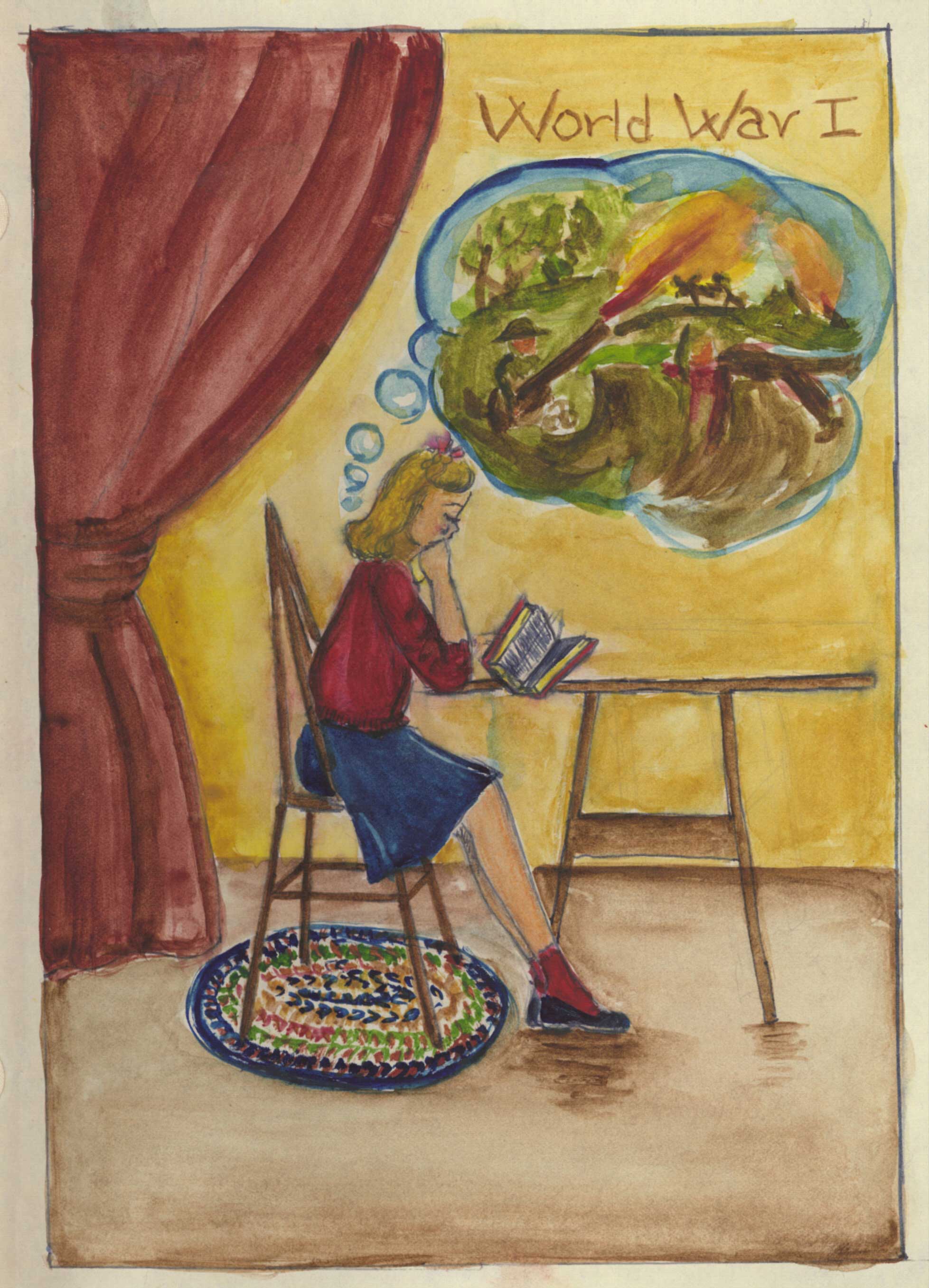 For the National Portrait Gallery's newest exhibition Face of Battle: Americans at War, 9/11 to Now, the curators commissioned Pulitzer Prize-winning poet Yusef Komunyakaa to write a new poem. Titled "After The Burn Pits," the poem appears prominently on two pylons at the entrances to the exhibition offering a powerful meditation on the human experience of war and complementing six visual artists' work in a variety of media in the adjoining galleries.
The emotional impact of war is a topic that generations of writers and visual artists have contemplated. For example, coming of age in the mid-twentieth century, American poet and novelist Sylvia Plath (1932–1963) was incredibly forthright about her beliefs regarding war in her personal writing, prose, and artwork. From middle school onward, Plath navigated her anxieties and fears about current world events in word and image.

In June 2017, the National Portrait Gallery will open One Life: Sylvia Plath. Although Plath is well known as a Pulitzer Prize–winning poet—posthumously, for The Collected Poems—and author of The Colossus, Ariel, and the best-selling novel The Bell Jar, she also possessed a keen understanding of visual media. The images and objects from her childhood to her death—drawn from the rich resources at Smith College and Indiana University, as well as from private collections—display her command of the formal language of portraiture and her experimentation with voice as she oscillated from light to dark, joy to despair. While the One Life exhibition focuses our attention on how Plath processed her identities visually, the opening of Face of Battle prompted me, as a co-curator of both exhibitions, to consider Plath's views on war. The upcoming One Life will show early examples of Plath's work that represent the anxieties she experienced in wartime, including the self-portrait cover to an essay titled "A War to End Wars" that she wrote at age thirteen for a school assignment and items from her later life, such as her 1960 collage, which incorporates cutouts from the New Yorker, Life, and other American magazines sent to her in England by her mother.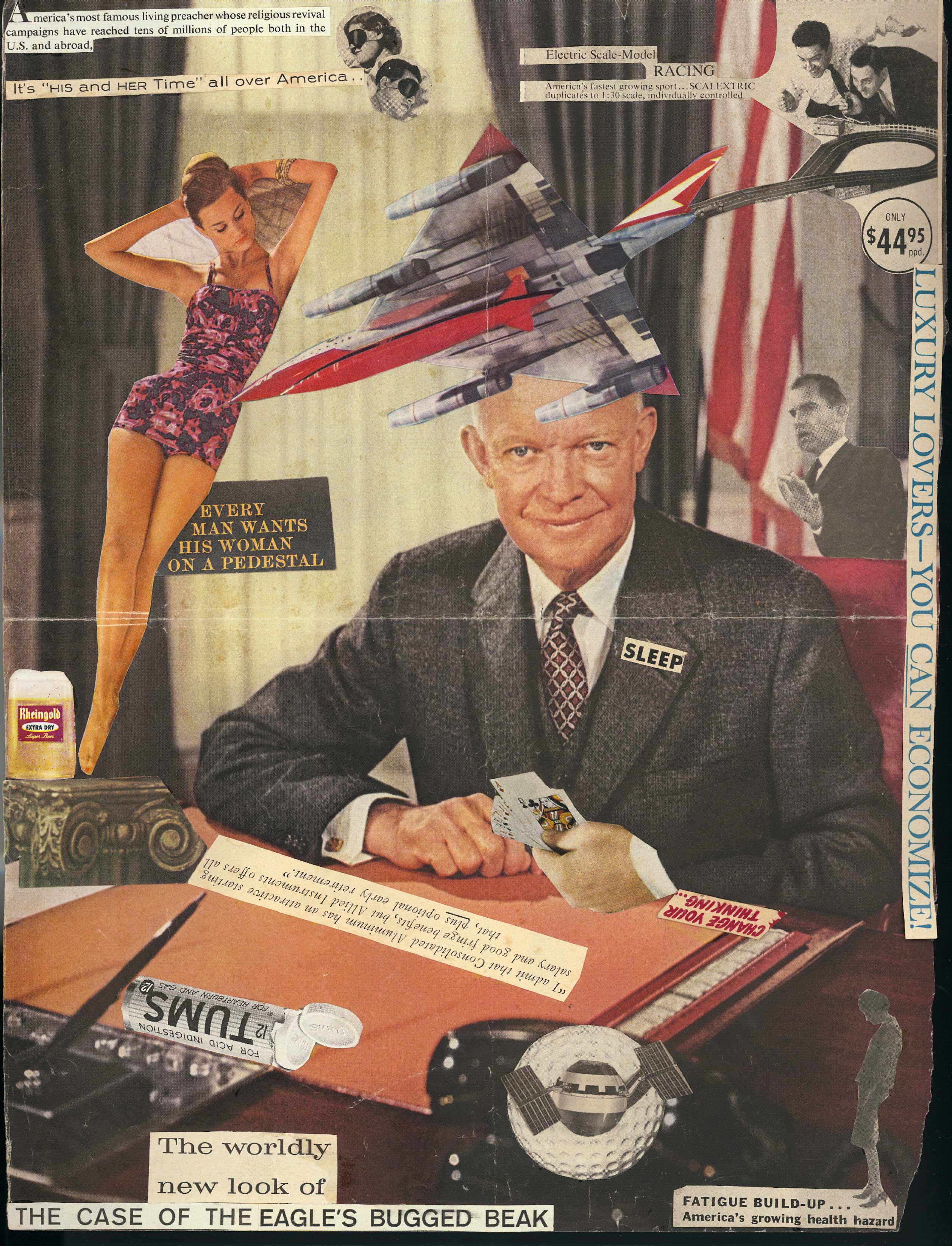 Plath's family shared her strong anti-war sentiments. After her father Otto Plath's death, her mother Aurelia told her children about their father's firm pacifist convictions, and it was at a very early age that Plath began to articulate her own interpretations on the subject of war. When she was eighteen, Plath and her friend Perry Norton co-wrote the essay "Youth's Plea for World Peace," published in the Christian Science Monitor. "Since one of the many advantages of a democracy is free speech," they wrote, "we would like to use this opportunity to speak out." Plath maintained this attitude throughout her life. Although she confronted war explicitly in her non-fiction and actions, her relationship to current and political events as expressed in poetry was often more abstract. She preferred alluding to broader feelings or experiences, rather than to specific events. For instance, in her 1962 essay titled 'Context,' Plath describes her relationship to what she refers to as "headline poetry":
For me, the real issues of our time are the issues of every time—the hurt and wonder of loving; making in all its forms—children, loaves of bread, paintings, buildings; and the conservation of life of all people in all places, the jeopardizing of which no abstract doubletalk of 'peace' or 'implacable foes' can excuse.
For Plath, emotional and poetic expression existed at the intersection of her own experience and universal themes. Her worries about war, and how these thoughts took shape in her writing and artwork, is just one example of how she struck this careful balance.