Thursdays at Noon: Unique Insights at the Portrait Gallery
The Portrait Gallery's Thursdays at Noon program offers the public a chance to learn unique stories from U.S. history and culture through portraiture. Each week these tours are led by a Portrait Gallery curator, historian, or educator. The tours offer unique insights and behind-the-scenes information about the faces and art you know and love, as well as uncovering little-known stories to inspire and engage.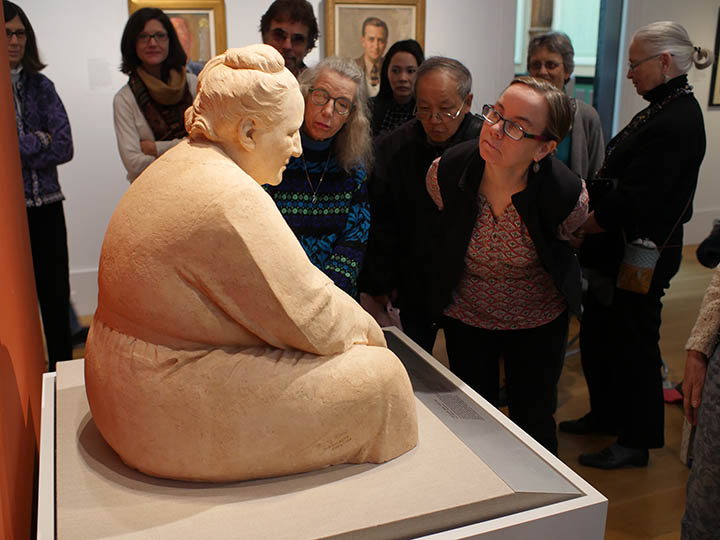 Thursdays at Noon programs include a variety of formats:
Slow Looking
The first Thursday of each month we invite visitors to ditch the chaos of the day, slow down, and dig deeper into one work of art through Slow Looking. Pick your stool, grab a clipboard and a pencil for sketching or writing exercises inspired by the day's featured portrait, and learn more about the artist, the sitter, and the background of the artwork. Past programs have identified the symbolism of Gilbert Stuart's "Lansdowne" portrait of George Washington, the process behind Robert McCurdy's intricate portrait of Toni Morrison, and the connection between art and music in the large-scale poster of Jimi Hendrix.
3 in 30
The second Thursday of each month we highlight three related portraits during 3 in 30. Each 3 in 30 tour spends thirty minutes in the galleries as the group explores connections between artistic styles, biographies, and other themes. Whether exploring depictions of women artists, poets, robber barons, or influential African Americans of the early twentieth century, the ties between the works offer many chances for viewers to share their own observations.
Overlooked
The third Thursday of each month we bring to light stories and contributions of many of the unsung heroes of United States history in a program called Overlooked. Each week we dedicate our noontime tour to a portrait of a person whose face you might not recognize, but whose story deserves to be heard. These programs often feature women and people of color who were left out of history books or reduced to a footnote. We share stories about figures such as decorated World War II hero Leonard Roy Harmon, social justice pioneer Lillian Wald, and the first woman to argue before the Supreme Court, Belva Lockwood.
Curator's Choice
The fourth Thursday of each month the curators and historians offer their insights about the works in the galleries. Perhaps he or she wants to share what it was like to acquire a specific portrait, or a work just went on view with a particularly interesting back story. This is a chance for viewers to hear about it directly from the experts.
Participants in our Thursdays at Noon programs come to learn more about the works they know and love and discover new favorites. We welcome regulars who love to chat about portraiture, local professionals interested in escaping the office for a dose of art, visitors from out of town hoping to dive into history, and anyone else looking to break up the day with some midday motivation. These drop-in programs are free to the public and open to all. We meet in the G St lobby every first through fourth Thursday at noon. We hope to see you there!