Tod Sloan: Jockeying to Fame in the 1890s
Long before baseball, football, or basketball were played in the United States, horseracing was America's most popular sporting event. The jockey Tod Sloan rose to prominence during the sport's late-nineteenth-century heyday, becoming the country's first international sports superstar. Growing up in extreme poverty, Sloan was forced to fend for himself as a frail, undersized child, drifting from job to job at racing stables around the country. At the age of twelve, he began to capitalize on his small stature by training as a jockey. He won his first race in March 1889 when still just fourteen years old. He devoted the next several years to perfecting a physically demanding, but effective style of riding that seemed strange at the time, but is widely used by jockeys today. Sloan had the idea of reducing his drag on the horse by shortening his stirrups and riding high up in the saddle near the animal's neck.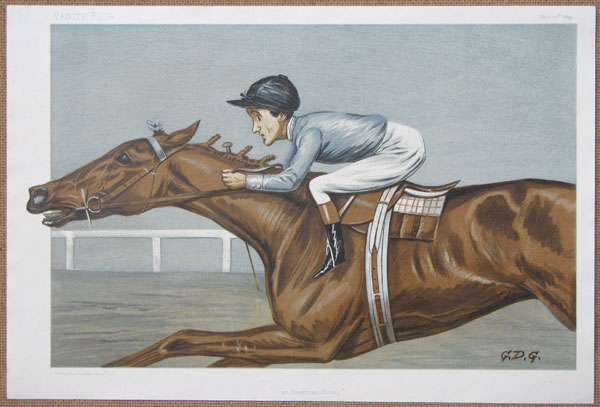 Using this technique, he ran several successful races on the West Coast in the early 1890s and went on to dominate the East Coast thoroughbred circuit after moving to New York in 1896. Sloan capped his winning streak by crossing the Atlantic in 1897 to race in England. His "Yankee" pedigree and unconventional riding style initially aroused skepticism—until he won race after race.
In 1899 Vanity Fair magazine certified Sloan's fame by including him in its series of caricatures representing international celebrities of the day. The lithograph, currently on view in the Portrait Gallery's display of Recent Acquisitions, portrays Sloan in his trademark stance, which the British had dubbed the "monkey crouch." The artist conveyed the speed and excitement of the track by elongating the horse's body and extending its head into the margin of the print so that it appears to "win by a nose."
Resentment of Sloan's brash personality and flashy lifestyle grew along with his fame. In 1901 the British Jockey Club refused him a license for unspecified "conduct prejudicial to the best interests of the sport." Though his career was brief in duration, Sloan left some enduring legacies behind. Not only did his "monkey crouch" forever alter the jockey's seat, but his life story inspired George M. Cohan's musical Little Johnny Jones (1904), featuring the patriotic songs "(I'm a) Yankee Doodle Dandy" and "Give My Regards to Broadway." Tod Sloan's name has also been immortalized in Cockney rhyming slang, inspiring the expression "on your tod," meaning "on your own."