Tony Bennett Portrait of Duke Ellington Dedicated, Displayed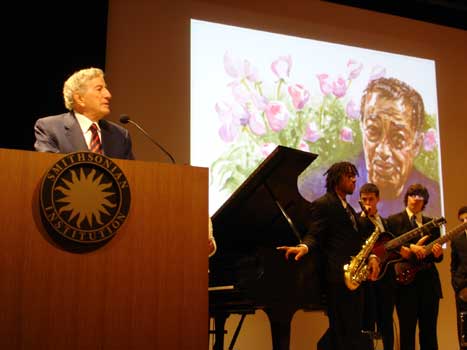 In honor of the 110th birthday of Duke Ellington, the National Portrait Gallery today unveiled a portrait of the composer by his friend and fellow musician Tony Bennett. Bennett spoke briefly at the NPG's McEvoy auditorium this morning, discussing art, music, and his friendship with Ellington. The Duke Ellington School of Performing Arts Jazz Ensemble accompanied the ceremony with a brief set, and they were acknowledged by both NPG Director Martin Sullivan and Bennett. Bennett's watercolor of Ellington was then removed from the auditorium and taken to the NPG "New Arrivals" gallery, on the first floor, where it will be on public display through Labor Day.
"We are honored to accept this donation from Mr. Bennett to the National Portrait Gallery's collection," said Sullivan. "There was great affection between Bennett and Ellington, and both were outstanding contributors to America's musical heritage." 
The painting depicts Ellington with a bouquet of pink roses in the background. Bennett chose this motif to celebrate Ellington's habit of sending the singer a dozen pink roses whenever Ellington composed a new song. In the first rank of American composers, Duke Ellington was "beyond category": his more than 2,000 jazz compositions include "Satin Doll" and "Sophisticated Lady," as well as Black, Brown and Beige and the later "Sacred Concerts." Legendary performer Tony Bennett (born Anthony Benedetto), who has had a lifelong interest in painting, here portrays the man he celebrated as his mentor. "When I worked on his portrait, I was inspired by the look of divine serenity on his face," Bennett noted, and he inscribed the painting, "God Is Love." 
Bennett, a fifteen-time Grammy Award–winning singer, has a reputation as an accomplished visual artist. This donation marks the third painting he has donated to the Smithsonian. In 2006, Bennett's painting of Central Park was donated to the Smithsonian American Art Museum, and in 2002 his portrait of Ella Fitzgerald was donated to the Smithsonian's National Museum of American History. 
In a letter to NPG Historian Amy Henderson, Mercedes Ellington stated, "Particularly heartwarming for me . . . is the superb tribute that you have succeeded in creating on this date for both my grandfather and for a special friend, Tony Bennett. Tony has been a dear and close friend of ours, not only during my grandfather's lifetime, but ever since. A consummate artist, he is one of the few whom Duke Ellington regarded as 'beyond category.' Words fail to express how delighted we are that the friendship and mutual admiration between Duke Ellington and Tony Bennett should be enshrined and remembered by the installation of Tony's portrait of the The Duke in the Smithsonian National Portrait Gallery."
>> Listen to the donation ceremony, featuring comments from Tony Bennett (18:02)