"Wanted: $2,000 Reward" by Marcel Duchamp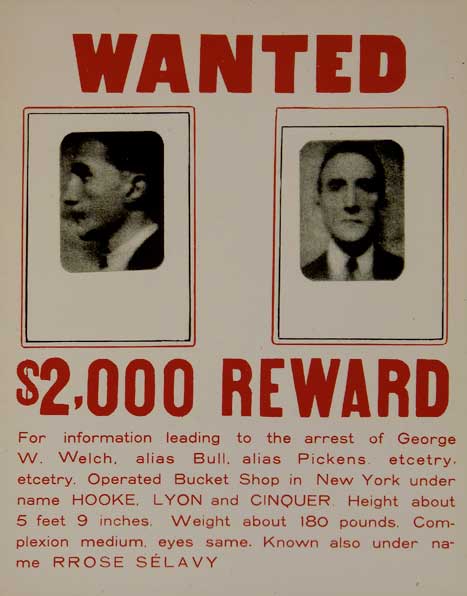 Originally created in 1923, Duchamp's Wanted: $2,000 Reward was the last work of art he completed before leaving New York that year to return to Paris. Duchamp based the work on a joke notice designed for tourists that he found in a New York restaurant. He pasted two head shots of himself on the poster and had a printer add another alias to those already listed: that of his recently created alter ego Rrose Sélavy.
Although Wanted challenges traditional conceptions of the creative process, the work, which Duchamp re-created at key moments in his career, also played a significant role in the construction of his artistic identity. This version, based on the now-lost original, is a replica intended for Duchamp's Boîte-en-valise, a portable museum of his work.
Wanted is on display at the National Portrait Gallery, in the exhibition "Inventing Marcel Duchamp: The Dynamics of Portraiture" on the second floor. Jennifer Quick, research assistant at NPG, recently spoke about the work in a Face-to-Face portrait talk.
>> Listen to Jennifer Quick's Face-to-Face talk on Marcel Duchamp (18:37)
Face-to-Face occurs every Thursday evening at the National Portrait Gallery. The next Face-to-Face talk is this Thursday, June 18, when guest curator James McManus speaks about the portrait of Marcel Duchamp by Brian O'Doherty, on view in the exhibition "Inventing Marcel Duchamp." The talk runs from 6:00 to 6:30 p.m. Visitors meet the presenter in the museum's F Street lobby and then walk to the appropriate gallery.