Sylvia Rivera: Activist and Trailblazer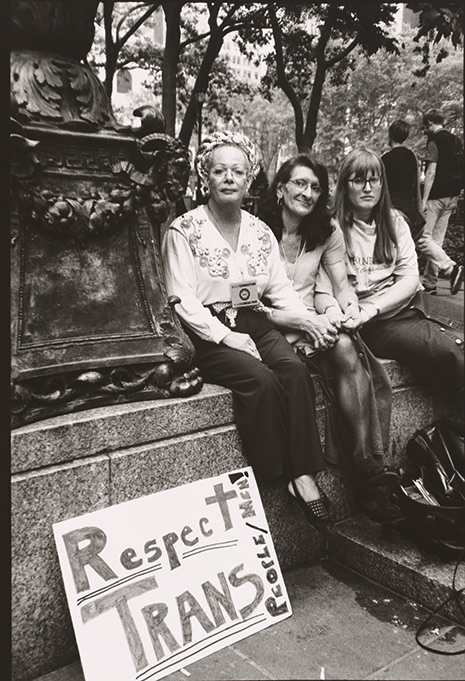 Luis Carle's photograph, taken the Saturday before the 2000 Gay Pride Parade in New York City, depicts Sylvia Rivera (1951–2002), a transgendered person who was a leading figure in the quest for LGBTQ rights. Rivera sits in the center of the photograph, between her partner Julia Murray (right) and Christina Hayworth. The three women are shown, hands interlocked, sitting on a stone wall with a sign at their feet that reads "Respect Trans People/Men!" The photograph captures a somewhat atypical scene for Pride Weekend. Rather than the bustling energy of the parade with crowds and celebration, this captures a moment of tranquil friendship and unity. The three women are shown joined together in the movement to ensure equal protection for the transgender community. As a Latina who spent much of her life homeless, Rivera was particularly sensitive to the struggles of trans people of color and those living in poverty.
Rivera is possibly most well known for her participation in the Stonewall riots of 1969, an event that revolutionized the gay rights movement. However, Rivera's relationship with organizations like the Gay Activists Alliance, which formed as a result of the riots, was not an easy one, as the GAA frequently rejected the role transgendered individuals (the majority of whom were people of color) played in Stonewall.
After several setbacks from within mainstream gay organizations, Rivera organized the Street Transvestite Action Revolutionaries (STAR) with her friend Marsha P. Johnson, an African American transgender woman. STAR became a space to organize and discuss issues facing transvestites in New York City. In addition, Rivera and Johnson started STAR House in order to assist the homeless in the gay community, with a focus on LGBT people of color. Rivera explained in 1998, "Marsha and I decided it was time to help each other and help our other kids. We fed people and clothed people. We kept the building going. We went out and hustled the streets. We paid the rent." Though Rivera was only nineteen herself, she became like a mother to many of the residents at STAR House, and she and Johnson helped to form a home and family for those who needed it most.
Rivera's legacy has led to organizations like the Sylvia Rivera Law Project, which "works to guarantee that all people are free to self-determine their gender identity and expression, regardless of income or race." The SRLP provides much-needed legal services for those who cannot afford representation. This organization is continuing Rivera's lifelong work to ensure a stable and safe existence for transgender, intersex, and gender nonconforming people.
— Ana Perry, former Latino Museum Studies Fellow