What's Your Favorite Portrait?
The National Portrait Gallery's permanent collection includes Americans remarkable in character and achievement who have shaped our national identity, history, and culture. Every day, the Office of Rights and Reproductions receives requests from researchers, educators, and members of the public who wish to use collection images in support of their scholarship, education, or personal enrichment. Here's a look at the most popular images being requested from the National Portrait Gallery: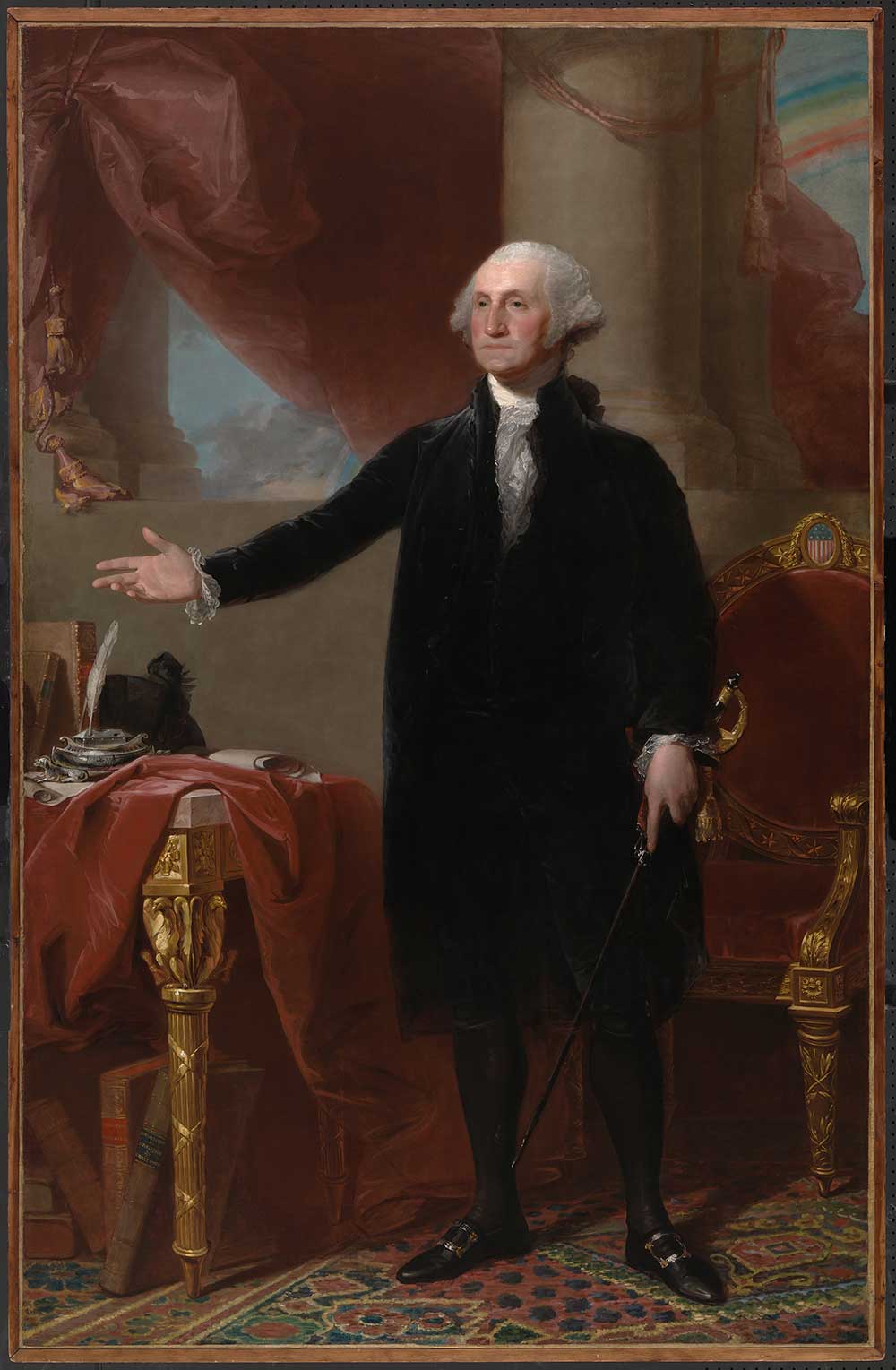 As the general who led us to victory in the American Revolution and as our first president, George Washington was often painted and sculpted. Everyone, it seemed, wanted the hero's portrait. But it is this portrait that stands for all time as the image that best represents what Washington meant to us when we were a new nation, and it is this portrait that continues to mean the most to us in the twenty-first century. This portrait is the one picture that we can say ranks in importance with the sacred founding documents, the Declaration of Independence, the Constitution, and the Bill of Rights.
We see Washington in 1796, the last full year of his two-term presidency. Earlier full-length portraits show him in military uniform, but here he is in civilian dress, revealing that in our democracy, the elected executive is the true commander-in-chief. While he stands in elegant surroundings, suggesting the grandeur of the European portrait tradition, Washington is not draped like a king; he is a man powerful only by the people's consent. This was the man who told us what this new kind of leader—an elected president—could be and whose maturity and resolve gave us confidence in our future. The rainbow behind him breaks through a stormy sky.
American-born Gilbert Stuart, who had spent eighteen years in Europe to hone his artistic skills, was commissioned by Senator and Mrs. William Bingham of Pennsylvania to provide a gift to the Marquess of Lansdowne, an English supporter of American independence. It was copied by Stuart and others as the image of Washington who sustains our national purpose—the Washington every generation of Americans needs to rediscover.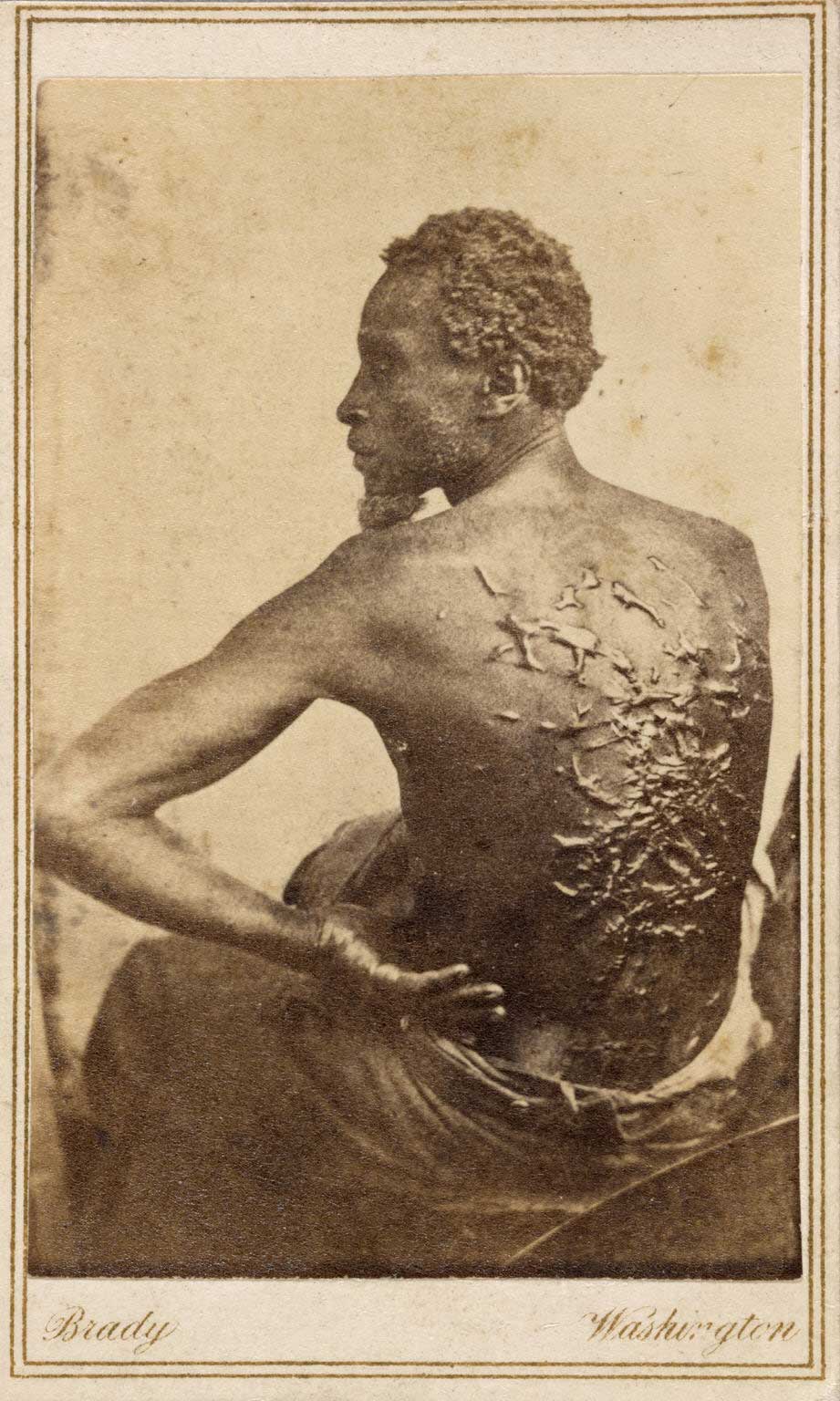 In March 1863, a man known only as Gordon escaped from slavery on a Louisiana plantation and after a harrowing journey found safety among Union soldiers encamped at Baton Rouge. Before enlisting in a black regiment, he was examined by military doctors who discovered horrific scarring on his back—the result of a vicious whipping by his former overseer. This photograph documenting Gordon's condition created a sensation when it reached the public and quickly became one of the most powerful proofs of slavery's brutality. As one journalist declared, "This Card Photograph should be multiplied by 100,000 and scattered over the States. It tells the story in a way that even Mrs. [Harriet Beecher] Stowe cannot approach, because it tells the story to the eye." Sergeant Gordon was later reported to have fought bravely in the Union assault on Port Hudson, but nothing further is known about his life.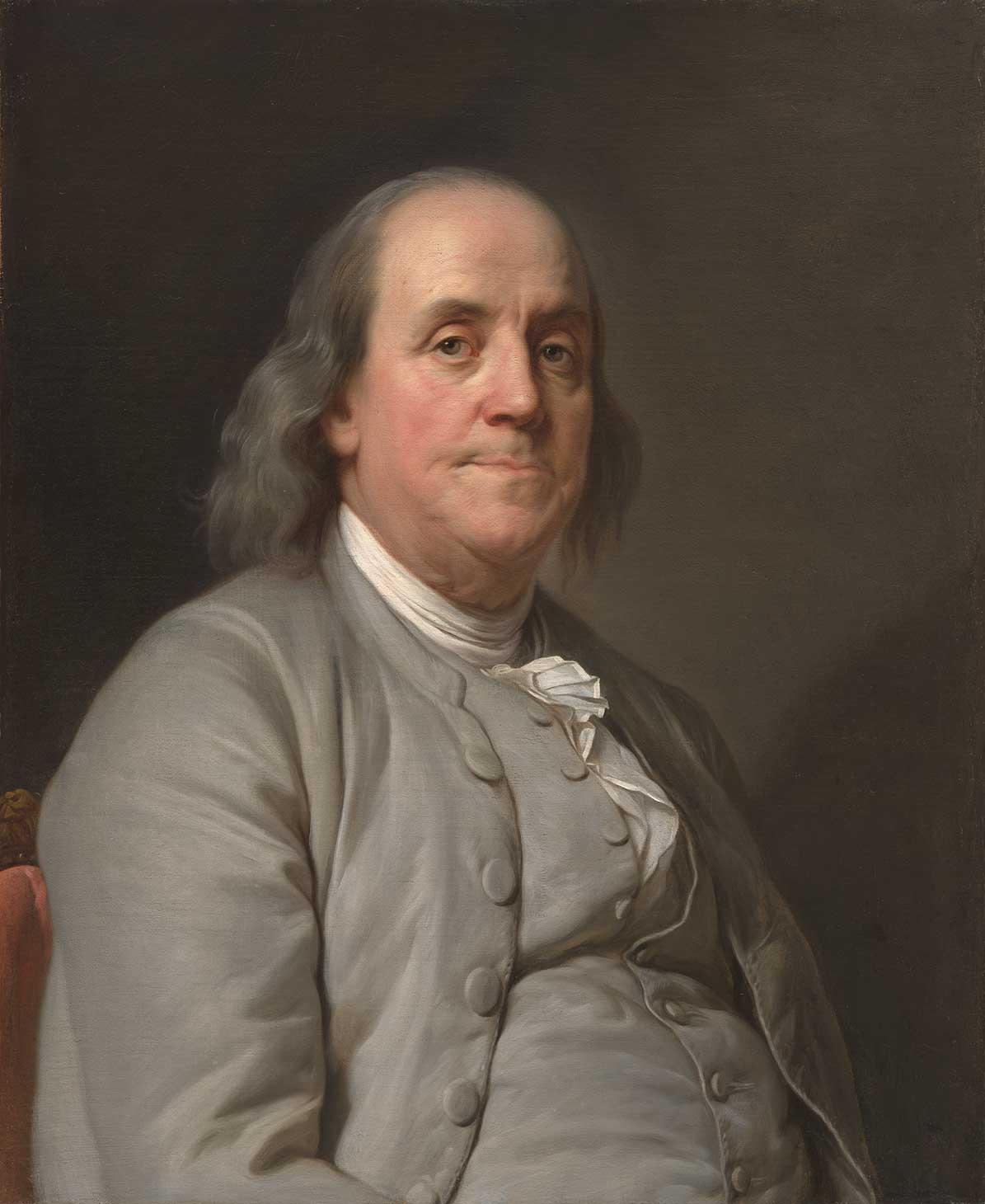 Benjamin Franklin, in his day the most famous American in the world, was renowned for his scientific accomplishments as much as for his political and diplomatic triumphs. Known as a "natural philosopher," as scientists were termed in the eighteenth century, Franklin was celebrated for his experiments with electricity, but he also conducted experiments in other areas and invented devices as varied as a stove and bifocal eyeglasses. He also reorganized and expanded the American Philosophical Society in Philadelphia and was often the conduit for correspondence between Americans and Europeans who were studying botany, chemistry, physics, and other sciences. By the mid-1780s, when this portrait was created, Franklin was representing the new republic in France, where he was revered for his wit and scientific knowledge.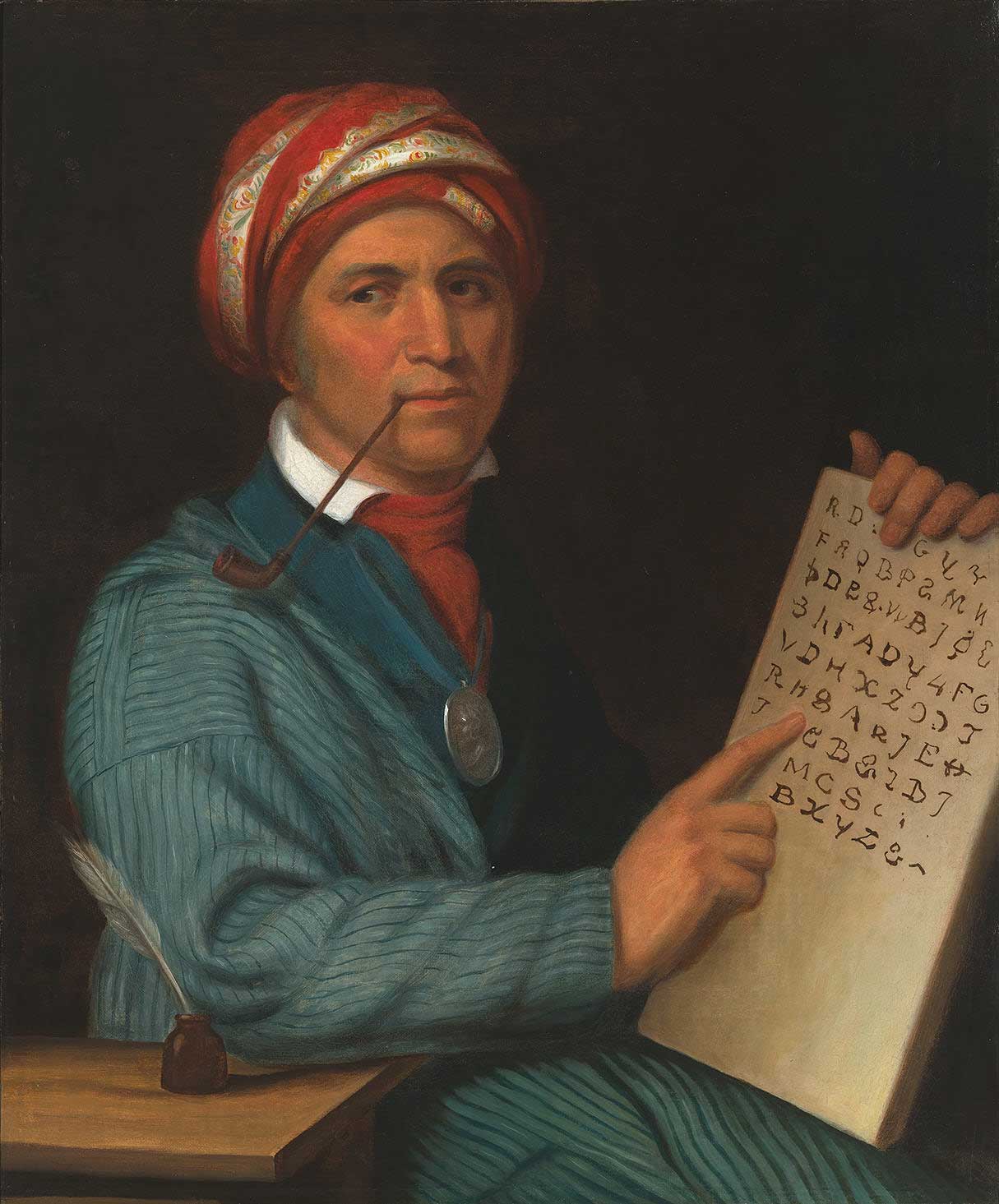 Sequoyah, the son of a Cherokee chief's daughter and a fur trader from Virginia, was a warrior and hunter and, some say, a silversmith. For twelve years, he worked to devise a method of writing for the Cherokee language. His syllabary of eighty-five symbols representing vowel and consonant sounds was approved by the Cherokee chiefs in 1821. The simple utilitarian system made possible a rapid spread of literacy throughout the Cherokee nation. Medicine men set down ceremonies for healing, divination, war, and traditional ball games; missionaries translated hymns and the New Testament into the native language; and in 1828 the Cherokee Phoenix, a weekly bilingual newspaper, began publication at New Echota, Georgia.
The original portrait of Sequoyah, commissioned by Thomas McKenney and painted by Charles Bird King, was destroyed by the fire that swept through the Smithsonian Castle building in January 1865.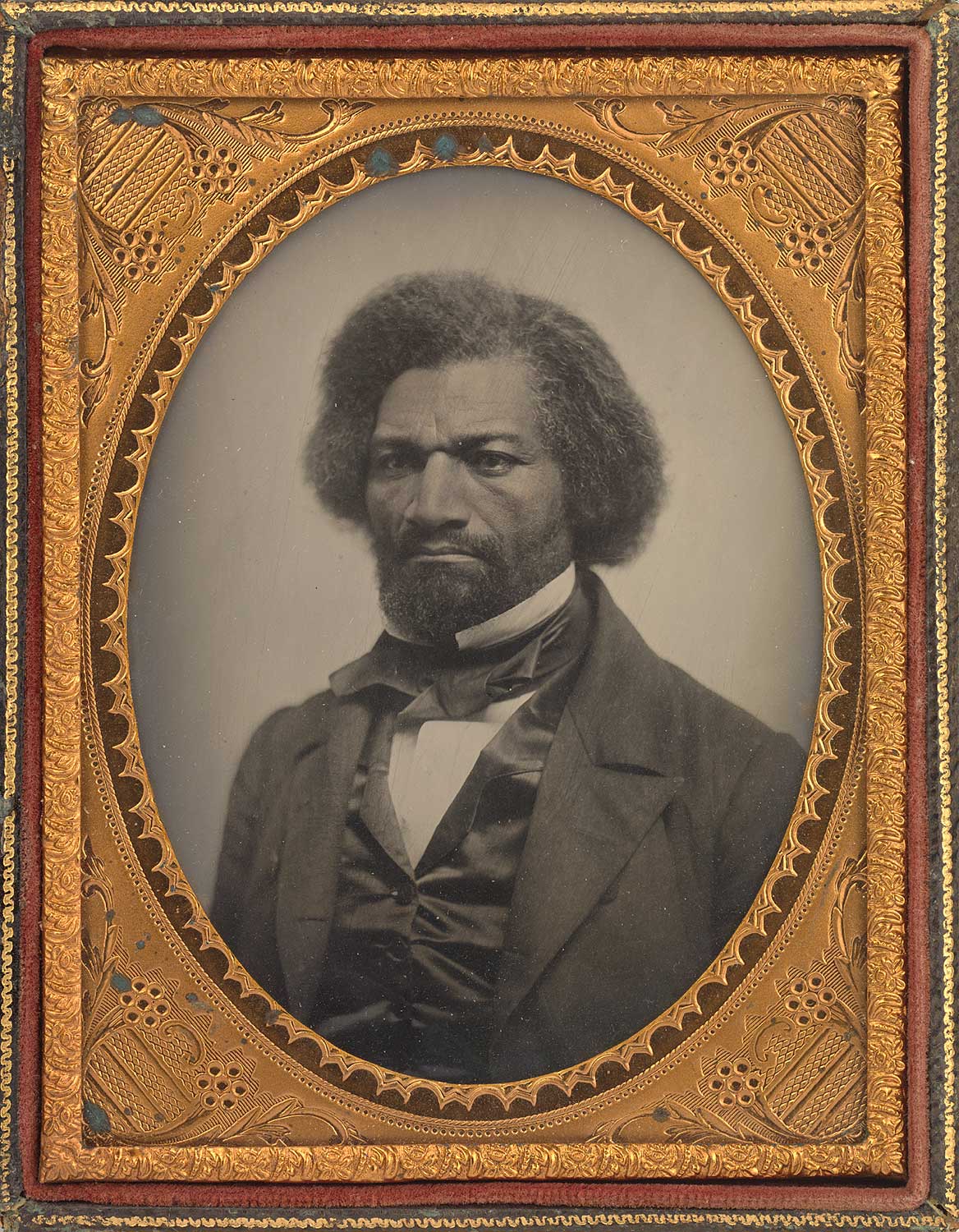 In the years following his escape from bondage in 1838, Frederick Douglass emerged as a powerful and persuasive spokesman for the cause of abolition. His effectiveness as an antislavery advocate was due in large measure to his firsthand experience with the evils of slavery and his extraordinary skill as an orator. His "glowing logic, biting irony, melting appeals, and electrifying eloquence" astonished and enthralled his audiences. As this ambrotype suggests, Douglass's power was also rooted in the sheer impressiveness of his bearing, which abolitionist and activist Elizabeth Cady Stanton likened to that of "an African prince, majestic in his wrath."
Are you interested in a particular portrait?  To request high-resolution digital images, visit the Office of Rights and Reproductions webpage and fill out our Image Request Form.