Anne Catharine Hoof Green (c. 1720–1775)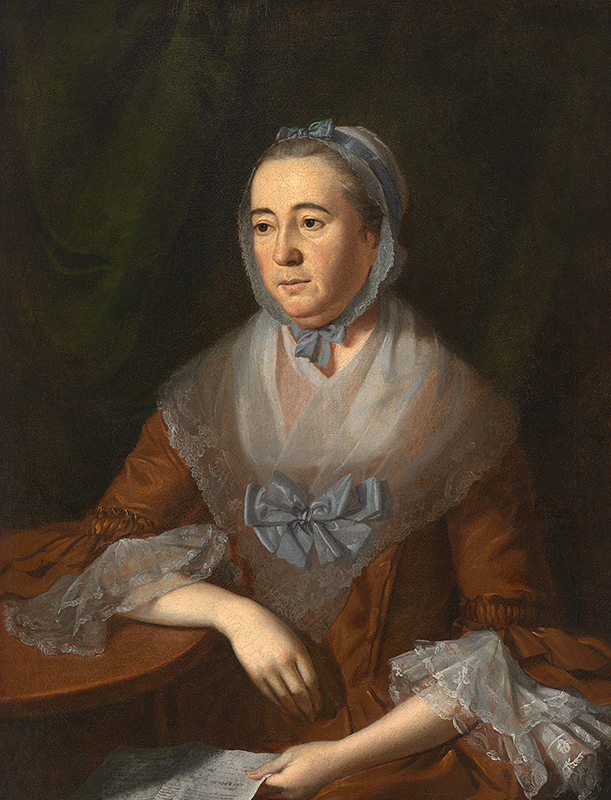 Anne Catharine Hoof Green,  c. 1720–1775  |  Born in the Netherlands  | Charles Willson Peale (1741–1827)  |  Oil on canvas, 1769  | Partial gift with funding from the Smithsonian Collections Acquisitions Program and the Governor's Mansion Foundation of Maryland | NPG.91.152
In addition to mothering fourteen children, Anne Green helped her husband, Jonas, run the Maryland Gazette. When he died in 1767, she took over as manager of his printing shop and as the newspaper's editor. Under her supervision, the enterprise thrived, and she gained a favorable reputation for recording opinions and events leading up to the American Revolution. During this period, she was also appointed the official printer of documents for the colony of Maryland. One of a small number of women printers during the colonial period, she ran the newspaper for eight years, and received a salary which was equal to her former husband's.
Charles Willson Peale received his first painting lesson in exchange for a saddle he had made. He went on to be one of the leading early American artists, painting over 1,000 portraits, including George Washington, Thomas Jefferson, and John Adams. This portrait, among the first that Charles Willson Peale painted after returning from London in 1769, was made two years after the death of Anne's husband. Green holds a copy of the Maryland Gazette, a reference to her business.
Describe Green's clothing.  Consider texture as you take a close look.
What is Green holding in her hand? What can you read on the paper?
What sort of commentary is Peale making with the placement of the Maryland Gazette in the portrait?
Compare this portrait of Anne Catherine Hoof Green to Charles Bird King's portrait of Sarah Weston Seaton  How is each artist conveying their roles in society during the 18th and 19th centuries?