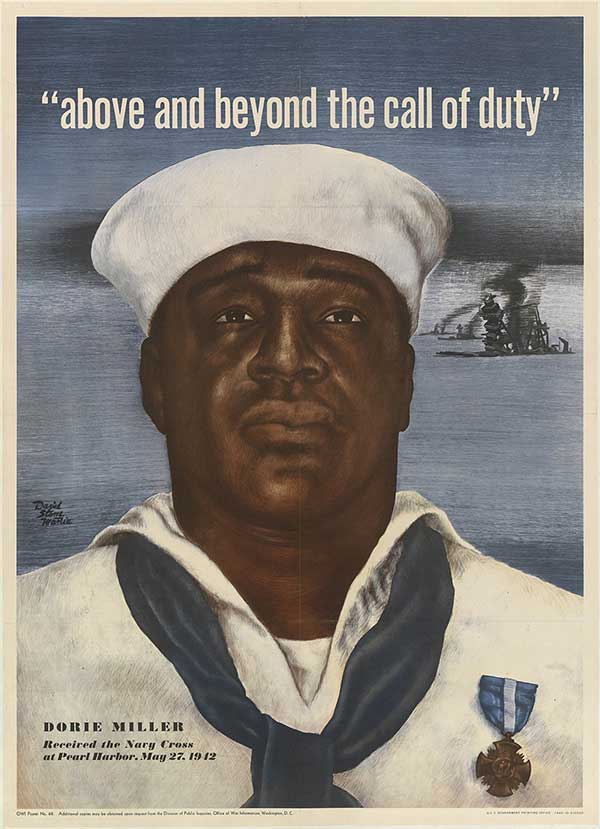 About the Sitter
After a childhood of farming and football in Waco, Texas, nineteenyear- old Doris "Dorie" Miller enlisted in the navy in 1939 to see the world and send money home to his family. He joined as a mess attendant, one of the few positions open to African Americans at the time. Serving on the battleship USS West Virginia, anchored in Pearl Harbor, Hawaii, Miller was doing laundry rounds on the morning of December 7, 1941, when the Japanese attacked. He went on deck to help the wounded to safety, including the captain and executive officer. He then manned a .50 mm machine gun, which he had not been trained to use, and fired at enemy planes until ordered to abandon the burning bridge. Miller's heroism was ignored or forgotten in the mainstream press until African American newspapers rallied for Miller to be honored. President Franklin D. Roosevelt personally ordered that Miller be awarded the Navy Cross, the navy's second-highest award, in 1942. Promoted and reassigned to sea, Miller was one of the 644 men lost when the escort carrier Liscome Bay sank in 1943 during the battle for Makin Island, in the Pacific.
About the Portrait
Created by David Stone Martin, an Office of War Information (OWI) art director, this poster was displayed to boost African American morale and participation in the war effort during World War II. OWI posters had many themes, instructing Americans to recycle scrap metal, increase factory productivity, buy war bonds, and keep confidential information to themselves. Other posters, like this one, commemorated inspirational heroes. Early posters were envisioned as artistic interpretations of patriotism, often including stylized images and few words. Later posters resembled commercial advertisements containing memorable taglines ("Loose lips sink ships!") and cartoonlike imagery.
In order to contribute to the war effort, the Boy Scouts volunteered to distribute posters to shops, businesses, and public spaces, replacing posters every two weeks.
Learning to Look
What event is depicted in the background of the portrait, and why was this included?


With its limited color palette, how do you think this poster would attract viewers and get noticed?


What is this poster's message? What persuasive tools does the poster use to convey its message?


In what types of places do you think the Boy Scouts hung this poster? How might the poster's meaning change depending on where it was displayed?


Examine the style of the portrait. In what ways does the style resemble commercial advertisements or fine art? If you were designing an OWI poster, would you use an artistic or commercial style to get your message across to 1940s viewers? Which type of poster do you think would be most effective?


What types of reactions did viewers living in the 1940s have when they saw it? How are the reactions of today's viewer different?
Activity
African Americans in WWII Exhibition
Explain to students that they will be creating an exhibition about African Americans in World War II in order to better understand and teach others about this important aspect of U.S. history.
Divide students into small groups, and have each group create a "panel" of the exhibition with its own topic. Assign any of the following topics or create your own:
Introductory panel (including a WWII timeline)
Branches of the U.S. armed services
Jazz musicians performing for troops
OWI's role in shaping African American involvement in the war effort
Executive Order 8802, which prohibited discrimination in hiring defense workers
The African American press and the "Double V" campaign
African American involvement in war bond drives, food rationing, etc.
Each group should research its topic and create a poster board panel that includes the following elements:
Title
World War II visual primary source with appropriate captions
Text explaining the history presented in the panel
At least three quotes from primary sources
A section highlighting a relevant individual
Maps (when appropriate) Invite others to visit the exhibition and have students prepare a short guided tour about their panel.
Resources
Photographs of African Americans who broke barriers in their war service: http://www.historyplace.com/unitedstates/aframerwar/
The "Double V" campaign and the black press: http://www.newsreel.org/guides/blackpress/treason.htm and http://www.blackpressusa.com/history/timeline.asp?era=228&block=2
OWI posters and the "artistic" vs. "commercial" style: http://www.time.com/time/magazine/article/0,9171,850005,00.html
Images of African Americans involved in WWII efforts: http://www.archives.gov/research/african-americans/ww2-pictures/#home