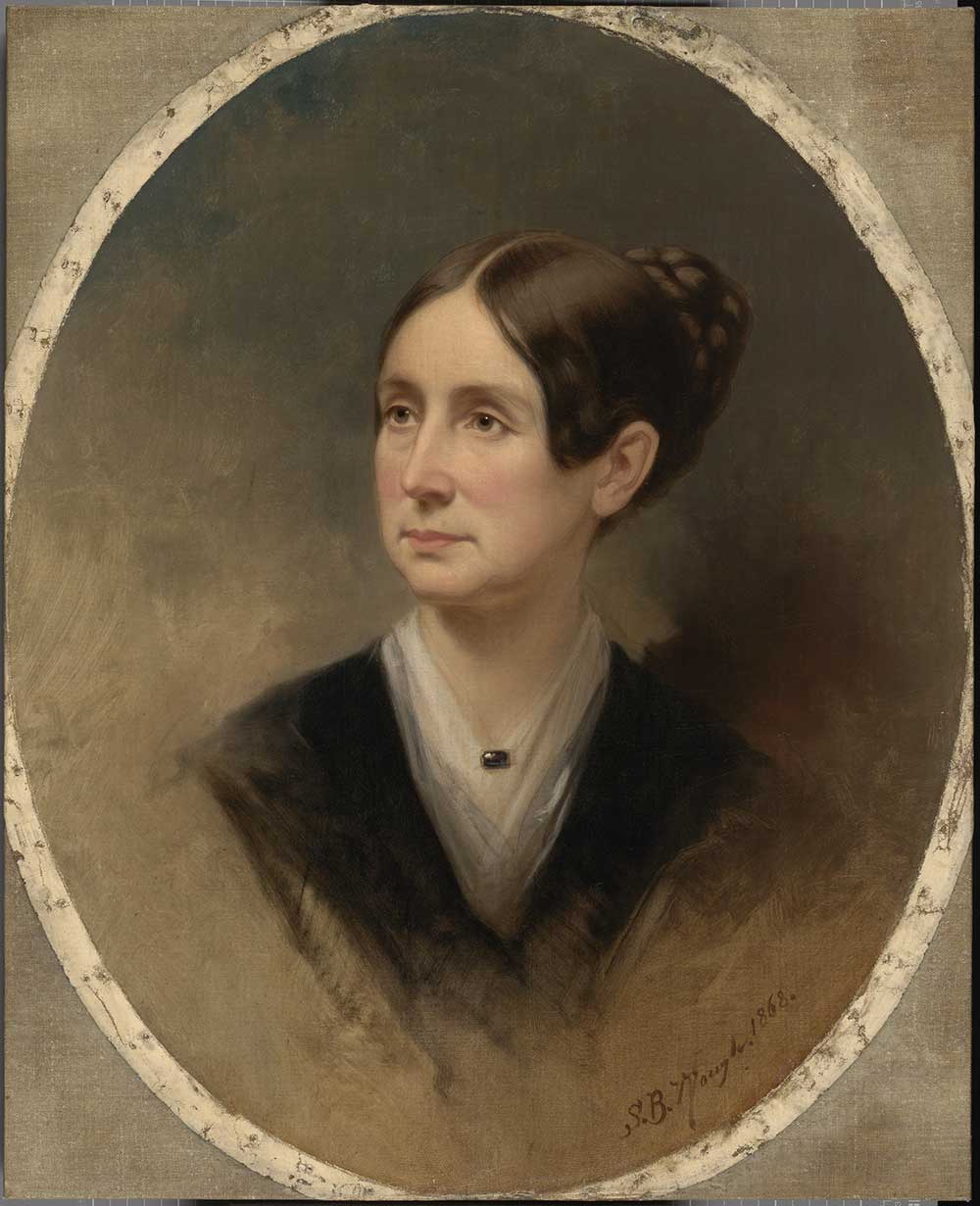 I come to present the strong claims of suffering humanity. I come to place before the Legislature of Massachusetts the condition of the miserable, the desolate, the outcast. I come as the advocate of helpless, forgotten, insane men and women; of beings sunk to a condition from which the unconcerned world would start with real horror.           – Dorothea Dix, Memorial to the Legislature of Massachusetts, 1843
About the Sitter
Dorothea Dix found her calling in 1841, when she volunteered to teach a Sunday class at a jail in Massachusetts. In the jail, Dix was shocked and appalled to find mentally ill men, women, and children confined in unheated and foul conditions. At the time, mental illness was not well understood; the insane were usually locked up in prisons rather than cared for or treated.
This experience inspired Dix to personally investigate the terrible conditions for the mentally ill at prisons across Massachusetts. In 1843, she collected her findings into a speech that was presented to the Massachusetts state legislature. Her descriptions were at first met with denials and criticism, but they led to funding for improved treatment and new hospitals across the state.
Dix then continued her fact-finding missions, traveling thousands of miles; investigating conditions at other jails and facilities; and creating presentations to the legislatures of many states, to Congress, and to the leaders of many European countries. Thanks to her efforts, new hospitals for the treatment of mental illness were built across the country and in Europe, and many existing facilities were improved.
With the outbreak of the Civil War, Dix was appointed superintendent of women nurses, a title she held without salary for five years. She set strict standards for her nurses, only accepting women over age thirty and decreeing that all nurses should dress plainly. Her autocratic style brought her into conflict with doctors, nurses, and the army bureaucracy, but she was considered an "angel of mercy" by wounded soldiers.
At the end of the war, she returned to her advocacy for mental health. One of her legacies was St. Elizabeths Hospital, which she helped to found in 1855 as the first federal facility to treat the insane of the army, navy, and the District of Columbia. St. Elizabeths commissioned this portrait of Dix in 1868.
Learning to Look: Relating Portraiture to Biography
1. The artist chose to paint just Dix's head and shoulders and to leave the rest of her body unfinished. What effect does that have on the portrait?
2. Before you read the biography of Dix, are there any clues in the portrait that tell you something about who she is and why she is significant? Consider her facial expression, the background of the portrait, what she is wearing, and the colors used.
3. After reading the biography, how does this portrait reflect what you now know about Dix? What details in the portrait connect to what you have learned? Are there any elements of the portrait that don't seem to reflect what you have learned? Why or why not?
Suggested Activities
For younger students:
Ask students to choose one episode or aspect of Dix's life (such as her first visit to the prison in 1841 or her work during the Civil War) and create a background for the portrait that reflects this episode. Then have students present their portraits and explain their choice of symbols.
For older students:
Dorothea Dix was one of many women who played important roles during the Civil War. Have students research the different kinds of roles that women played during that time and collect as many images as possible. Then have the class create a "Women in the Civil War" collage with the images. As students create the collage, they should consider which images will be included, what size they will be, and how they will be placed in relation to each other.