Gertrude Stein (1874–1946)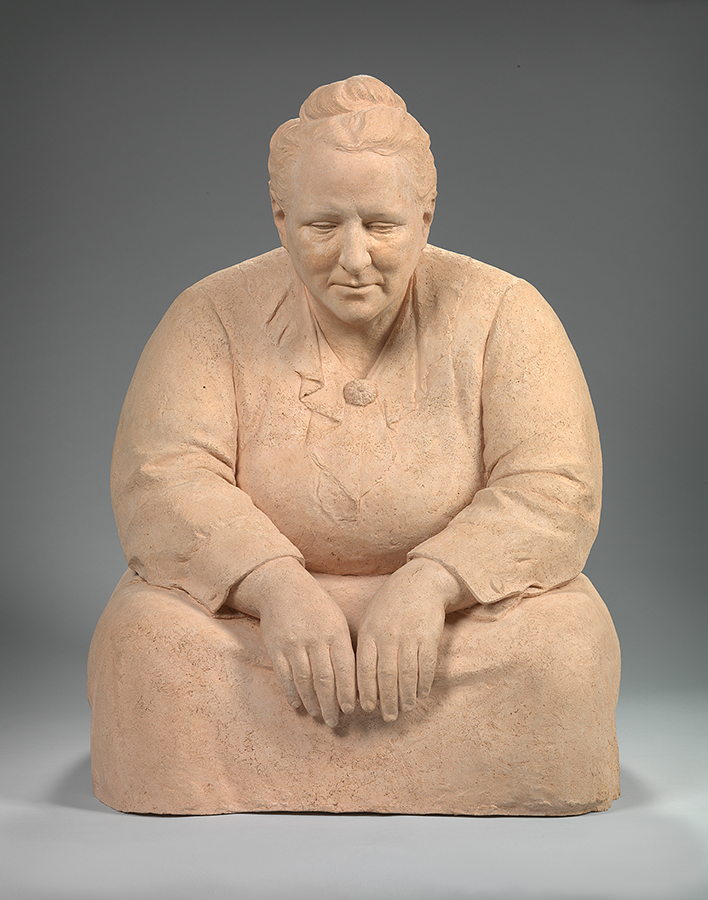 Gertrude Stein 1874–1946 | Born Allegheny, Pennsylvania | Jo Davidson (1883–1952) | Terra-cotta, 1922–23 |  Gift of Dr. Maury Leibovitz
American expatriate writer Gertrude Stein was a high priestess of early twentieth-century modernism for the many who visited her fabled Paris apartment. She collected and promoted avant-garde art, including that of Pablo Picasso and Henri Matisse. Her own abstract, repetitive prose inspired the experiments of playwrights, composers, poets, and painters. One of the many artists Gertrude and her brother Leo Stein befriended was the sculptor Jo Davidson, who stated that he met Gertrude and Leo on his first trip to France around 1907. However, it was not until 1922, when the two were already good friends, that Davidson sculpted Gertrude in his studio.
Davidson, known mostly for his busts, felt at the outset that "to do a head of Gertrude was not enough—there was so much more to her than that. So I did a seated figure of her—a sort of modern Buddha." Stein was not a small woman, and the comparison to Buddha is apt both in form and in character. During Davidson's lifetime, there were several bronze casts made (this is the only known terra-cotta version and the only known life-size version), and a later cast was installed in Bryant Park in New York City in 1993. At the time, it was the only statue of a woman, other than a sculpture of Joan of Arc, in a New York City park.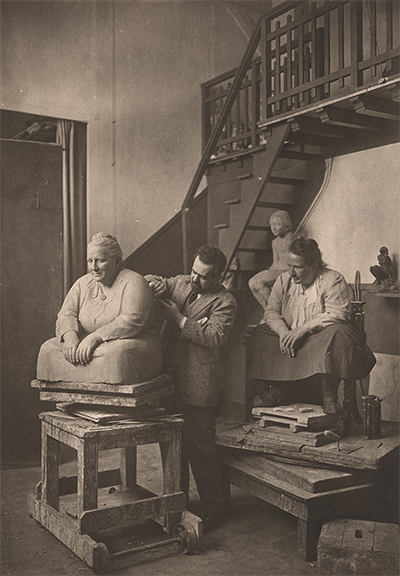 Strike a pose. How do you feel in that pose?  How do you think Stein felt? Why?
How would the meaning or feeling of this portrait be different if it were 2-D instead of 3-D?
Compare the sculpture to the photograph Man Ray took while Stein sat for Davidson.  What more do you notice?
Image: Gertrude Stein and Jo Davidson | by Man Ray, (1890–1976) | Gelatin silver print, c. 1922 | National Portrait Gallery, Smithsonian Institution | © 2010 Man Ray Trust / Artists Rights Society (ARS), New York / ADAGP, Paris