Katy Perry (Cupcake Katy) born 1984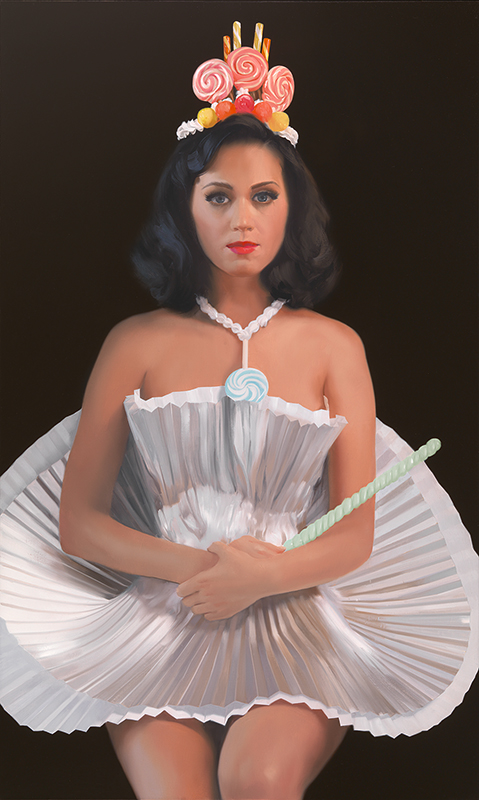 Cupcake Katy, Katy Perry born 1984  |  Born Santa Barbara, California  |  by Will Cotton (born 1965)  |  Oil on linen, 2010  |  Gift of the James F. Dicke Family  |  C/NPG.2015.135
Pop star Katy Perry (born Katheryn Hudson) is the only artist after Michael Jackson to produce five number-one hits from a single album, in this case Teenage Dream (2010). The provocative teenage icon, chart-topping singer, and savvy businesswoman began her career singing gospel music as the daughter of Pentecostal pastors. Known for her extravagant stage sets and costumes, her cheeky pose, wry expression, and flawless appearance playfully hint at the paradoxes she straddles. Crafty and self-aware, she acknowledges that "everything I do is always with a wink."
Perry collaborated with painter Will Cotton on the design of the "California Gurls" video. Cotton's work, which draws on art-historical sources to explore consumer culture, caught Perry's eye. The artist felt an affinity for Perry as well, describing her as just the kind of subject he wanted to paint: "She's over-the-top, she's very sugary, saccharine." Here, Cotton presents her in a dress he designed that was created by designer Cynthia Rowley.
Look closely at Perry's clothing and accessories.  What do you notice? Why do you think she is be being portrayed in this way?
When considering identity, portraits both reveal and conceal. How does this portrait both reveal and conceal aspects of Perry's identity?
Title this portrait.