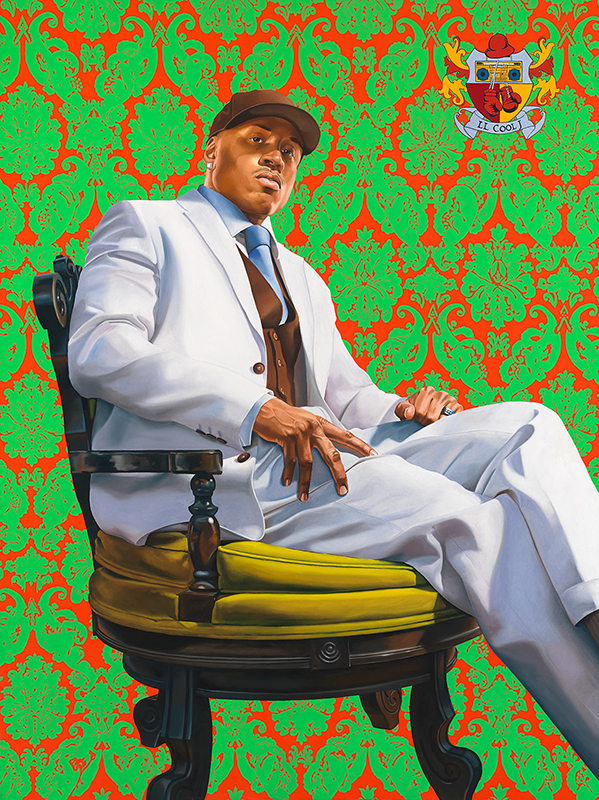 LL Cool J born 1968  |  Born Queens, New York  |  Kehinde Wiley (born 1977)  |  Oil on canvas, 2005  |  Lent by LL Cool J  |  L/NPG.42.2006
Hip-hop star and actor James Todd Smith III changed his name to LL Cool J (short for "Ladies Love Cool James") at sixteen, when he released his first single, "I Need a Beat." In the late 1980s, the success of his recordings helped make Def Jam a major label. His broad popular appeal and nine consecutive multiplatinum albums were significant in transforming rap from an underground genre to a mainstream cultural force.
Kehinde Wiley was commissioned to paint LL Cool J for the VH1 Hip Hop Honors program in September 2005. The painting reflects Wiley's interest in using traditional portraiture to challenge the portrayal of power in art. Inspired by Ron Chernow's biography of John D. Rockefeller, LL Cool J wanted this portrait to have a pose similar to that in John Singer Sargent's painting of the philanthropist. LL Cool J shares Rockefeller's entrepreneurial spirits and charitable tendencies. He is a high-level donor to various causes and shares that, "nothing's better than the feeling you get when you reach out and help someone else or give to a cause you feel passionately about."
The theatrical poses and objects in Kehinde Wiley's portraits from this time are based on well-known images of powerful figures drawn from seventeenth- through nineteenth-century Western art. Pictorially, Wiley gives the authority of those historical sitters to his twenty-first-century subjects. In 2005, VH1 commissioned Wiley to paint portraits of the honorees for that year's Hip Hop Honors program. By referencing preeminent portraitists from 200 or more years ago, Wiley adds legitimacy to paintings of this generation's already powerful musical talents.
Spend a minute quietly observing LL Cool J's portrait.  
Examine LL Cool J's facial expression and pose. What adjectives come to mind?
Compare and contrast Wiley's portrait of LL Cool J with John Singer Sargent's portrait of John D. Rockefeller (from which LL Cool J's portrait is based).
What statement might Wiley be making about identity in America? About representation in American art?
Stare at the background. How does that make you feel? Where does your eye wander once leaving the background? Why might Kehinde Wiley employ backgrounds such as these in his artworks?
How can we make connections between the family crest/coat of arms and LL Cool J's biography?