Marian Anderson (1897–1993)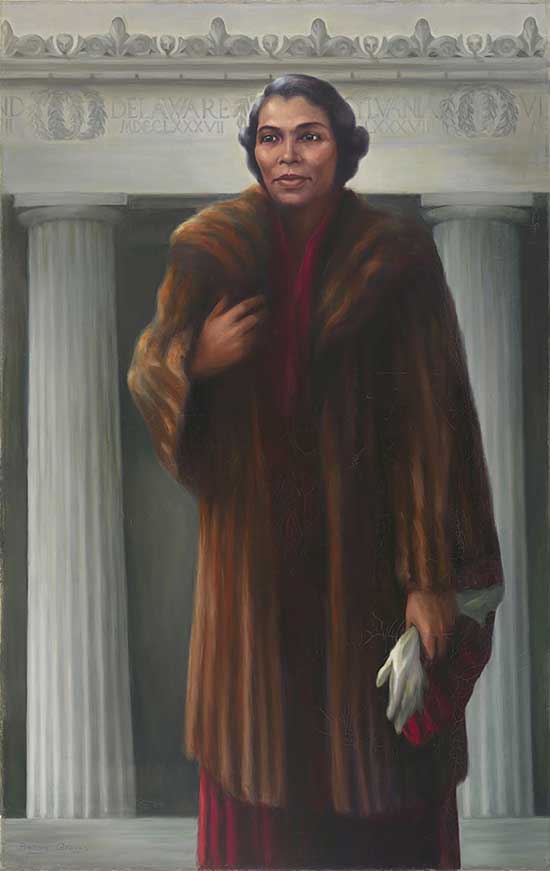 One of the outstanding voices of the twentieth century, contralto Marian Anderson initially found her prospects as a concert singer in the United States sharply limited because of her race. Like many African American artists of the time, she first achieved success in Europe, where conductor Arturo Toscanini said a voice like hers came along "once in a hundred years." Returning to America in 1935, Anderson performed to sold-out audiences. Despite that acclaim, in 1939 the Daughters of the American Revolution banned her from performing at its Constitution Hall because of her race. In response, First Lady Eleanor Roosevelt publicly resigned her DAR membership and worked with the NAACP and other organizations to arrange a concert at the Lincoln Memorial. Secretary of the Interior Harold Ickes introduced Anderson to a live audience of 75,000 and a radio audience of millions with the words, "In this great auditorium under the sky, all of us are free."
The Lincoln Memorial concert was a defining moment in the early struggle for civil rights. Within a few years the DAR reversed its policy and invited Anderson to give a series of wartime benefit concerts in 1943. In 1955, Anderson become the first African American to sing an important role with the Metropolitan Opera. She sang at the inaugurations of Presidents Eisenhower and Kennedy and returned to the Lincoln Memorial in 1963 to sing at the March on Washington for Jobs and Freedom. In 1964, Anderson retired from singing after a farewell tour that began at Constitution Hall. Artist Betsy Graves Reyneau painted this portrait of Anderson as part of the Harmon Foundation's series of "Portraits of Outstanding Americans of Negro Origin." Although painted sixteen years after Anderson's concert at the Lincoln Memorial, the setting of the portrait evokes that historic moment.
Learning to Look
What is the setting of this portrait? Why do you think the artist chose to portray Anderson in front of this background?


Describe Anderson's clothing. Why do you think the artist chose these clothes? What effect does the choice of clothing have on the portrait?


Describe the expression on Anderson's face. What might she be thinking or feeling? If Anderson could speak, what might she say?


What colors do you notice most in this painting? Why do you think the artist chose to use these colors?