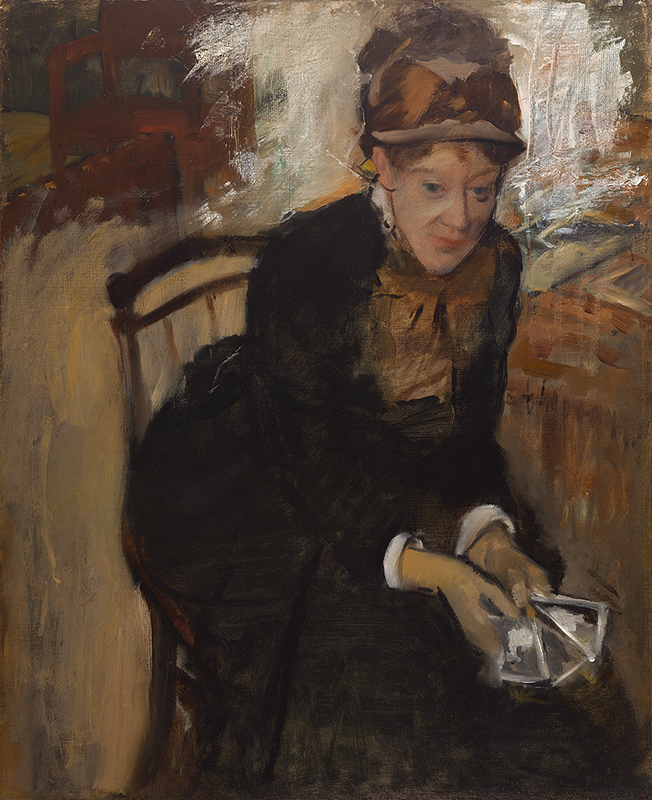 Mary Cassatt 1844–1926  |  Born Allegheny City, Pennsylvania  |  Edgar Degas (1834–1917)  |  Oil on canvas, c. 1880–84  |  Gift of the Morris and Gwendolyn Cafritz Foundation and the Regents' Major Acquisitions Fund, Smithsonian Institution  | NPG.84.34
The American Impressionist Mary Cassatt spent her career in Europe, settling in Paris. Stifled by tradition, she regarded her exposure to the work of Edgar Degas in 1874 as a "turning point in my artistic life." She later wrote that "Degas's art is for the very few," recognizing a critical sophistication required to appreciate his innovations. After her rejection by the Paris Salon of 1877, Cassatt welcomed Degas's invitation to exhibit with the Impressionists in 1879.
Cassatt and Degas engaged in lively dialogues about the depiction of modern life, and their vibrant artistic exchange is evident in her willingness to model for him on several occasions. They also collected each other's work. Degas captures the collaborative nature of their friendship in this portrait, where Cassatt is shown holding photographs, possibly reproductions of works of art, seated, as if in the midst of conversation.
Judging from her appearance, this painting, like his prints of her at the Louvre, was probably done in the early 1880s. Its free brushwork and muted color relate closely to Degas's other work from this period. While Cassatt admired the picture's artistry, she was displeased with her pose and seriousness. She owned the painting until at least 1913, when she asked a Paris dealer to sell it but to make sure that it did not go to an American collection, where friends and family might see it.
Describe Degas's artistic style (color, technique, form) in this depiction of Cassatt. How does it make you feel? What does it make you think of?
What affect does the loose brushwork have on you as you view this portrait?
Degas and Cassatt had lively conversations about depictions of modern life in their artwork. What aspects of modern life --if any-- are captured by Degas in his likeness of Cassatt?
Imagine a dialogue between the two artists. What could they be discussing?